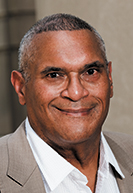 Chalkbeat is profiling the education stances of the two major-party candidates for Indiana governor in the 2020 election. Read about Republican Gov. Eric Holcomb's education plans here.
When Democrat gubernatorial candidate Dr. Woody Myers spoke at an event last year at a suburban high school, he picked up a pamphlet.
Leafing through, he read that every student at that high school received a MacBook for their studies. "Wow," he thought, "isn't that terrific!"
Then, he thought: "Why is it that there's such a difference in what one school district can do and another?"
That same opportunity wasn't available just 25 miles away in Indianapolis Public Schools, where he worries that not having those same resources or support factors into Black students' single-digit passing rates on standardized tests.
"I want them to be able to do it, too. Is that wrong?" Myers said. "Why should superintendents have to figure out how to do a political referendum and get votes in order to get basic stuff done? … It's the job of the state of Indiana to fund educational opportunity for people."
Myers, a former state health commissioner, is challenging incumbent Gov. Eric Holcomb in the Nov. 3 election. If elected, Myers would be Indiana's first African-American governor.
But overshadowed by the weight of the Republican Party in state politics and Holcomb's spotlight in handling the coronavirus crisis, Myers has trailed in polls and struggled to raise money.
Myers and running mate Linda Lawson, a former state representative, are emphasizing education as a key component of their ticket, playing to those who may be disgruntled with Indiana's education reform movement that embraced school choice and accountability measures such as standardized testing, teacher evaluations, and school letter grades.
Myers also favors a more cautious approach to reopening school buildings during the coronavirus pandemic.
He picked up endorsements from Republican Superintendent Jennifer McCormick and the American Federation of Teachers Indiana but failed to win support from the Indiana State Teachers Association, the state's largest teachers union.
In a recent interview with Chalkbeat, Myers laid out his education priorities, including how he would select a secretary of education, re-evaluate school funding, and scrutinize charter school oversight.
On continuing instruction during the pandemic:
Myers suggested a more cautious approach to reopening schools, with a more stringent standard for reducing the number of new coronavirus cases each week before allowing students to return to classrooms.
While children are less likely to have severe symptoms or die from COVID-19 complications, they can still spread the virus among each other and to adults, he said.
He said schools should be prepared to offer remote learning until the threat of the virus is under control — which he estimates could take about two more years.
"I would say that in very, very rural areas of the state, a hybrid model is a good thing to do," Myers said. "But in every place else, where we know the cases are going up and when we know the positivity rate is high, let's continue to use distance learning for the time being until we get a vaccine and herd immunity."
Myers said it's "just not acceptable" that not all Hoosiers have access to the internet, a substantial barrier to remote education. While Holcomb has pushed a $100 million initiative to partner with broadband providers to expand access, Myers thinks that's not enough. He criticized Indiana for allowing providers to protect exclusive coverage areas and said the state needs to allow increased competition among internet providers in order to spur more connections to households and better services.
On enhancing oversight of charter schools:
Indiana should not allow new charter schools to open until it can improve oversight, Myers said.
Why? Myers points to the $86 million scandal at Indiana Virtual School and Indiana Virtual Pathways Academy. The state has called for the two schools to return $86 million in public funds after investigators found school officials inflated enrollment and funneled funding to their own businesses and ones tied to their families and friends.
"Clearly, the oversight that's there now isn't working," Myers said. "Nobody wants to take responsibility."
Myers noted that some charter schools appear to be "really outstanding." But he wants the state to raise standards for the entire sector by strengthening charter authorizing laws and examining the track record of charter oversight agencies.
On naming a state secretary of education:
Neither Holcomb nor Myers has named a specific person they would appoint to be the state's top education official. The governor will hold more influence in education next year because he will select a person for that post instead of having voters elect a state superintendent.
Myers said he's looking for a "superhuman being" who's an expert in public education and would be more involved in charter school oversight. He stressed that he would need to communicate well with that person but didn't rule out disagreement, adding that he wouldn't necessarily pull rank on issues they don't see eye-to-eye on.
"I'm going to have to believe in what she or he wants to do; they're going to have to understand what my priorities are," Myers said.
He added that he also wants a State Board of Education "who's got some moxie," holding more robust debate on policy issues and soliciting public input. Eight out of the 11 current state board members are chosen by the governor.
On increasing teacher pay:
Myers believes Indiana schools don't pay teachers enough, which leads to teachers leaving the state or the profession for more lucrative jobs. While it's clear there's a problem, he said he wants to better understand which districts have the biggest pay issues and what the state could do to affect salaries, which are determined at the local level.
He didn't offer specific solutions but said he believes the state has enough money to direct more to teachers' paychecks and to schools with the highest needs — even if it means overhauling the budget to divert funding from other areas to send to education.
"We're going to go through each and every nickel that the state spends, and there are going to be some things that we're going to say we're going to push the pause button on," Myers said, "and say, not now — the state has better priorities right now."
Chalkbeat is a not-for-profit news site covering educational change in public schools.
Please enable JavaScript to view this content.