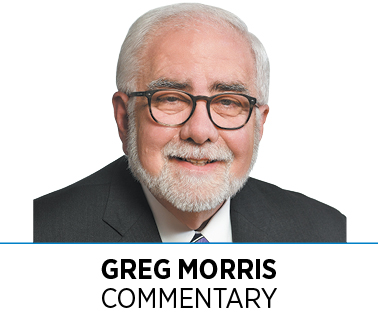 Think about the possibility of a world-class space science center right here in central Indiana—in Westfield. It's called Grand Universe, and the first stage of the proposed development will be the Astronaut David Wolf Observatory.
The driving force behind this grand endeavor is Link Observatory Space Science Institute Executive Director/CEO Greg McCauley. You can read more about Link online at ibj.com in my Aug 31, 2017, column, "Nearby Link Institute is a gem," and at linkobservatory.org.
National Science Foundation research found that 15-year-old U.S. students test below average or average in math, science and reading, with China at the top of each list. U.S. students are lagging far behind other countries in these subjects—ranking 36th in math, 28th in science and 24th in reading. We've got a lot of work to do to create a future workforce that supports the projected growth in STEM-related fields.
Link is working on this challenge and is endeavoring to change the world by bringing science to life. The mission of the Link Observatory Space Science Institute is to advance the scholastic literacy of future generations with informal STEM education focused on NASA missions, astronomy and space exploration. The idea is to foster scientific curiosity and advance science literacy to cultivate and nurture the next generation of leaders. The goal is to share the wonders of the universe in ways that excite, inspire, challenge and educate.
The "space race" of the 1960s inspired an entire generation of scientists and engineers and fostered the development of many technological innovations. We all just relived Purdue University grad Neil Armstrong's first step on the moon in July on the 50th anniversary of the Apollo 11 mission. Now, the Artemis mission is scheduled to take us back to the moon in 2024.
Building off many years of successful educational efforts at the Link Observatory in southern Indiana, the institute plans to create a world-class space science center—Grand Universe, featuring the Astronaut David Wolf Observatory—in Westfield on approximately 60 acres adjacent to the popular Grand Park Sports Campus.
Wolf is a member of the Users' Advisory Group National Space Council. He was born and raised in Indianapolis and has his doctorate in engineering from Purdue. He's also a 28-year NASA veteran and has spent 168 days in space and conducted seven spacewalks over four separate missions. He's served on the space shuttles Columbia, Atlantis, Discovery and Endeavor as well as the International Space Station, Russian Space Station MIR and Spacelab. Wolf is also the chief science officer at the Link Observatory Space Science Institute and is involved in all areas of the planning for the Grand Universe project.
Plans are still in development, but the observatory will feature a full-dome planetarium, twin telescope astronomical and solar observatories, a radio telescope, STEM education programs and many other elements that will make this a world-class destination.
Full disclosure—I serve on the capital campaign advisory committee for Grand Universe, helping supervise and guide the campaign-feasibility study being conducted by Johnson Grossnickle & Associates Inc.
As a Westfield resident and advocate for growth for that community and for Indiana, I am pleased to help find a way to make sure this project becomes a reality. And that will take funding.
We can inspire today's youth to pursue STEM careers through space exploration. And Grand Universe can provide the gateway to stimulate that inspiration. For more information and to find out how you can help, please contact Greg McCauley atgmccauley@linkobservatory.org.•
__________
Morris is publisher of IBJ. His column appears every other week. To comment on this column, send email to gmorris@ibj.com.
Please enable JavaScript to view this content.