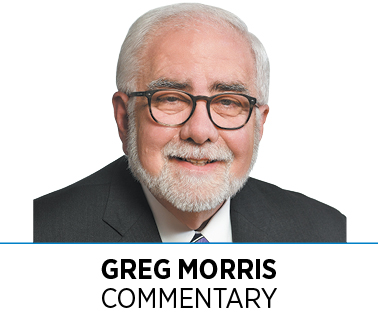 An educational session at Mickey's Camp, a visit to Willamette Valley wine country in Oregon and a column in IBJ have me thinking a lot about wine recently.
IBJ co-owner Mickey Maurer's Sept 13 column—"Preparing to retire isn't purely a financial exercise"—offers sage advice when considering a retirement strategy. If you're north of 50, you should read it, if you haven't already.
A few thoughts that caught my attention were—"If you are going to give up the game, you better have something to take its place" and "ease into it." And this is a perfect strategy for me, because I love my job and have no desire to give up the game anytime soon. But there will come a time to pass the torch.
So, why do I say grapes are in my future? I love everything about wine—the romance of it all, the experience of drinking it, pairing it with foods, the stories of each winery and variety produced, where the grapes were grown and why the wine tastes the way it does.
And I'm a business guy, so I'm very interested in the business of wine. To say wine is big business is an understatement. According to the Wine Institute, the voice for California wine representing 1,000 wineries and affiliated businesses, California wine sales in the U.S. market hit $40 billion in 2018. They estimate the total U.S wine market at 406.5 million cases in 2018 with an estimated value of $68.1 billion.
I'd like to give a shout out to Michel Pascal, co-owner, and John Soltan, vice president of sales and marketing, at Carroll Wine & Spirits, a wholesaler in Fishers, for their Mickey's Camp presentation. I've learned more about wine from these knowledgeable folks the past two years than from any other source.
My wife and I recently had an amazing trip to the Pacific Northwest. We wrapped up our trip at the Allison Inn and Spa in Newburg, Oregon, a few miles south of Portland. This was the perfect base of operations to explore the Willamette Valley wine country. The Argyle Winery tasting room and the Domaine Drouhin Oregon Winery at the top of Dundee Hills were highlights.
But don't think every winery can ship wine to you back home in Indiana. I kept hearing, "Indiana is one of a handful of states we can't ship to." Why? Because Indiana liquor laws prevent out-of-state wineries from direct shipping to consumers if the winery has a relationship with an Indiana wholesaler. I do understand, of course, we can support our favorite local liquor retailer, and they'll order anything we want if they don't have it in stock. But let's free the grapes!
Speaking of local, I admit my lack of experience with the expanding universe of Indiana wine producers. Other than enjoying some wine from Oliver Winery in Bloomington, I'm not at all familiar with Indiana-based wineries and grapes. We have about 116 wineries in the state, up 200% from 2006. I need to explore what I'm missing here at home.
I don't claim to be a wine expert, but I'm learning all the time. I do want to up my game as I ease into "retirement" or my "second act in life" someday. Who knows–there may be an entrepreneurial investment opportunity at a smaller boutique distributor level? There are many possibilities to be a part of the wine business.
And if none of the business plans work out, at the very least I'll be a great wine storyteller at every social function I host or attend. And yes, I'll be drinking some great wines on a regular basis. So, grapes are most definitely in my future.•
__________
Morris is publisher of IBJ. His column appears every other week. To comment on this column, send email to gmorris@ibj.com.
Please enable JavaScript to view this content.