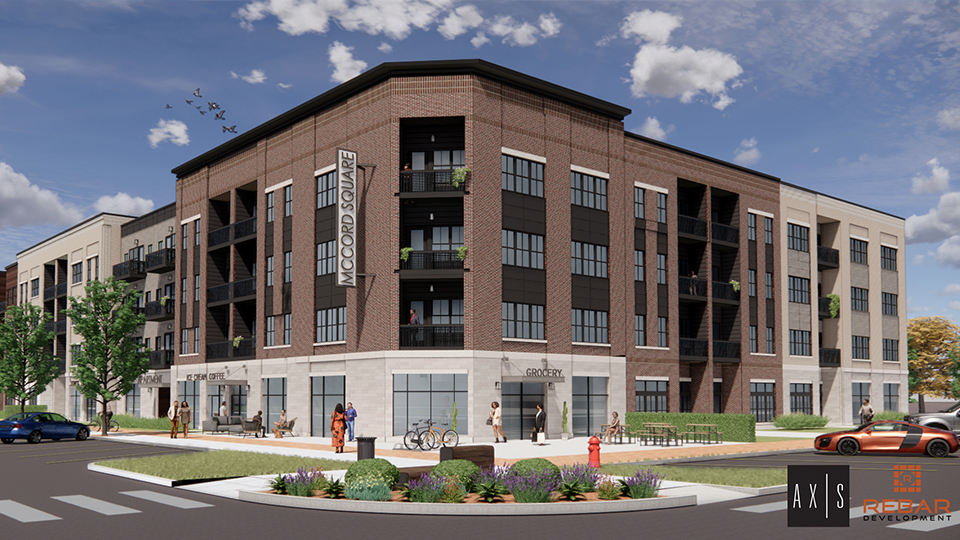 Indiana Secretary of Commerce Brad Chambers joined officials from the town of McCordsville and Fishers-based Rebar Development on Monday to break ground on the first phase of the $50 million McCord Square Downtown District.
The first phase features the construction of a 205-unit apartment complex that will also include commercial and retail space.
"This groundbreaking is the next big step in creating a new identity for McCordsville," said McCordsville Town Council Vice President Larry Longman.
In an interview with Inside INdiana Business, Longman said the district is a long time in the making.
"We've been eying this piece of land for about two decades, so it means a lot to us," Longman said. "It's a big driver for economic development. It's a conversion of what's traditionally farmland into something that has a greater tax purpose, tax base, and furthermore, allows new opportunities for residents to connect and to reside."
The apartment complex will consist of two buildings, The Lucas and The Jackson. They will feature one- and two-bedroom units along with an indoor/outdoor cafe, pool, rooftop coworking lounge and wellness studio, among other amenities.
Additionally, the complex will include six, 1,000-square-foot micro-retail studios that will share amenities with the residents.
The overall, $50 million master development is receiving $8.5 million in public funding, including $3.5 million from the Indiana Regional Economic Acceleration and Development Initiative, or READI. McCordsville is part of the Central Indiana-White River Regional Opportunity Initiative, which received $20 million in READI funding in December.
"Indiana's transformational READI initiative is breathing new life into neighborhoods, communities and urban cores across the state," Chambers said in written remarks. "It's an exciting day for McCordsville and for the Central Indiana region as we break ground on a landmark development that will help transform this growing community into a future-focused destination that will attract and support the entrepreneurs, innovators and talent of tomorrow's economy."
The 48-acre district will be located on the southeast corner of State Road 67 and Mt. Comford Road. As part of the public investment, the town is contributing $5 million to create roadways and trails with lighting, landscaping and water features, as well as 15 acres of open park space and irrigation and stormwater facilities.
Longman says the project creates a live, work, play environment that the town currently doesn't have.
"One thing that McCordsville is not known for is a downtown because we really don't have one," he said. "We're bifurcated by State Road 67 and that takes away our opportunity to have any type of a thoroughfare that is safe for our residents to really walk up and down."
Construction on the apartment complex is underway and expected to be complete in the spring of 2024.
Looking forward, future plans for the district include a community gathering space, a new McCordsville Town Hall, and the Civic Commons outdoor amphitheater.
"Just the opportunity as a focal point to bring people together, whether it be an amphitheater or something else, we just don't have a lot of those opportunities in our town right now," said Longman.
Longman says the first phase, particularly the retail spaces, will serve as a barometer for what will come next. Future plans also call for additional buildings that could be used for commercial space.
"We'd like to draw an employer or even service-driven businesses that could utilize the talents of the residents of our town. There's going to be an opportunity for those types of workers to be living there close by."
Officials estimate McCord Square will add $50 million in assessed value to the town by 2025.
Please enable JavaScript to view this content.