Software entrepreneur Ravi Bhatt has been on the receiving and giving end of IU Ventures, Indiana University's early-stage venture and angel investment arm.
His software company, Folia, received more than $1 million in investments with the organization's help. In turn, he has invested in three IU-related startups.
He said IU Ventures offers "a sense of optimism and sense of constructive change" for entrepreneurs—so much so that Bhatt decided to move his company from Chicago to Bloomington and become even more involved in the organization's expanding programs to bring together alumni, faculty and students with an entrepreneurial spirit.
One of those new programs, IU Founders & Funders Network, is hosting its first summit May 12-13 at IU. Formed last fall, the global community of IU-affiliated entrepreneurs, innovators and investors such as Bhatt work together to push businesses forward.
The free social resource creates opportunities to network within industries, form mentor relationships, find talent, access educational content, attend special events and make other connections. The network has 125 members so far; IU Ventures wants to grow that number to 2,000.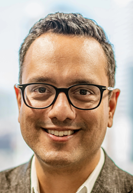 At the May summit, founders and funders will learn in sessions from industry leaders about developing viable products, scaling up new ventures, developing a robust market strategy and realizing the importance of "failing fast." They'll also gather informally at Nick's English Pub and tour the Simon Skjodt Assembly Hall.
"It gives me more of a sense of accomplishment to help create this culture at IU and to know there's this piece of me involved in creating this," said Bhatt, who earned an IU bachelor's degree in cognitive science in 2003.
The entrepreneurial climate at IU, Bhatt said, is more supportive of startups and offers more resources to succeed than it did 10 years ago when he moved to Chicago. IU Ventures' expertise in finding and vetting IU-related startups—for private investors to consider and for investing its own funds—is a big part of the change, he said.
IU Ventures President and CEO Tony Armstrong said IU Ventures offers alumni and others affiliated with IU around the world many investment opportunities. Just as important, he added, it creates ways to connect, find resources and give back to the university and fellow entrepreneurs.
"We're bringing in alums who are anxious to help and pitch in and roll up their sleeves," Armstrong said. "We're early in the process here. There is so much potential, and we're excited to see where we can go."
Neil Powell, director of Kelley School of Business' MBA Strategic Finance Academy and a finance lecturer, sees much value in IU Ventures. Powell, who has worked in corporate finance and venture capital nearly 30 years, said IU Ventures creates a needed mechanism for people with money to connect with smart investment prospects.
Powell also is director of student learning for the new IU Ventures Fellows Program, which provides experiential learning to immerse students in the venture capital profession. Twelve graduate students are enrolled in this year's pilot.
Armstrong said IU Ventures serves as a catalyst for the IU entrepreneurial community, but its financial and social impact spreads throughout the state and beyond.
Financially, it manages four investment programs: IU Philanthropic Venture Fund, IU Angel Network, the Shoebox Fund and the Innovate Indiana Fund.
In 2021, IU Ventures made investments in 10 Indiana companies totaling $1.2 million—despite the ongoing challenges of the pandemic—through its Philanthropic Venture, Shoebox and Innovate Indiana funds. Five of those investments were in companies new to its portfolio, which now totals 22 companies, IU Ventures said.
IU Angel Network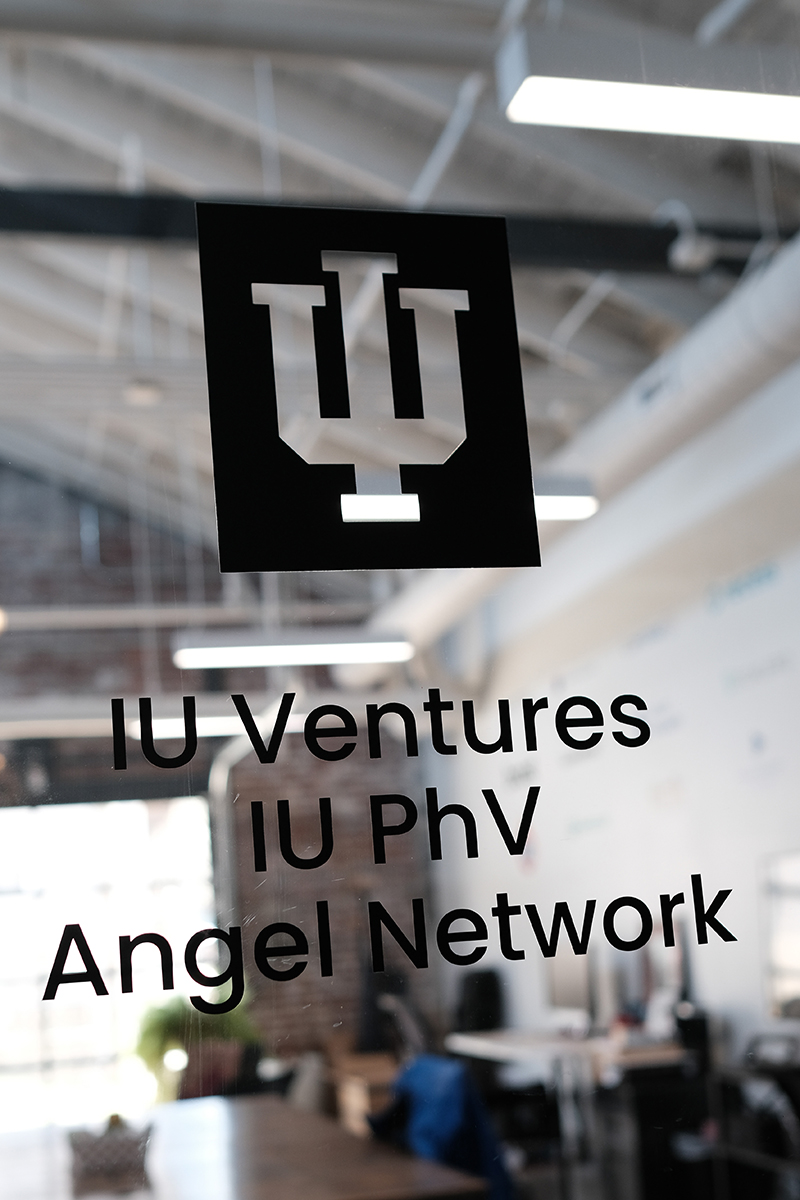 IU Angel Network members invested $3.1 million in three new Indiana companies in 2021 and added follow-up investments to three the network had funded earlier. The network sets up connections between new ventures and potential investors among IU's global community.
"I see it as an alumni engagement piece, as much as a fund," Armstrong said. "Alums learn about the university and connect with each other. … Many are from around the country. They can make an early investment in a company and be a part in someone else's journey and get a chance to help a fellow alum be successful."
The network has about 150 "angels". Each pays a $1,500 annual membership fee and must be an accredited investor. Since February 2020, Armstrong said, 19 deals have been made with $5 million invested from members.
Bhatt was attracted to the IU Angel Network when he was contacted in Chicago by IU Ventures officials. Other angel networks, he said, don't vet startups as well as does IU Ventures, which makes monthly presentations to potential investors who can attend sessions in person or through Zoom.
"It's a tremendous value to entrepreneurs," Bhatt said. "Then, they can use a private portal to discuss proposals and make deals with investors."
Bhatt's company, Folia, offers software that allows clients, such as law firms and banks, to digitally annotate and highlight documents—including financial data, emails, contracts and licensing agreements. It also allows them to collaborate on the documents in real time and to share them securely with others.
After coming to Bloomington, Folia, co-founded by Chief Operating Officer Erik Coyne, attracted $840,000 through that Angel Network process. It also received $245,000 from the IU Philanthropic Venture Fund. Both came in the 2022 investment round that ends soon.
With help from its nearly $1.1 million investment, Folia has prospered and now reaches 1 million individual users, Bhatt said. It's headquartered at The Dimension Mill, a startup incubator of which IU Ventures is one of three sponsors.
Folia has 14 employees, seven in Bloomington and others in cities worldwide. Bhatt has plans to grow to 40 employees locally. He also hopes to add tools and services to Folia's portfolio to meet changing annotation needs of its customers.
IU Philanthropic Venture Fund
An investment from the IU Philanthropic Venture Fund was key to the growth of Boston-based Mentor Collective, co-founded by Jackson Boyar, a 2012 IU graduate in Chinese. Soon after graduating, he developed a pro bono project to run mentor programs for U.S. college students.
But his idea soon blossomed into more than he imagined.
In early 2019, he approached IU Ventures after an investment banker told him about it. Mentor Collective had been working with several IU campuses to set up mentorship programs, so he thought the IU link was strong. After presenting his plan to an investment committee, he got two investments totaling $1 million in 2019 and 2020 from the Philanthropic Venture Fund.
"The investment came at a really critical time and helped change the trajectory of the business," Boyar said. "We were able to hire more salespeople and then reach more students. We had 40 [university] customers at that time, and now we have more than 200."
His team of 104 employees is fully remote, working around the United States and in other countries. Mentor Collective licenses the software that helps universities set up mentoring programs and provides services, such as finding and training mentors, he said. His goal is helping students, particularly those with low incomes, gain social mobility through higher education because mentoring has been shown to improve graduation rates, he said.
The fund's investment has earned several multiples of the principal for IU, and his company raised $21 million early this year from another investor, he added. "I feel fantastic [that] I helped generate a return for my alma mater. I'm thrilled they have a big stake in Mentor Collective."
Since the Philanthropic Venture Fund was created in March 2018, the IU Ventures team has reviewed 400 companies like Mentor Collective with strong IU connections. Of those, 34 were recommended to present their cases to the fund's investment committee, according to IU Ventures, and 20 received a total of $9.6 million. Those recipients raised a total of $140 million in syndicated rounds from other investors.
IU has committed $11 million to the fund, with the goal of growing the fund to $50 million through alumni donations and support from IU. Proceeds from successful investments are returned to the Philanthropic Fund, where they are used to support more new companies.
The impact
Armstrong said IU Ventures' impact doesn't stop with the deals it facilitates and makes.
"We've really been able to bring other partners in these deals," he said. "Other venture funds are looking for ways to make money, and they are seeing the deals we're putting together. It's just not our money, but other money people outside of IU, who perhaps haven't done business in Indiana, are investing in those companies."
He also said IU Ventures' successes reflect the growing statewide venture market. For the first time, Indiana last year surpassed $1 billion in venture capital investment, according to Elevate Ventures' 2021 Indiana Venture Report.
"It's such a testament to the hard work over the decades. We're able to keep and attract people, like Ravi Bhatt," Armstrong said. "It's kind of a milestone … that shows we have the financial resources to grow companies that didn't exist before."•
Please enable JavaScript to view this content.