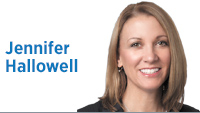 There is a spark of momentum within the GOP to lead on clean energy, and it's getting a boost from the youngest members of our party.
Last month, College Republicans from 25 states, including Indiana, came together to launch a first-of-its-kind effort to push Republican leaders to offer conservative solutions to promote clean energy. Young Conservatives for Carbon Dividends is advocating for a conservative alternative to the Green New Deal. It would advance market-based incentives to encourage renewable energy generation and roll back regulations to unleash American energy innovation.
This is a smart effort, and it's indicative of the shifting attitudes in the GOP on the need for renewable energy, particularly among younger voters. According to polling from Citizens for Responsible Energy Solutions Forum, 82% of GOP millennial voters think that developing renewable energy sources is important. Similarly, a Pew Research Foundation poll found that 72% of Republicans under the age of 38 believe we should prioritize alternative energy sources.
It's not just voters acknowledging this need. NASA has an entire website dedicated to climate science and its impacts. According to a 2018 federal report released by the White House, the impacts of "extreme weather and climate-related events" are expected to worsen and have a significant impact on our economy. At the same time, innovations in renewable energy are becoming more accessible to the public, from electric cars to home solar panels.
Though the left has dominated the narrative on clean energy and environmental policy, this is no longer a Democrat-only issue.
The cost of energy generated by fossil fuel is rising, just as renewables are becoming cheaper and more accessible. The market is trending toward renewable energy generation, and it's increasingly where the jobs are. Jobs in renewables outnumber fossil fuel jobs 3-to-1, and two of the fastest growing jobs in the U.S. are solar installer and wind technician.
According to polling from the Indiana Conservative Alliance for Energy, 84% of Indiana Republicans support letting "markets and costs" rather than the government decide our state's energy options, and a vast majority support developing solar and wind.
Despite the clear market forces, Indiana ranks 47th in the country for clean energy generation. Unsurprisingly, our predominantly coal-generating state has gone from 8th to 28th in the nation for energy affordability. Indiana is losing its competitive advantage in energy costs, which is bad for our manufacturing-heavy state.
Perhaps that's why we are beginning to see engagement from Indiana Republicans on this issue. In an unexpected and noteworthy announcement this fall, Indiana's freshman Republican senator, Mike Braun, launched the first-ever bipartisan Climate Solutions Caucus in the U.S. Senate, reaching across the aisle to co-chair the caucus with Democrat Sen. Chris Coons from Delaware.
"Someone had to start on our side of the aisle," Braun said in an October interview. Of course, he's right.
At a state level, the Indiana General Assembly last year created the 21st Century Energy Policy Development Task Force to guide Indiana's energy transition. This is a big, complex task that will involve modernizing our energy grid to work with renewables, improving our energy storage capabilities, ensuring resiliency and more.
It's a big task, but also a big opportunity.
I applaud the young people helping to elevate this conversation and pressure their Republican leaders to not only engage on this issue, but lead. The momentum and opportunity for a GOP strategy on clean energy is there, and I sincerely hope we seize it.•
__________
Hallowell is president of Hallowell Consulting LLC, a government affairs and communications consulting firm. Send comments to ibjedit@ibj.com.

Click here for more Forefront columns.
Please enable JavaScript to view this content.