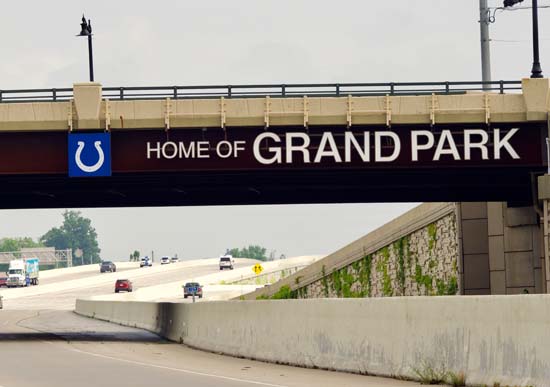 Hamilton County tourism officials are estimating the pandemic-related shutdown of Westfield's Grand Park could leave a hole of up to $85 million in the central Indiana economy–or even larger if the taxpayer-financed sports campus is unable to open by the end of June. But Westfield officials say they don't expect the closure to have a game-changing impact on the city's budget.
The 400-acre Grand Park campus was closed to the public March 16 to ensure athletes and spectators weren't congregating and potentially spreading the novel coronavirus.
Hamilton County Tourism Executive Director Brenda Myers said 479,975 people had been projected to visit the park from mid-March and the end of June for baseball, softball and soccer tournaments and other events, creating an economic impact of $75 million to $85 million, based on anticipated visitor spending throughout the region.
Recent media reports said the sports venue and taxpayers would bear tens of millions of dollars in losses due to the closure, but Westfield Mayor said the reports are confusing economic impact numbers with actual revenue figures.
"When this number of $85 million was floating around, we were shocked," Westfield Mayor Andy Cook said. "(Grand Park's) projected total revenue for the year 2020 is $7 million. We would have to exist for about 12 years at this point to lose $85 million in revenue."
Myers said Hamilton County Tourism uses cell phone and other geolocation data to determine the lodging, transportation, recreation and dining spending generated by visitors who have traveled more than 50 miles to visit Grand Park.
Using data from 2018, Myers found visitors that would've otherwise come to Grand Park for tournaments and other activities between mid-March and the end of June would've spent up to $85 million on those ancillary activities.
Though those losses represent an opportunity cost for businesses throughout the region, the $85 million is not a true reflection of the losses for Grand Park or taxpayers.
The most recent analysis of Grand Park's expenses and revenue in 2020 was published on the city's website in October. The data showed Grand Park anticipated roughly $6 million in operating expenses would be offset by $7 million in revenue.
Vicki Gardner, communications director for the city of Westfield, said Grand Park has had to cut its expenses by 20% to deal with the roughly $438,000 in revenue it has lost since closing in mid-March.
Even if the city weren't able to cover this year's $6.3 million in debt payments with special taxing district and local income tax proceeds, Grand Park still has its own cash reserves. In February, the park's cash balance totaled nearly $3 million.
"Yes, we're losing revenue, but we're not losing 100% of our revenue, and we've been able to cut a lot of expenses," Cook said. "We can go for several months—I can't give you the exact amount because we keep finding ways to increase revenue or decrease costs—but we can go several months before touching the Grand Park reserves."
Cook said tenants such as Methodist Sports Medicine, the Indiana Soccer Association and others are still paying rent. And the city is cutting its expenses by bringing maintenance and groundskeeping duties in-house. The city hasn't had to furlough any of the park's eight full-time staffers, but has paused hiring summer interns, Cook said.
Though there's no clear opening date, Cook said he's been talking with state officials to determine when Westfield might reopen Grand Park's 31 multipurpose fields, 26 baseball and softball diamonds and three indoor facilities.
If Grand Park can't open by July, however, the economic impact could grow dramatically and losses could mount. July is typically prime time for youth baseball tournaments and soccer tourneys usually begin to heat up in August. Such events helped draw 2.5 million visitors to Grand Park overall in 2019.
Another major loss for the park could be the Indianapolis Colts annual training camp if it is unable to take place this year. The camp drew 50,000 visitors last year during its July 25-Aug. 15 run. This year's camp is scheduled for July 23-Aug. 15.
Gardner said there has been no talk of changing that schedule.
The New York Times reported this week that the pandemic has taken a toll on youth sports nationally. Typically, an estimated 45 million children play in youth leagues and on club teams, generating more than $15 billion annually. But that activity has come to a standstill.
At least 113 youth sports organizations signed a letter asking Congress to create an $8.5 billion recovery fund to help the industry recoup anticipated financial losses from camp and event cancellations, the newspaper reported.
Cook believes the pent-up demand for sports activities will eventually result in higher revenue once they resume, even though Grand Park will likely have to implement social distancing and other safety measures upon reopening.
"When we were doing our studies years ago on this facility, one of the things that struck us is that history has shown youth sports is a resilient business," Cook said. "Parents will continue to spend money on their youth. We feel like the demand for it, once it's released, will come out very, very strong."
Please enable JavaScript to view this content.