Hamilton County has some of the most affluent, highly connected cities in Indiana. It also has rural areas that lack widespread access to reliable high-speed internet.
That means some residents, particularly those in the northern part of the county but also in unincorporated areas near cities, struggle to work or learn from home, take video calls and stream movies online.
Jeff Parobechek, who lives with his wife, Elisabeth, and their two children east of Noblesville in Wayne Township, was one of them.
When the family moved to Hamilton County from McCordsville 4 1/2 years ago, their new home had cellular internet, which did not support video for work or school.
Parobechek, who works as director of behavioral health at Methodist Hospital, said he applied for a federal grant after he received information in the mail about the Infrastructure Investment and Jobs Act—passed last year—that included $65 billion for expanding rural broadband across the country.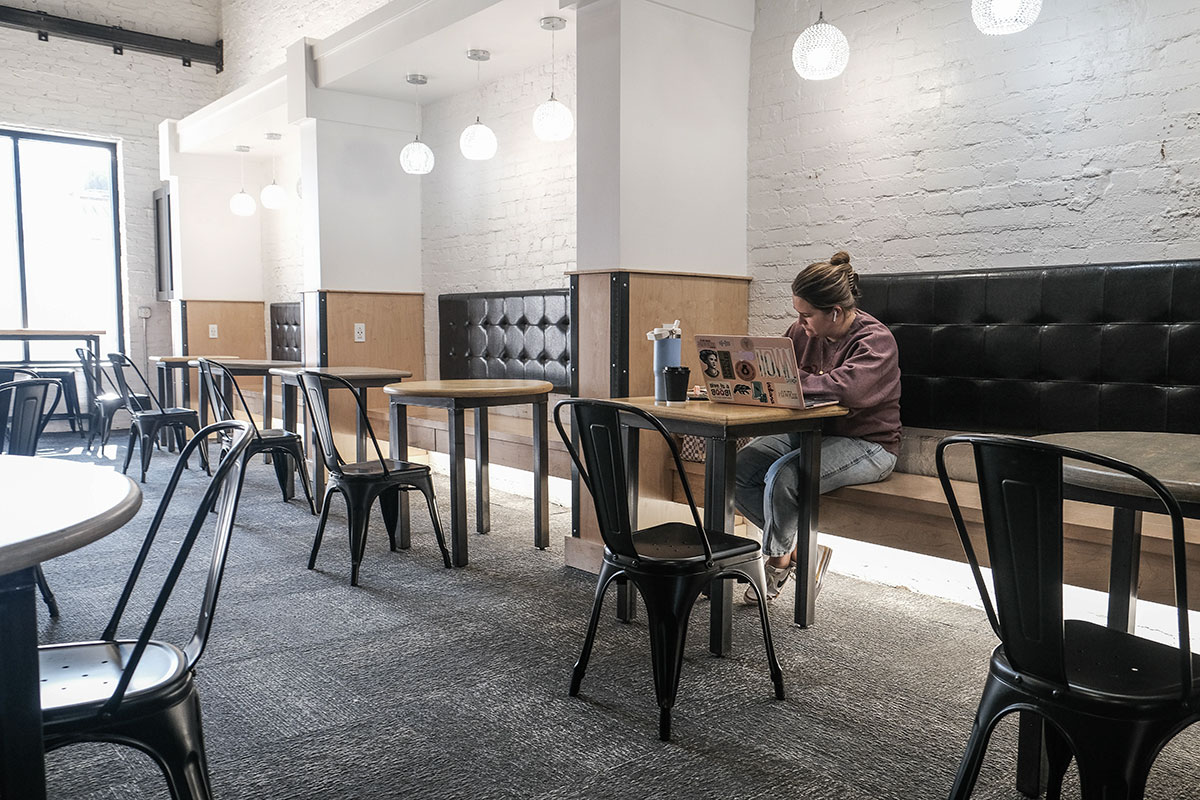 Kokomo-based internet service provider BerryComm LLC installed fiber-optic internet at Parobechek's home this summer. He said his house now has a download speed of more than 800 megabits per second. Family members can stream what they want to watch and get the educational content they need.
The Parobechek parents both split time between the office and home for work, and their elementary-school-age children still have an occasional e-learning day. (Elisabeth Parobechek works as a neonatal nurse practitioner at Riley Children's Health.)
"It has truly made for us a huge difference with our ability to educate our children, to do our jobs, and the reliability has been fantastic for us," Jeff Parobechek said. "It's truly changed our ability to do a lot of things around communication and interaction."
People like the Parobecheks are why Hamilton County officials are looking to expand broadband coverage throughout the county.
"We've seen the percentage of individuals working remote or hybrid in our communities skyrocket over the last couple of years," said Mike Thibideau, CEO of Invest Hamilton County. "And the ability of Hamilton County to attract talent from across the country is dependent on its ability to provide high-quality broadband environments."
Increasing access
Of the approximately 123,000 households in Hamilton County, about 95% have broadband, according to recently released data from the American Community Survey's five-year estimates from 2016 to 2020.
For the remaining 5%, Hamilton County leaders want to make online accessibility easier for those who want it in rural areas.
The Hamilton County Commissioners and Invest Hamilton County—also known as the Hamilton County Economic Development Corp.—recently announced they secured $9 million in federal, state and private funds to expand broadband access to about 3,600 unserved or underserved homes, businesses and farms.
The majority of funds come from the Federal Communications Commission's Rural Digital Opportunity Fund. Other funding sources include the Indiana Broadband Strategic Partnership and the Indiana Connectivity Program.
The timeline for deploying FCC funds is expected to span six years, but the county hopes to shorten that by working with providers to expedite permits, streamline infrastructure investments and provide coordination. Residents can view a map on the FCC's website to see if their location is now funded by the RDOF federal investments.
"What we're doing at the local level is really working hard to do everything we can to move those timelines on those existing [federal] awards and increase efficiency wherever possible to just maximize the investments that providers are being paid to put in within our community," Thibideau said.
State funding for broadband expansion will also be available from the Indiana Farm Bureau's Indiana Broadband Strategic Partnership, which includes Cook Medical Group, the Duke Energy Foundation, the Indiana Association of Realtors, Radius Indiana and the Regional Opportunity Initiative.
Residents can take a speed test on the Indiana Farm Bureau's website to determine their current internet speed and provide data to the bureau to make sure unserved and underserved areas are eligible for upcoming broadband grants and private investment.
Another Indiana-based funding source is through the Indiana Connectivity Program, which is operated by the state's Office of Community and Rural Affairs and is designed to provide faster grant funding to areas that are near but just out of reach of an existing provider.
More than two dozen Hamilton County property owners have applied for and received funding through the Indiana Connectivity Program, according to Thibideau. The process from application to final construction can take up to a year.
Pockets of need
Hamilton County officials acknowledged it can be a challenge to gain access to funding because of the county's status as one of Indiana's wealthiest. They have to work a little harder to show need and have been preparing data and informing people there are still areas where internet access needs to be addressed. Those include the smaller northern communities of Arcadia, Atlanta, Cicero and Sheridan.
The effort to expand broadband access began in early 2021 when a faulty or nonexistent internet signal meant employees and students still locked out of offices and classrooms by the lingering pandemic could not get important work done at home.
"A lot of kids were not going to school at the time, and they were having to communicate and do their homework from their homes. And there was a lot of communication between our superintendents and officials," Hamilton County Commissioner Mark Heirbrandt said.
At that time, the county formed the Broadband Task Force to identify connectivity issues in areas that include the small towns plus Wayne Township and White River Township. Those are areas where people "are frustrated because they don't have good connections," Heirbrandt said.
Many people living there have to rely on libraries and coffee shops for online access for work or school. Remnant Coffee Shop in downtown Arcadia, for example, draws students and remote workers from surrounding communities.
"We would find that people would park [in front of the coffee shop], and they would bring their kids to work on the internet on school projects right in the parking lot because they don't have internet at home," said Lloyd Long, who handles operations and hiring for the coffee shop that opened in June 2020 and is owned by the White River Christian Church.
To identify areas most in need of high-speed internet access and develop plans for expansion, the county commissioners, Invest Hamilton County and the Broadband Task Force are using mapping information and analysis from Indianapolis-based accounting firm Katz Sapper & Miller.
Helping students, farmers
One of the first areas of focus for county officials is the Hamilton Heights School Corp., which includes Arcadia, Atlanta, Cicero and surrounding communities. The county is also focusing on farmers.
BerryComm and Atlanta-based Beck's Hybrids took the lead in expanding fiber-optic internet service in the district.
BerryComm is currently installing connections in Cicero and areas farther north.
The idea began when Beck's Hybrids CEO Sonny Beck and Director of Innovation Brad Fruth talked with county officials about trying to find a provider willing to come to northern Hamilton County. BerryComm became that provider.
"[The pandemic] just shined a light on those that didn't have the necessary broadband to function in our society at that time," BerryComm President Cory Childs said.
Hamilton Heights Superintendent Derek Arrowood said the challenge for many students and parents is not limited to just being able to access the internet. The issue is also connecting multiple students at the same time from one house.
"And it really has been a situation that's not really determined by what some people may think is a socioeconomic situation. It's really more of a where-you-live problem," Arrowood said.
The Hamilton Heights School Corp. has 2,415 students. Of those, 1,638 have cable internet service, 505 have rural wireless, 148 use a mobile phone hot spot, 69 have a digital subscriber line (DSL), and 16 can only use their phones to connect online. An additional 39 students do not have any internet service, according to statistics provided by the school district.
"One of the things we tried to do is make sure that we're meeting the needs of not just some of our students, but all of our students," Arrowood said. "We don't want to punish those kids that don't have connectivity when they're at home."
Ensuring the local farming community can compete in the 21st century is another reason the county is looking to increase broadband access. Northern Hamilton County retains an agricultural lifestyle, and modern farming relies on technology just as much as any other business.
"We do still have a thriving agriculture sector within our community," Thibideau said. "And as that sector becomes more reliant on technology, its broadband needs become more expansive."
Farmers use cloud systems for finance and payroll. Many row-crop farmers have an IP-based photo system and use managing sensors, weather stations, drone data and equipment data from tractors and combines.
Livestock farmers upload photos and video daily in their communications with packing plants.
Fruth, an Indiana Farm Bureau member who lives in Miami County, said farm work is no different from any modern office or business that uses data analytics to become more efficient and increase income. To stay competitive, farms require the latest technology.
"Everything that we're doing in agriculture is going to be tied to some sort of cloud-based system, and the movement of all that data to get it up to the processing systems to analyze and get it pushed back down for meaningful information for our customers is a challenge every single day," Fruth said.•
Please enable JavaScript to view this content.