How important is it that Indiana maintain a surplus?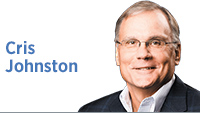 Because of the strong economic stewardship of Gov. Eric J. Holcomb and our partners in the General Assembly, the state of Indiana closed the fiscal books earlier this month with more than $2 billion in reserves. This is great news for Hoosier taxpayers.
The general fund budget adopted in April appropriates over $34 billion over the next two years for programs and services to Hoosiers, including Medicaid and child protective services. More than half of the budget goes to our K-12 schools.
Many families create emergency funds for unexpected disruptions in monthly budgets. Similarly, states maintain reserves to pay for services when tax revenue, primarily sales and income taxes decline, but more Hoosiers require government services. Yes, $2 billion in reserves is a significant amount of money, yet it translates into running the government for roughly 43 days.
Sustained fiscal discipline creates the flexibility to consider how future investments are made. Holcomb and the General Assembly have been presented with those opportunities recently. Earlier this year, the governor, with the support of the General Assembly, used reserves to pay off a pension liability that schools currently fund. This investment by the state will save local school districts $140 million over the next two years, with continued savings in the years following, providing dollars that can go straight into teachers' paychecks. This is just one example of a prudent, one-time use of reserves to offset future ongoing costs.
With the closing of the books for fiscal 2019, the governor identified new opportunities for making near-term cash investments that will free up future resources. Several higher education building projects, state fairgrounds infrastructure, and finishing the free flow of U.S. 31 were approved in the most recent budget for borrowing, but now can be paid with cash. This avoids the payment of over $100 million in interest costs over the next 20 to 25 years.
Holcomb's decision to prioritize strong reserves and a balanced budget is a key contributor to our AAA rating, the highest rating a state can receive. Indiana is one of 13 states with a AAA rating from all three rating agencies. Moody's Investors Service recently recognized the preservation of these reserves and the governor's proposal to spend a limited portion of these reserves on one-time expenses in maintaining the state's long-term fiscal stability.
We in state government have a duty to manage taxpayers dollars responsibly so that, during a time of strength, we can retain our position as the fiscal envy of the nation, and during a time of need we can continue providing great government service to Hoosiers without interruption.•
__________
Johnston is director of the Office of Management and Budget for Gov. Eric Holcomb's administration. Send comments to ibjedit@ibj.com.

Click here for more Forefront columns.
Please enable JavaScript to view this content.