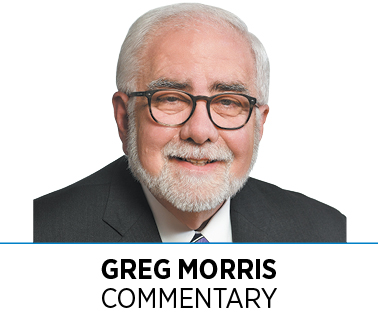 These are challenging times. But I want to make sure our readers know that IBJ has been helping businesses in central Indiana for the last 40 years, and the next 40 years will be no different. You can count on IBJ to be here when you need us.
In the face of the COVID-19 pandemic and resulting financial challenges, we also see opportunity. We see the opportunity to invest in the connections to one another that bring meaning to our work, the opportunity to lean on our company values and do what we believe is right, and the opportunity to support one another and make our community even stronger. Our relationships with all of you—our subscribers, clients, vendors, event attendees—are what keep us going.
"We view it as our mission to provide the most complete and accurate coverage of the coronavirus crisis in central Indiana," IBJ Editor Greg Andrews said.
"Of course, we want to blanket the business angles to this story. But we know readers count on us for more than that. This story touches all aspects of their lives—and they need a reliable source of information that helps explain everything, from the implications of government policy decisions to ways to keep themselves and their families safe."
And in that spirit, IBJ is providing the most relevant and up-to-date local, state and select national COVID-19 information on our website at ibj.com/coronavirus. Much of this critical information is being provided free to all, outside the paywall restrictions that usually limit content to paid subscribers only. An easy-to-find link is in the top-right-hand corner of our home page.
We have links to state and local government sites with up-to-date data about how many people have been tested for COVID-19 and how many people have tested positive.
We have links to specific information that will be helpful to employers and small-business owners, including the Indy Chamber Rapid Response Hub as well as the U.S. Small Business Administration for loan applications.
And we've posted a map created by Johns Hopkins University that tracks the spread of the virus worldwide and shows how many people have confirmed cases, have died and have recovered in states and nations across the globe.
We'll continue to provide this extensive and important coverage as long as it takes. However, I'm hopeful that we can get back to business as usual and all Hoosiers can get back to work soon. We need to put this crisis behind us and get busy figuring out how to be better prepared for the next threat that comes our way. And it will come.
At press time, the White House seemed laser-focused on getting businesses open again and people back to their jobs in the next two to three weeks. That would be a wonderful thing. It should motivate all of us to follow the directives and best-practice guidelines to the letter. That's what we've been told—right? Follow the guidelines and we'll slow the spread of the virus and reduce the number of patients who need urgent medical care all at once.
It looks to me like most everyone has been listening and cooperating. Downtown Indy has been a ghost town. Even though IBJ is considered an essential business, about 90% of our workforce has been working from home for about two weeks now.
I'll finish where I started. We've been serving the Indianapolis region for 40 years and you can count on IBJ to be here when you need us in the future. Thanks for your loyalty and support, and be safe out there.•
__________
Morris is publisher of IBJ. His column appears every other week. To comment on this column, send email to gmorris@ibj.com.
Please enable JavaScript to view this content.