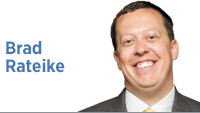 I think I'll always be a person enamored by those who speak passionately about their lives. If I'm talking with someone who appears to "care" about something, I'm generally, genuinely interested, regardless of what that something is. If the person appears to show a minimal level of self-awareness, I want to hear their story (at least for a little while).
When I meet someone new, I treat that conversation as an informal, internal race to find something I have in common with him/her. The fastest way for me to do that is to start asking questions. I've found that, with rare exception, the topic people are most comfortable discussing in any conversation is … themselves. So, let them talk about themselves. It's why what most people call "bad small talk" never seems truly "bad" to me because I'm teeing up story opportunities for the other person (and they're genuinely interested).
I've spent time with people who have lives or jobs that most would view as "interesting" or "amusing," but these people didn't (or couldn't) speak about their jobs in a way that was at all compelling. Conversely, I've spent plenty of time with people whose lives or jobs would otherwise appear boring/not special/sad but who could speak about them in a way that piqued my attention or curiosity.
I spent a summer working at the local Pizza King with about a dozen other Franklin College students. It was a great job, though it didn't necessarily lead to a career path in that field. It did, however, forever change my outlook on both the service industry and the fact that any job, if you show some passion, can be interesting. Many nights we would close the restaurant and reconvene after work, where we would recap our individual work shifts with an uncanny eye for detail. We knew we weren't saving lives, we weren't educating the youth of America or serving at a not-for-profit, we were just making and serving pizza. But we cared about making and serving pizza. This wasn't about pride in our work; it was about showing a little enthusiasm and figuring out that making the best of our part-time jobs was better than apathy or indifference.
I'm sure we bored others to tears with our dramatic tales of high maintenance clientele, doing dishes, bussing tables, etc. That said, it was rare that my friends doing internships at accounting firms or student teaching had more than 30 seconds of content to share when we asked them about their day. It didn't mean our jobs were better than theirs; it meant we found that our passion for working together at Pizza King made our jobs more enjoyable.
A little passion goes a long way. It's why trying to find something in common with someone else is an important factor in any conversation. Some of the best people I've known have started as random people I met who were passionate about what they did—and that passion was infectious. When it comes to relationships, most people don't strike oil the first time they drill. But I think if you start all conversations from a place of caring about what you do and who you are, the relationships will come. If that doesn't work, I'm happy to connect you with the owner of a certain pizza establishment in Franklin.•
__________
Rateike is founder and owner of BAR Communications and served as director of cabinet communications for President Donald Trump. Send comments to ibjedit@ibj.com.

Click here for more Forefront columns.
Please enable JavaScript to view this content.