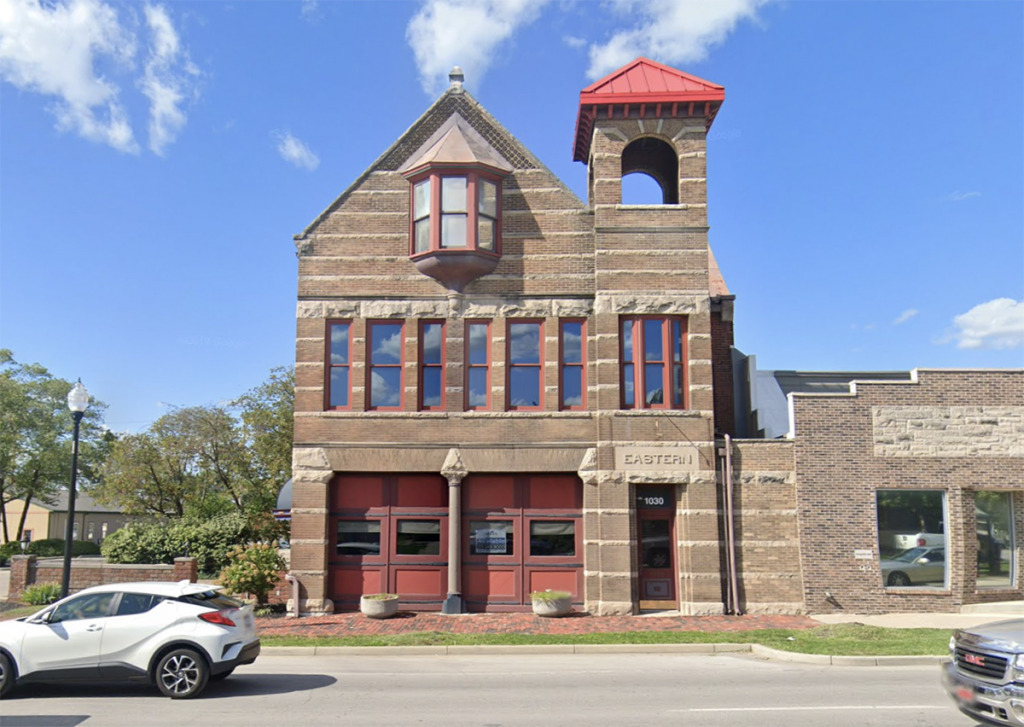 A 125-year-old landmark firehouse on East Washington Street that previously housed a photography business and a reception center for Angie's List has been donated to the Indianapolis Metropolitan Police Department.
The three-story, 8,600-square-feet building at 1030 E. Washington St. was donated to IMPD by Fred Abel LLC, owner of the former Angie's List corporate campus, which encompasses about four blocks northwest of the firehouse. The campus was renamed Elevator Hill.
IMPD will be able to use the building as a substation where personnel can take breaks, fill out reports, work out or regroup after incidents.
"We knew there wasn't a large, centrally located IMPD substation for these districts, and we know how a police presence can bring heightened security to an area, so we jumped at the opportunity to offer the space," said Bill Oesterle, part of the Fred Abel LLC ownership group and co-founder and former Angie's List CEO, in written remarks.
Rob Coombes of Shook Realty, leasing agent for the Elevator Hill properties, estimated the building would have generated $160,000 a year in rent at current average office rates in the area.
Originally known as Indianapolis Fire Station 15 when it opened in 1896, the building became Station 11 in 1901 and remained that way until it relocated in 1971.
Fred and Peggy Abel acquired the station, property and surrounding buildings and renovated the station into a photography business called Firehouse Colorlab. Fred Abel had previously worked is his family's business, W.H. Bass Photo, as a commercial photographer.
The building continued to house a photography business until 2003, when Firehouse Image Center moved to 2000 N. Illinois St.
Angie's List took over the building in 2003 and used it as a reception center and offices until moving out in 2018, when it was acquired by Fred Abel LLC.
Oesterle said he frequently contracted with off-duty IMPD officers to provide security at the property as Angie's List grew and took over more buildings and as property manager for the various Fred Abel LLC tenants. The property owners also give police personnel complimentary access to fitness classes and gym facilities operated by Taylor Made Wellness, one of the tenants at Elevator Hill.
"This is the kind of public-private partnership that makes Indianapolis stand out as a great community," IMPD Chief Randal Taylor said in written comments. "Our officers are really pleased with the amount of space in the building and the welcome they've received. There's a lot of room to work, have a meal and regroup, which can be a great respite for our officers."
Other occupants at the 18-acre Elevator Hill property include Ball State University's College of Architecture and Planning, JAT of Fort Wayne, Circle City Kombucha, the Indy Gaming League, SupplyKick, RezPower, Advanced Agrilytics, InGen Technologies, Futuro Pizza, Morphey Construction, Elite Back and Body, Coforce Marketing, Garrison Logistics and Capitol City Fence.
Please enable JavaScript to view this content.