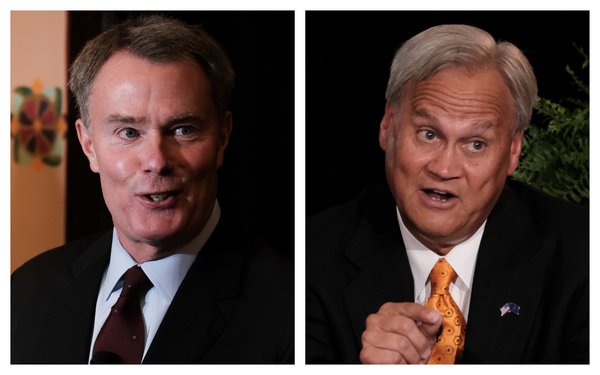 Indianapolis Mayor Joe Hogsett has spent $4.6 million on his re-election campaign, about $4 million more than his opponent, Republican state Sen. Jim Merritt.
Ahead of the Nov. 5 Election Day, Hogsett, a Democrat, has more than $972,300 in his war chest, about $820,000 more Merritt, just-released campaign finance reports for the candidates show.
Since April, Hogsett's campaign raised about $1.65 million, while Merritt's team raised nearly $515,700—some $1.1 million less than his opponent. The reports detail contributions and spending between mid-April and Oct. 11.
Hogsett's cash-on-hand leaves him with significantly more money to spend before the election. His campaign did not respond to questions from IBJ about its spending plans for the final two and a half weeks of the race, but he's been spending heavily on advertising.
Hogsett's spending has included a four-month-long television, radio and digital advertising campaign and an "unprecedented county-wide field effort," the campaign said. His campaign paid Facebook more than $36,000 for social media ads and Denver-based Bluewest Media $3.8 million for media buys.
Hogsett's campaign reported more than 850 individual donors, with more than 70 percent them contributing $250 or less. Hogsett campaign officials say those smaller contributions show the grassroots campaign he's led. At least a handful of contributions to his campaign were for $5 or less.
"While we are encouraged by these fundraising numbers, we're just as proud of what they mean for our grassroots campaign: five campaign offices, hundreds of volunteers, and tens of thousands of conversations with voters," Heather Sager, Hogsett's campaign spokesperson, said in a written statement. "From Day One, Mayor Hogsett has worked to build an Indianapolis that is one city, and this filing reflects support from all corners of Indianapolis."
Merritt also received plenty of contributions of $250 or less from individual donors.
During the reporting period, his campaign spent just more than $588,000. Large expenditures include payments totaling nearly $35,900 to the Indiana Republican State Committee for polling and advertising; roughly $32,400 to The Engelhart Group for advertising and about $14,450 to Niche Agency for advertising. Altogether, the campaign has spent more than $350,000 on digital, TV and radio ads, the campaign said.
Merritt hasn't recently released any new TV ads, but Hogsett released a new one Friday that focuses on crime prevention.
Initially, Merritt's campaign set a goal of raising $1 million, and it's still working toward that goal, the campaign said Friday, adding that fundraising has picked up significantly in the past three weeks.
Merritt's report shows the campaign raised more than $28,000 between Oct. 1 and Oct. 11—the end of the reporting period.
Please enable JavaScript to view this content.