Indiana Gov. Eric Holcomb has named state Rep. Holli Sullivan as the next secretary of state.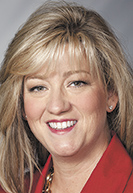 Sullivan, who was sworn into office on Tuesday, replaces outgoing Secretary of State Connie Lawson, who announced in February that she would be retiring after 32 years in public service.
Lawson, 71, won reelection in 2018 and has nearly two years remaining on her term. She is the longest-serving secretary of state in Indiana history. She was appointed to the office by then-Gov. Mitch Daniels in March 2012 and was elected in 2014 and 2018.
Sullivan has represented House District 78, which covers portions of Vanderburgh and Warrick counties, since 2014. She is vice chair of the Indiana Republican Party.
She previously worked in the auto manufacturing industry, serving in managerial roles at General Motors and Toyota, and owned and operated her own consulting business.
Holcomb said he chose Sullivan because of her business success, experience in the Legislature and commitment to serving her community.
"We had a number of overly qualified candidates but Secretary Sullivan was always at the top of that list," Holcomb said. "As we say around here, you never relinquished that pole position."
Sullivan, who was told over the weekend that she got the job, said she is thankful and excited for the opportunity.
She said she will work to make sure the state's elections continue to be secure, protect Hoosiers against financial scams and cut red tape so it's easy to do business in Indiana.
Sullivan, 48, would not say whether she would run for the position in 2022.
"I plan on making a smooth transition in the office when I walk down there in about a half an hour and then we'll make those future decisions and announcements here soon," Sullivan said.
Please enable JavaScript to view this content.