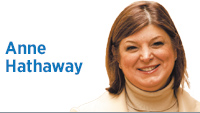 Last week, Gov. Eric Holcomb announced his 2020 Next Level legislative agenda in Terre Haute. While it's easy to get lost in policy minutiae, this year's agenda is another reminder of how Gov. Holcomb's relentless focus on building opportunity for Hoosier families and businesses has been enormously successful for our state.
Indiana's booming economy, historic infrastructure investments, and job attraction from businesses across the country and world have been driven by Gov. Holcomb's simple philosophy of putting people first—one community, one family, one individual at a time—to build our state's success story.
With Gov. Holcomb leading, our state has long recognized that to succeed we need every part of our community—businesses, workers, schools, not-for-profits, and community organizations—working together to make an economy that's built on a foundation of the dignity of families and workers.
This year's agenda continues to build on previous sessions' record infrastructure investments in roads, rails and trails and the state's success in recruiting high-paying jobs—and is committed to telling Indiana's success story across the country and world.
These accomplishments were possible because of the governor's work to make sure every Hoosier had access to the jobs, training and opportunities they need—no matter where they were in life.
The 2020 agenda continues Gov. Holcomb's commitment to Hoosiers.
It's committed to continuing to work with groups like The Last Mile, which teaches inmates to code and has drastically reduced recidivism rates for graduates, making innovative changes in Indiana's prison education system to better prepare offenders for re-entry into society.
It's committed to protecting pregnant women and new mothers, expanding safeguards and accommodations in the workplace—recognizing the dignity of mothers and their children.
It provides a safety net for individuals dealing with substance use disorders, expanding recovery houses and empowering local communities to establish paramedicine programs to deal with root causes on the ground.
It protects students by helping school systems establish mental health partnerships and stopping kids from using tobacco and vaping products.
It puts safeguards in place for patients, putting provisions in place for health care prices and preventing surprise medical bills for hitting individuals and families already in crisis.
It's committed to working with our state's students and teachers. Working to cut unnecessary regulations for educators and building a long-term, sustainable plan to make Indiana the leader in the Midwest for teacher pay.
That's what Gov. Holcomb is committed to working on next year—putting Hoosier workers, teachers, patients, entrepreneurs and taxpayers first to move our state to the next level.•
__________
Hathaway is president and CEO of Hathaway Strategies, chairwoman of the Julian Center board and former chief of staff of the Republican National Committee. Send comments to ibjedit@ibj.com.
Please enable JavaScript to view this content.