Bruce White, the founder of Merrillville-based White Lodging and one of the developers of the JW Marriott in Indianapolis, died Thursday after a battle with cancer that lasted nearly a year. He was 70.
White founded White Lodging in 1985 with a single hotel in Northwest Indiana and grew the company into one of the industry's largest privately held development, ownership and management companies.
The company has more than 60 hotels under the Marriott, IHG, Hyatt and Hilton brands, as well as more than 50 restaurants, 10 rooftop bars and a collection of luxury ranches.
Its key markets include Austin, Louisville, Chicago, Denver, San Antonio, Nashville, Charlotte and Indianapolis, where he worked with Mike Wells, president of REI Real Estate Services to develop the Marriott Place hotel complex, which opened in 2011 on the west side of downtown.
Two years earlier, White and Wells had partnered on the Indianapolis Marriott, also downtown, and did dozens of other projects together.
"He's been a great business partner and an incredible person in the hospitality industry. He really loved the industry," Wells told IBJ on Thursday.
"He totally built up the hospitality industry here," he said. "When Mayor Goldsmith looked for a hotel to get the conventions that we needed to happen in Indianapolis, he stepped up and did the Marriott. We were partners in that and it was an incredible success. He was a great citizen of Indiana."
White Lodging CEO Jean-Luc Barone said White "was a visionary, a leader, and a hospitality icon like no other."
"I have learned more from Bruce about hard work, leadership, and family, than any other person in my life," Barone said in a prepared statement. "And while he maintained a low public profile and was humble in his impact on the industry, there's no question that Bruce White helped transform the modern hospitality industry by having a long-term vision, challenging existing norms, and executing at the highest levels—all from a small town in Northwest Indiana."
White, a philanthropist and community leader, was one of the original members of the Indiana Economic Development Corp. board and served on the Purdue University board from 2011 through 2015.
White graduated from Purdue in 1975 with a degree in management. He is also a member of Purdue University's Business Hall of Fame.
"In all its history, Indiana has produced few citizens the equal of Bruce White," said Mitch Daniels, the recently retired Purdue president who served as governor when White was on the IEDC board.
"In a spectacular business career, his imagination and boldness created opportunities and wealth for thousands of others," Daniels said in a statement. "He invested enormously of his energy and personal resources in trying to build the prosperity and quality of life of his beloved Northwest Indiana."
Daniels called White a "central figure in building the Purdue University of today. We cannot replace him."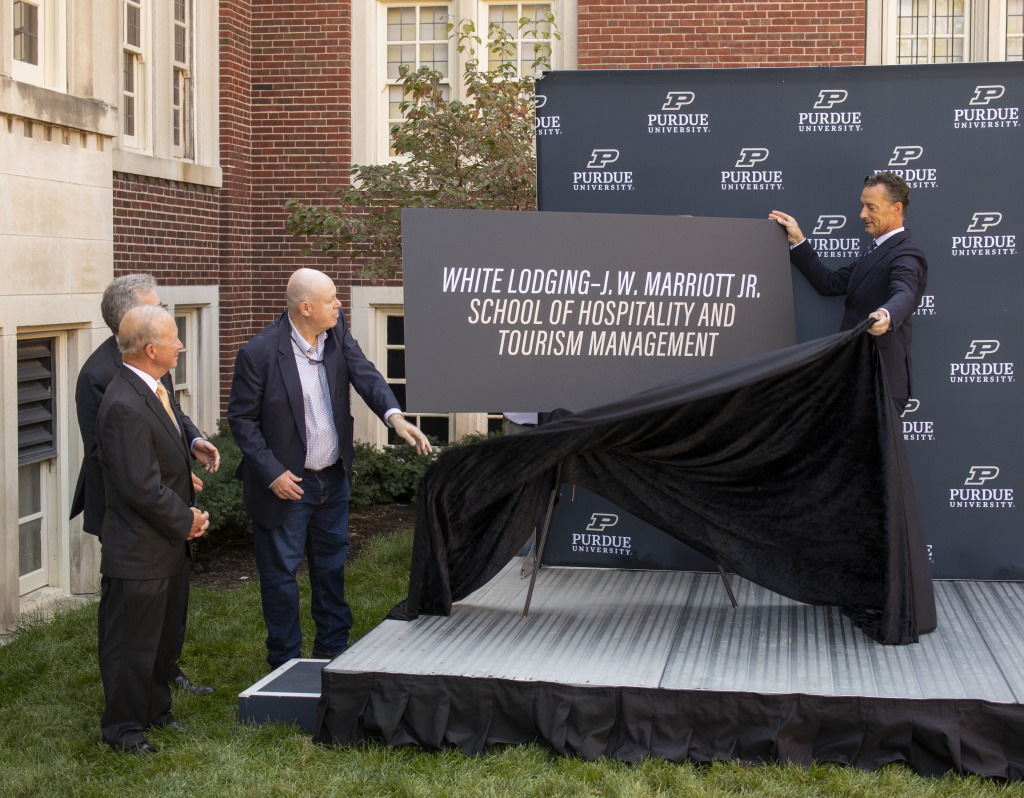 White and his family made numerous donations totaling more than $60 million to Purdue University, which last year renamed its hospitality school the White Lodging-J.W. "Bill" Marriott, Jr. School of Hospitality and Tourism Management.
Over the past five years, White—largely through family foundations—has invested more than $100 million in community projects and programs, including the expansion of YMCA facilities in northwest Indiana.
In a statement, White Lodging said it will remain a private, family-owned business. It said succession planning began years ago "with the development of a strong leadership team and the expertise and counsel of family members and outside advisors that sit on the board of directors."
In 2018, White told IBJ that "with private ownership and family control, we can stay true to our core beliefs and philosophies, and not get taken off track by shorter-term events."
"But family involvement does not necessarily mean managing the company," he said. "It really means being the steward and providing an effective ownership support to the management organization."
White, the son of billionaire billboard advertising company owner Dean White, is survived by his wife, Beth, three adult children and one grandchild.
Though White's father, who died in 2016, was indeed a billionaire, his son still started more or less on the ground floor. In the beginning, White Lodging strictly was a management company, meaning it contracted to oversee hotel operations but didn't own any. Its first client was his dad's Holiday Inn, followed a few years later by a couple of hotels he bought in Warsaw and Evansville.
"For years, the company was myself, an accountant, and a secretary," White told IBJ in 2018..
For his first foray into development, White and several partners built six Carleton Lodges, primarily in northern Indiana. The big break came when White was invited to meet John Willard "Bill" Marriott Jr., chairman of Marriott International, to be considered as the first franchisee for Fairfield Inn, Marriott's economy line.
White Lodging soon was knee-deep in Fairfield Inns. Assistance from Marriott, in the form of debt guarantees, helped the company put together more deals at a rapid clip.
"Marriott's relationship with Bruce White and White Lodging has been going strong for decades and that's a testament to our shared values and our belief that people are at the heart of this business," said Bill Marriott, chairman emeritus of Marriott International, and his wife, Donna, in a statement. "Bruce embodied that value."
In 2006, White Lodging improved its cash flow by selling 99 hotels for $1.7 billion to Robert L. Johnson, the founder of Black Entertainment Television. White retained the management contracts until selling them in 2018 and shifting the company's focus to a more urban portfolio.
Last year, White Lodging sold the company's 25 remaining suburban hotels and management contracts to focus on urban and what it called "experiential" hotels.
Jim Dora Jr., whose General Hotels Corp. owns the downtown Crowne Plaza Union Station, told IBJ on Thursday that he was "completely saddened and just devastated to learn" about White's death.
"Clearly, Marriott Place and that development really helped set the trajectory for the city's growth at a really tough time in the economy," Dora said. "Both his father and he stepped up to make that happen. So, I think without their love of the city and the state, it's a project that just wouldn't have happened on its own. It's something that the city can never be grateful enough for."
Please enable JavaScript to view this content.