A few days before Thanksgiving, retired Indianapolis firefighter Richard Mann was feeling weak and having trouble breathing. "I was so short of breath it was scary," he said.
Alarmed, his wife drove him to the emergency room at Indiana University Health North in Carmel, where he was diagnosed with COVID-19 and pneumonia. He was ushered to a room, hooked up to an oxygen tube and intravenous fluids, and kept under a doctor's watch.
But after a week in the hospital, Mann was surprised when his doctor offered him the chance to go home early and complete his recovery there, with electronic biometric monitors and daily phone calls from nurses. Like many hospitals in Indiana, IU Health North has faced a severe bed crunch due to a surge in COVID-19 cases that has pushed the staff and facilities to the limit.
So even though he was still weak and having trouble getting around and climbing stairs, Mann, 60, decided he would be better off at home than staring at the hospital walls.
"I was happy to go home," he said. "Psychologically, it's much better to be with your family."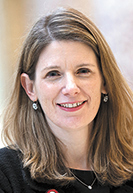 Around Indiana and the nation, many hospitals are showing patients the door early, as they try to cope with a crush of patients during the pandemic. Under an assortment of programs, hospitals are discharging patients several days earlier than they otherwise would, sending them home sometimes with oxygen machines, intravenous lines and powerful medicines.
Indiana University Health, the state's largest hospital system, has discharged hundreds of patients early during the pandemic, and put them under home care, which typically lasts from a few days to several weeks. This week, IU Health had 56 patients enrolled in its hospital-at-home program—the equivalent of freeing up two inpatient hospital units.
"We're full up," said Dr. Michele Saysana, IU Health's vice president for quality and safety. " We're doing everything we can to maximize space and find more space."
'New level of crisis response'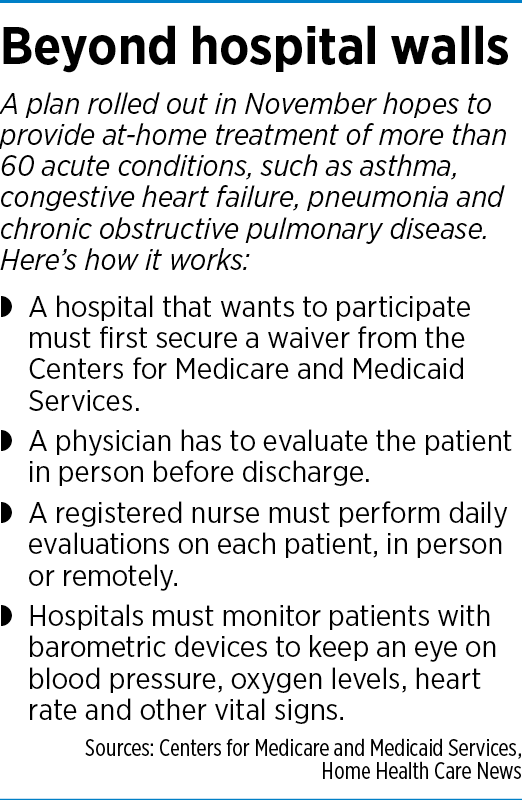 The shift from hospital to home, in the midst of a raging pandemic, comes with the blessing of the U.S. government. Last month, the Centers for Medicare & Medicaid Services rolled out a program that allows hospitals to provide their services "in locations beyond their existing walls." In doing so, the agency expanded a program it began in March called "Hospitals Without Walls."
And it's not just for COVID-19 patients, although they still make up the vast majority of cases. CMS said it believes treatment for more than 60 acute conditions—such as asthma, congestive heart failure, pneumonia and chronic obstructive pulmonary disease—can be done safely in the home with proper monitoring and treatment protocols.
"We're at a new level of crisis response with COVID-19, and CMS is leveraging the latest innovations and technology to help health care systems that are facing significant challenges to increase their capacity to make sure patients get the care they need," CMS Administrator Seema Verma said in announcing the expanded program Nov. 25.
Going from hospital to home is meant to clear out intensive care units or other areas filled with seriously ill patients. It's for patients who are neither too sick nor too well—those who need more hospital-level care but are likely to recover at home, rather than take up a hospital bed, possibly for weeks.
The government's encouragement to treat acutely sick patients at home could not have come at a better time, according to the Indiana Hospital Association. Hospitals from South Bend to Lafayette to Richmond have little to any capacity for additional patients now, said Brian Tabor, the association's president.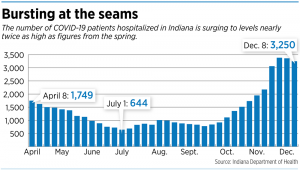 As of Dec. 8, 3,250 Hoosiers were hospitalized with COVID-19, more than five times the 600 in early July, following the first wave in the spring. Only 21% of the state's 2,178 intensive care beds are available.
"And if we continue to see rising case numbers, I think we will find ourselves in a precarious situation very, very soon," Tabor said.
He said it's still unclear whether the CMS action allows hospitals to charge inpatient rates for patients getting hospital care at home. Typically, the federal government pays a lower reimbursement rate less for procedures performed in outpatient or home settings.
"That's something that we're going to have to get answered just so that we can make sure it's a sustainable model," Tabor said.
'It's a day-to-day thing'
The hospital-at-home model is not new, but previously it has been used more to treat patients with chronic conditions, such as diabetes and heart failure. It was not viewed as a tool to clear out dozens of beds for the next wave of patients. But many hospitals that have now filled up their beds and emergency room space have diverted ambulances to other hospitals—a situation that could lead to a seriously ill or injured patient getting delayed care.
Johnson Memorial Hospital in Franklin had 22 employees out on quarantine this week, putting a stress on the rest of the staff attending to the hospital's 65 beds and running other operations.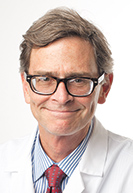 Dr. David Dunkle, the hospital's CEO, said he optimistically thought the staff might get a breather when admission temporarily slowed. Then on Tuesday, he got an urgent call from a staff member: Eight people in the emergency room needed inpatient care, but the hospital had no beds for them. Eventually, three beds opened that evening, then another five the next morning.
"It's a day-to-day thing," Dunkle said. "One word that I use a lot is 'chaos.'"
At Eskenazi Health, which typically ran at 90% of capacity even before the pandemic, administrators are constantly reviewing the numbers to see how they can find more space and staff to handle a crush of patients.
"Every morning, it's a question of what's available," said Dr. David Crabb, the hospital's chief medical officer. "About three or four weeks ago, we decided we had to be very careful about doing procedures, mainly surgeries that would require a patient to stay in a bed overnight."
Relieving the stress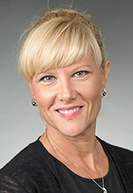 At Community Health Network, administrators were faced with a dilemma this spring. Patients were showing up in the emergency room with COVID-like symptoms, but the hospital couldn't find a quick way to test the patients and get results without a lag of several days.
So rather than admitting the patients, Community Health sent them home under a monitoring program, where they could be watched for oxygen levels and other vital signs. The network put together a centralized team of nurses to monitor those patients seven days a week.
"And we were able to successfully help to treat those patients remotely through virtual capacities and keep them out of the hospital walls," said Kim Jule, vice president of Community Health's post-acute product line.
This month, Community Health plans to expand its offering under a new program called "Early Dismissal Hospital to Home." Unlike the earlier program, this one targets patients who have been admitted to the hospital with COVID symptoms. They stay at the hospital until a physician has determined they are stable, typically on the third day.
Then they are given an option to go home, with an armload of devices, including an oxygen monitor and blood pressure cuff. Nurse practitioners check with patients daily to monitor their conditions.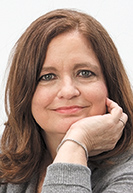 "We want to relieve the stress on the hospital and give them capacity for more critically ill patients," Jule said.
Franciscan Health rolled out a program last month that allows patients to leave the hospital early and continue acute care at home. Since then, the health care system has discharged 24 patients early, freeing up that many beds for more seriously ill patients. Through a remote-monitoring program, Franciscan Health installs equipment in the patient's home, where they electronically log their vital signs.
"It goes in real time back to a critical care nurse who's looking at these results three times a day," said Beth Keultjes, Franciscan's administrative director for post-acute-care services. "If there's anything out of the ordinary, they get on the phone with that patient immediately."
'Sleep in my own bed'
Some patients who have been discharged early from Indiana hospitals say they didn't mind, and felt comfortable they were getting sufficient care remotely at home.
Patrick White, 53, of Bloomington went to IU Health Bloomington Hospital's emergency room in October with a 105-degree fever, feeling completely washed out. He was admitted with a COVID-19 diagnosis. The next day, his wife Lori, 51, also was admitted.
After sharing a room for four days, they gradually felt better and were itching to go home. Their doctor said they could leave, but because they weren't fully recovered, the hospital sent remote-monitoring devices with them, and an oxygen tank for Patrick. A nurse called three times a day to check how they were doing.
"I could lay on my own couch, sleep in my own bed, instead of spending all day in a hospital bed, looking at the same four walls," Patrick said.
But even more than a month later, he still finds himself tiring quickly and wonders how much longer it will take to fully recover. He is working from home, doing information technology work for Indiana University. His wife is back to work at Bloomington Hospital, where she does surgery scheduling.
Altogether, IU Health has sent 327 patients home early since March, with much of it coming in recent months. In October, IU Health said it was expanding its hospital-at-home program to cover patients with congestive heart failure, pneumonia and other maladies.
The early discharges have helped free dozens of beds for other patients who are more seriously ill. This week, IU Health had 468 patients with COVID-19, down slightly from 480 last week, but still more than double the 208 in early August.
The average length of stay of a COVID-19 patient in a hospital is about 10 days, and the early discharge chops off about one-third of that time.
"These are people that are still sick and are significantly ill," Saysana said. "We will continue to monitor them. There's a check-in multiple times a day with the patient [by] the nurse, to see how they're doing."•
Please enable JavaScript to view this content.