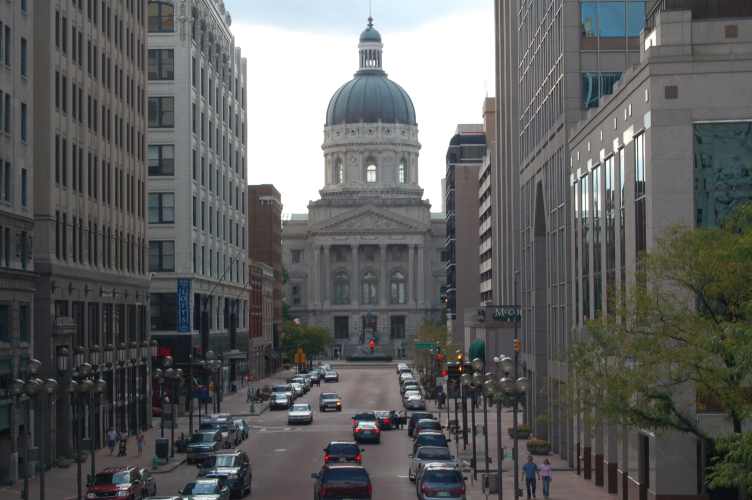 Indiana House and Senate Republican leaders appear to be at odds on how to handle legislation to address vaccine mandates and end the state's public health emergency.
House Republicans have prioritized fast-tracking the passage of House Bill 1001, which would put in place administrative actions that could allow Gov. Eric Holcomb to end the state's public health emergency. The bill also would restrict businesses who require COVID-19 vaccines for employees.
The vaccine mandate provisions of the bill would effectively force employers to accept any medical or religious exemptions, without question.
The Senate is attempting to take a different approach with its bill. Senate Republicans released their legislative priorities on Tuesday, and among the top three items was ending the state public health emergency with Senate Bill 3, authored by Sen. Ed Charbonneau, R-Valparaiso.
SB 3 mirrors the first half of HB 1001 by creating administrative tools to ensure Indiana can end the public emergency and continue receiving the same federal reimbursements for the Supplemental Nutrition Assistance Program and Medicaid, and maintain the state's ability to hold voluntary community vaccination clinics. Vaccine mandate language is absent from the bill.
Senate President Pro Tem Rodric Bray, R-Martinsville, said Tuesday that the Senate wants a "clean" emergency order bill, leaving out what he called the more controversial issue of vaccine mandates.
"When you add the vaccine mandate language, then it becomes a much heavier bill," Bray said. "So we're going to try and move that relatively quickly and get it over to the House so we can get that behind us."
He said HB 1001 will be considered if it makes its way to the Senate. Bray added that all options are still on the table, including a couple of separate Senate bills with more restrictive language addressing vaccine mandates and vaccine status discrimination.
"We're going to have a spirited debate about it and try to figure out what's the best course," Bray said.
Other options include Senate Bill 31, authored by Sen. Dennis Kruse, R-Auburn. The legislation would prohibit an employer from requiring an employee to receive a COVID-19 vaccine if it would pose a "significant risk" to their health or if it is against the employee's religious beliefs. The bill also allows for an employee to sue an employer if they violate the law.
Kruse also authored Senate Bill 30, which would force employers to accept exemptions for all vaccines if for medical, religious or conscience reasons. That same legislation was filed last year and did not get a vote in committee.
Kruse said those bills are simplified versions of HB 1001 and the way he preferred to address individual rights. But he was not confident either of his bills would get a hearing in committee, especially if HB 1001 moves forward.
"I think what [the House is] doing has more consensus. My bill does not have as much consensus as the more what you call, controversial. I guess my bill's more controversial," Kruse said.
Senate Bill 114 authored by Sen. Jim Tomes, R-Wadesville, might also be on the table. It would prohibit businesses from requiring vaccines for any employees or customers. Businesses also could not require unvaccinated individuals to get tested, wear a mask or social distance.
HB 1001 is set for a second committee meeting on Thursday morning, when the committee will consider an amendment filed by author Rep. Matt Lehman, R-Berne, and vote to move the legislation to the full House.
The sweeping 16-page amendment addresses some concerns brought up during 14 hours of public testimony, and adds a penalty to employers who reject medical or religious exemptions.
The amendment would allow employees who are denied exemptions and fired to be able to draw unemployment at the expense of the employer.
It would also amend language to allow employers who require COVID-19 testing as an alternative to getting the vaccine to get reimbursed by the state for the cost of testing, which must be done at no cost to the employee. Reimbursements would be managed by the Department of Workforce Development, who would have to come up with a system to disperse them. The cost would come out of state or federal pandemic dollars set aside for COVID-19 testing, and each test cost should not exceed $50.
The testing cost was a main concern for the Indiana Chamber of Commerce, which has been a strong opponent of the vaccine mandate language in HB 1001. Chamber President and CEO Kevin Brinegar said this amendment does not change the organization's stance on the bill.
He said while that provision makes the bill less objectionable, employers would still have to incur the cost while waiting for a reimbursement and manage employees' expense reports for the tests. The Chamber also is opposed to the addition of the unemployment penalty.
"That's going to completely discourage and eliminate employers from requiring vaccinations," Brinegar said. "They kind of partially fixed one provision and then they added another one. That's not what the UI system is for."
Brinegar said the chamber would be supportive of the Senate's approach with SB 3, separating the vaccine mandates from the public emergency language the organization does support. But the chamber is against the Senate's other vaccine mandate bills, he said.
The amendment to HB 1001 also would not allow employees who live out of state or employers with federal contracts to be eligible for the exemption requirements in the bill.  It would additionally allow for temporary medical licensing to retired or inactive emergency medical services personnel, retired or inactive health care professionals, out-of-state health care professionals, or recent graduate students in the medical field.
The House Employment, Labor and Pensions Committee is scheduled to meet at 8:30 a.m. Thursday in room 156-B at the Statehouse to consider HB 1001.
Please enable JavaScript to view this content.