Andrea Hunley nabbed the Democratic nomination in a five-way primary in a new state Senate seat in Indianapolis, beating the Marion County Democratic Party's slated candidate.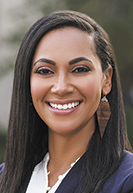 Hunley was leading with 43.5% of the vote, with 91% of vote centers reporting.
Kristin Jones, who was the Marion County Democratic Party's pick for the nomination, had 26.4% of vote. Ashley Eason had 16.3%, Karla Lopez-Owens had 12.7% and Bobby Kern had 1% of the vote.
Hunley maintained a consistent lead throughout Tuesday evening, and claimed an early victory in an email sent out to supporters when about a third of Indianapolis precincts were reporting.
She also posted a video to her Twitter shortly after, thanking voters for choosing her.
"I ran for you. To represent you, to lift up your voices and needs, and to shift the status quo," Hunley said in the video. "And y'all, we made history today by electing the first Black state senator for District 46."
Hunley's win potentially upsets the Marion County Democratic Party's long held tradition of endorsing one candidate in each primary race while non-endorsed candidates are encouraged to drop out. Hunley, along with the four other non-slated candidates, refused to participate in the process.
Hunley is a first-time candidate who has worked as a principal at Indianapolis Public Schools Center for Inquiry School 2 for nearly a decade. Her priorities include supporting public school funding, teacher recruitment, workforce development and expanding pre-K education.
District 46 sprawls across the heart of downtown Indianapolis, from the West Indianapolis neighborhood to Fountain Square and Irvington and the Old Southside.
Hunley will face Republican Evan Shearin in the general election in November.
Please enable JavaScript to view this content.