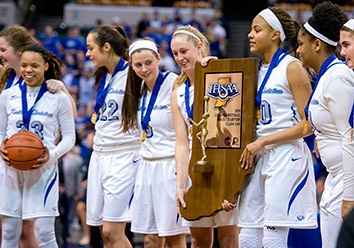 The Indiana High School Athletic Association on Thursday afternoon announced that the remaining games in its boys basketball state tournament will continue, but with limited spectators in attendance as it copes with the growing virus outbreak.
Using the Center for Disease Control's guidance regarding large gatherings, the IHSAA will limit games and events to approximately 250 people.
For the remaining games, schools will be allotted only 75 complimentary tickets. Aside from 12 players, those allowed will be limited to essential personnel, coaches, administrative staff and immediate family members of players.
The boys basketball regional games are scheduled for Saturday at 16 sites around the state. Four semistates are scheduled for the following weekend and the state finals are March 28.
Non-varsity boys basketball participants, cheerleaders, dance teams, school mascots and pep bands will not be allowed to attend the games.
"Our primary focus has been and will continue to be the health and safety of our students and supporters attending our events," the IHSAA said in a statement. "The Association acknowledges these are unprecedented measures and is sympathetic to the loyal fans of education-based athletics in Indiana. Your understanding and support during these challenging times is appreciated."
Anyone holding a regional ticket will be issued a full refund. Individuals must present the ticket in order to receive a refund.
Regional games will continue to be streamed at IHSAAtv.org and its affiliates as well as previously approved broadcast stations.
In addition, the girls gymnastics State Finals will be held Saturday at Worthen Arena. There will be no spectators allowed at the event and thus no tickets on sale at Worthen Arena. Anyone holding a ticket will be issued a full refund.  Saturday's events will be streamed live at IHSAAtv.org.
Please enable JavaScript to view this content.