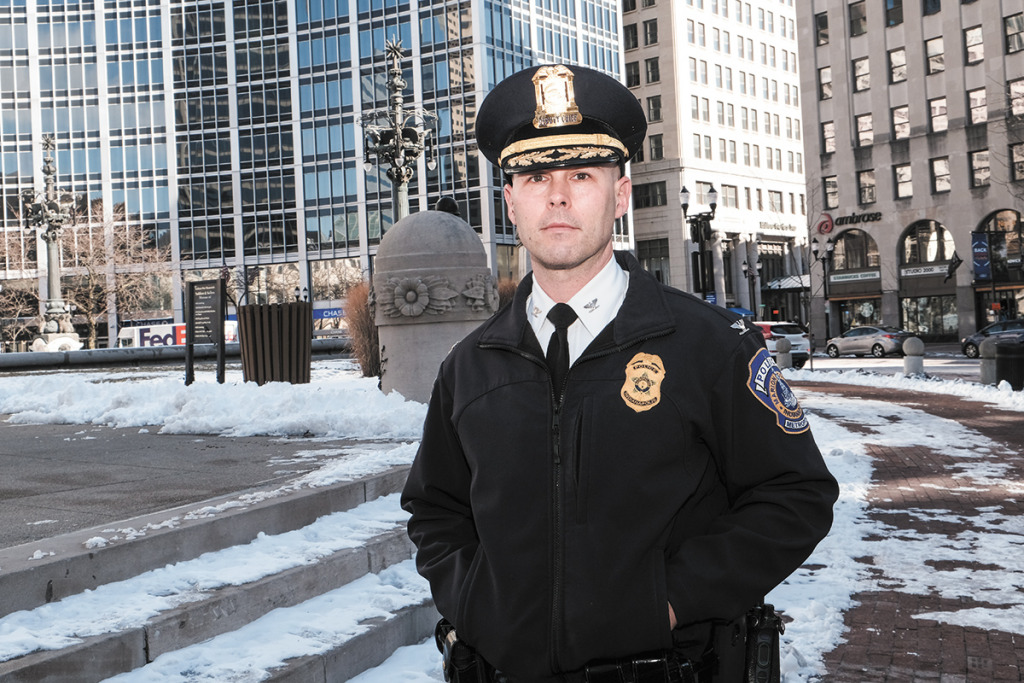 When tens of thousands of NCAA men's basketball players, coaches, media and fans descend in March on Indianapolis—into a downtown that has been largely shuttered for months—the Indianapolis Metropolitan Police Department will be charged with keeping them safe.
That, says Deputy Chief Joshua Barker, means a ton of planning and coordination—with the NCAA, the Indiana Sports Corp., local businesses, and even other police departments throughout the region.
It's a job that—if successful—could restore confidence in downtown, the scene of violent riots last May that left buildings scarred and many residents scared to return.
Barker told IBJ the department's years of experience with big events has given it a head start, but he acknowledged that hosting all of March Madness is a unique experience that no one wants to mess up.
IBJ.COM EXTRA
Read about
the beautification effort underway to prepare for March Madness.
"Just as the state of Indiana and the Midwest and the nation is buzzing around this tournament being successfully executed, you have a very excited police department that's ready to take on the challenge of ensuring everyone's safety during the tournament," he said.
Here's what else Barker told IBJ about IMPD's preparation efforts:
There are a lot of partners pulling together plans for the NCAA tournament. Are there ongoing conversations between IMPD, the Indiana Sports Corp. and the NCAA? What role does IMPD play in the NCAA tournament effort?
The simple answer is, yes, there are discussions taking place between IMPD and all of the stakeholders that are playing a part planning for this year's NCAA tournament. For IMPD, our role specifically is being the facilitators of a positive public safety interaction for all visitors to Indianapolis during this tournament.
We recognize that this is a once-in-a-lifetime opportunity for our city to host an [event] of this size and scope. So, IMPD is committed to ensuring that we pull out all the stops—in regard to the experience we've had in the past at successfully managing everything from the Indy 500 to birthing a Super Bowl and sort of everything in between.
I feel very confident, because our police department is so used to safely hosting very large events in Indianapolis, that we will be successful with the NCAA Tournament as well.
As you mentioned, Indianapolis has a long history of hosting big events. But some local residents have continued to express fear of downtown following last May's civil unrest and protests. Is downtown safe right now? What is being done by IMPD to ensure safety throughout the city ahead of the tournament?
Downtown is safe right now. And as a matter of fact, I was just down there a couple weekends ago with some friends for dinner at Capital Grille. We enjoyed a great night out downtown—no issues.
Right now, the police department is … committed to making sure that the folks get a sense that downtown Indianapolis is a safe place to come visit, it's a safe place to enjoy dinner, and it's going to be a great place to host the tournament.
Planning for this year's Final Four was already well underway when the NCAA announced it would move the entire tournament here. How much of a logistical nightmare, from a public safety standpoint, did it create to have the tournament brought here on such a short timetable?
I think there's definitely some significance around the logistical hurdles that we'll have to navigate. But even though the tournament now extends well beyond the Final Four, from a public safety standpoint, … if this were your average year in Indianapolis, there would be week after week after week of consistent convention business and sporting events in the downtown area.
So, even though all our resources will be hyper-focused on the NCAA tournament and the activity surrounding that tournament, it's also important to recognize that, if we were just planning for the Final Four, there would be a list of other events going on at the same time that public safety resources would be deployed to.
It's also a benefit that there are so many interested stakeholders in ensuring that this is going to be successful—that the environment around planning the public safety mission is extremely collaborative. And I think it's going to be highly successful in terms of the downtown.
Like many cities, Indianapolis has seen a lot of storefronts and retail spaces go vacant because of the pandemic and a host of other factors. What public safety concerns do vacancies create for IMPD, and how can those issues be addressed?
The obvious answer is [that] empty spaces traditionally attract folks to gather, because there is no property manager there to take a security role. However, with regard to the downtown area, you have such a motivated business community that still has a strong presence in the community … everybody is very alive to the fact [that] they need to look out for their neighbor.
[There are] things we can continue to do as a community to ensure the safety around those places. There are a lot of environmental-design things, with the plywood on the vacant businesses down there. There's been a very pointed effort [at] some beautification opportunities around [those]. So that, even though you may have a vacant business, you can do some environmental upgrades to make them look like, "Yes, that may be a vacant business, but it's not a place that's welcoming criminal activity or suspicious people to gather."
Then, I think you also have to bring attention to the safety ambassadors that are on foot around the downtown area, the downtown district and off-duty foot and bike controls that are making a point to have a presence in not only the places that aren't vacant downtown but also some of those vacant businesses and properties that are in the downtown area.
You mentioned that the business community plays a role in this. And for the past several months, IMPD has communicated with businesses through an app called Relay. Can you share whether there have been conversations about using this app in a more pointed way during the tournament for non-emergency purposes?
IMPD is committed to leveraging all resources available to us, including the folks at Relay, to build positive public safety infrastructure around the NCAA Tournament. So I look forward to releasing more information about how IMPD specifically is going to be partnering with Relay to enhance the public safety experience for our community during the tournament in the coming weeks.
This tournament, and the collective effort surrounding it, isn't happening in a vacuum. For example, beautification happens all the time in the city, as does the public safety effort. But does IMPD need to take its efforts to a new level when an event like this comes along—or is it just business as usual?
There were a lot of lessons learned in 2020 about event management and what resources can and should be deployed in the downtown area. As an agency, we're [constantly] looking at how we've done things in the past and we're always critiquing what those public safety plans are. We're always making adjustments moving forward to ensure a positive public safety experience by all attendees.
But when you throw something as significant as an entire March Madness NCAA tournament, it's uncharted waters for any jurisdiction to host something of this size and scope. So, it's definitely not business as usual. However, let me reiterate, even though we've not had the opportunity to host something this large, rest assured that my confidence in the men and women of the police department to execute flawlessly is there.
I think it's a great opportunity for us to have been gifted this as our country works to find its way out of this global pandemic. And I think what we're going to find is, Indianapolis is going to knock this out of the park, with regards to not only the public safety aspects but just really showing the rest of the world how to host an event of this magnitude safely.
When this is done in April, there's going to be a lot of telephones ringing in Indianapolis from other communities who are saying, "How did you guys pull this off?"
IMPD has never acted as the "mask police" since the public masking orders began last year. Do you expect that to change with the renewed emphasis on face coverings—including the "Mask Madness" initiative from the Indiana Sports Corp. and the Governor's Office?
Yeah, IMPD has not been the mask police, [but] we have been very committed to following the established guidelines by the State Department of Health, the Marion County Health Department and CDC with regards to taking the appropriate safeguards for our employees.
But I think we're also cognizant of the fact that a law enforcement response is not always the appropriate response for enforcing those guidelines. So I think that IMPD is going to remain steadfast in our enforcement posture moving forward into the March Madness tournament. I think we've had a high degree of success at using communication with private businesses, private properties, city and government entities to enforce those rules on their property.
If there are additional issues that our community is facing with regards to private enforcement of those mask mandates, then my officers stand ready to respond and assist in those instances.
What are the big-ticket items that need to be checked off the city's public safety list as the tournament approaches?
Right now, it's ensuring that we have the right balance of dedicated resources to the downtown area as well as dedicated resources to those other locations throughout the metro area that are going to be participating in the tournament.
It's finalizing those cooperative agreements with the other police departments and public safety entities in and around Marion County and Indianapolis to ensure that our unified Incident Command System is up and running.
We'll make sure that the logistical needs of our agency are in place so the officers that are deployed in the downtown area have everything they need to be successful while they're [out]. And then it's just working with the NCAA and all the other planners of this event—be that hotels, businesses, restaurants, bars, health department, and sort of everything in between—to make sure that everyone's expectation of their police department is met.
What else should people know about IMPD's plans for the tournament?
I always try to relate to everyone that your police department is just as excited about this opportunity as everyone else. This is a convention-city police department. This is a sports-city police department.
I would challenge you to find another police department with men and women that are up to the challenge of hosting large sporting events like the men and women of IMPD.•
Please enable JavaScript to view this content.