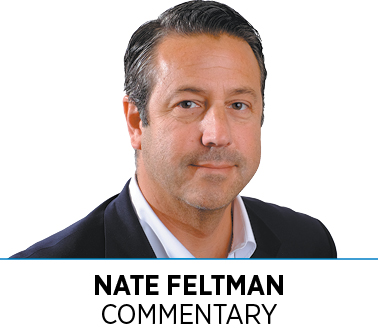 As the year winds down, we naturally think about what we accomplished in 2019. This was a busy,successful year at IBJ.
We moved to our new home at 1 Monument Circle (the historic Electric Building). Subscriptions are up by 1,500. Our reporting team won prestigious awards, including being named one of the top three business journals in the country. Our podcast, hosted by Mason King, was named a top podcast in the country (beating out The Wall Street Journal). We increased our political coverage and moderated the first mayoral debate in partnership with the Indy Chamber.
IBJ's success in 2019 is representative of our city's and state's strong year—meaning we had many great stories to report on, including big deals that likely will have an outsized economic impact for years to come. These big deals include:
◗ Indy Eleven winning approval from the Legislature to build a soccer stadium that will be supported by new tax revenue generated by a $550 million, mixed-use development dubbed Eleven Park.
◗ The Indiana Pacers securing funding for renovations to Bankers Life Fieldhouse from the Legislature and the Capital Improvement Board, inking a 25-year deal worth $800 million to keep the team in Indy.
◗ Elanco Animal Health buying the animal health unit of Bayer AG for $7.6 billion, making Elanco the world's second-largest animal health company.
◗ Lilly acquiring Loxo Oncology for $8 billion, giving Lilly a new pipeline of cancer-fighting drugs.
◗ Penske Corp.'s acquisition of Hulman & Co., which includes the Indianapolis Motor Speedway and the IndyCar series.
In terms of the impact on our city's future, and our city's history, Penske's IMS deal stands out. The Indy 500 and racing are synonymous with our city and state. The Indy 500 is the world's oldest active auto race and is the largest single-day sporting event by attendance in the world. If you travel internationally and let people know you are from Indiana, the common reference point is usually the Indianapolis 500. Even our state quarter features an IndyCar prominently over an outline of our state.
When the Hulman-George family began to contemplate a succession strategy, the stewardship of our state's prized asset was at the front of their minds. The Hulman & Co. board had its work cut out for it when deciding to look at potential suitors. CEO Mark Miles lead a team that included board members John Ackerman, Mitch Daniels, Tony George, Jim Morris and Mike Smith. This group clearly understood what was at stake with the passing of the torch from the Hulman-George family to a new owner. As the board thought about the dream buyer—the person or organization that could take the IMS and Indy Car to the next level—Roger Penske was at the top of the list.
The most successful car owner in IMS history, with 18 wins and 18 poles, Penske is a tested entrepreneur who has built a motorsports and business empire. He is known for his loyalty to his employees and for giving back to the communities in which he operates. When President Trump awarded Penske the Presidential Medal of Freedom earlier this year, the White House press release noted that Penske has been guided by his father's favorite phrase, "Effort equals results."
Penske has stated this acquisition is the most exciting business opportunity of his life. He is already busy evaluating facilities and thinking about upgrades that will enhance the fan experience and turn the area into an "entertainment capital." Kudos go to Miles and the board for their efforts to keep a treasure in great hands for decades to come.•
__________
Feltman, an attorney and former secretary of commerce, is a shareholder in IBJ Corp.To comment, send email to nfeltman@ibj.com.
Please enable JavaScript to view this content.