Renters in Marion County have seen rent increases, on average, of $200 to $300 per month since the beginning of the pandemic, squeezing tenants while wages have increased at a much slower pace, according to a new study from the Fair Housing Center of Central Indiana.
Meanwhile, landlords have seen a 20-year low in vacancies—just 6%—while struggling tenants face a scarcity of low-cost rental housing.
The report released Monday from FHCCI found a competitive housing market that benefits investors and corporations while causing troubles for lower-income renters, families and renters of color.
"Marion County is in a housing crisis with low vacancy rates driving rents across the county to unaffordable levels for most of our residents," Amy Nelson, executive director of the FHCCI, said in a media release. "However, that is not the only burden being placed on our renters. Add in the lack of affordable housing options, substandard housing conditions, increasing income-based rent burdens, along with housing discrimination, and the current climate is extremely troubling."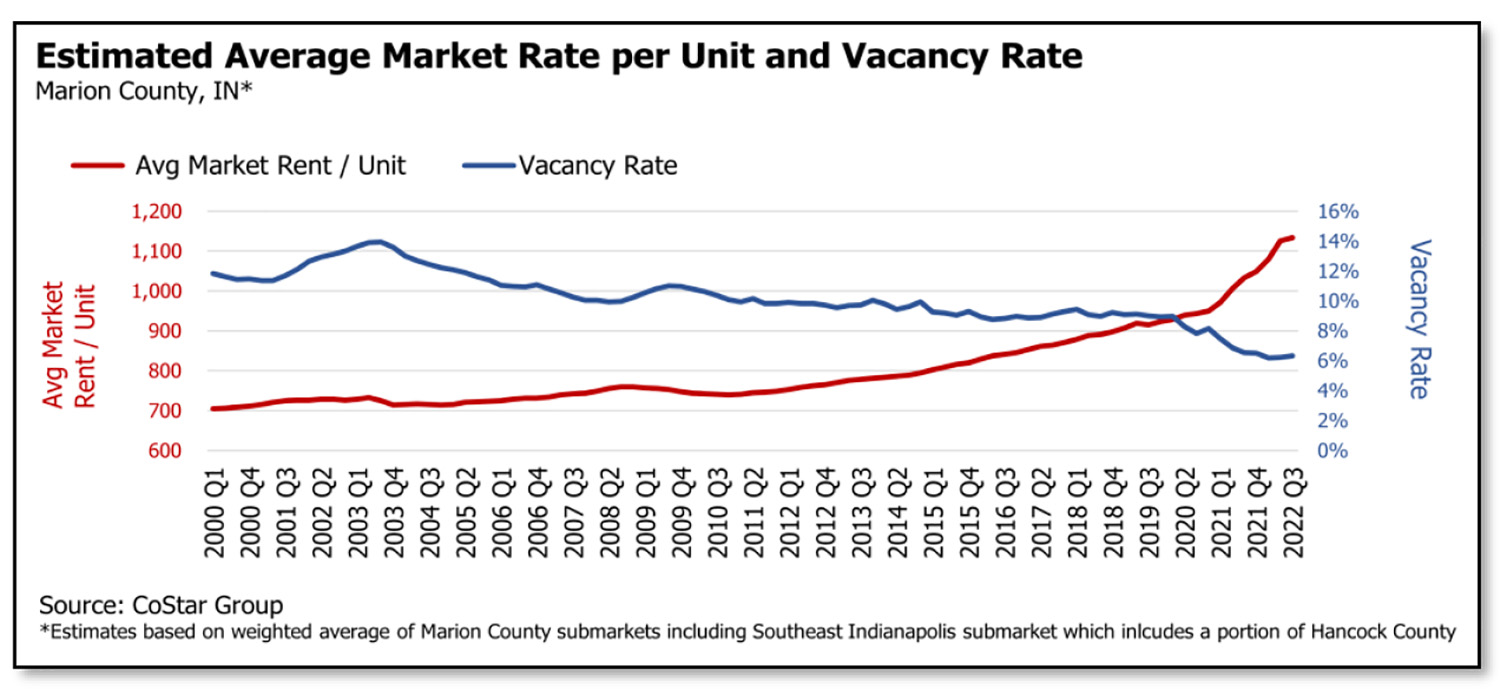 Most multifamily rental units aren't affordable to many Marion County renters, the report said. Half of Indianapolis renters make $35,000 or less per year, but only 35% of the county's rentals are affordable to that group, the study found. This disproportionately affects households of color, the report said, because roughly half of the households below $35,0000 are Black and 13% are Hispanic.
Investor and corporate purchasing of single-family homes to convert into rentals is increasing, the report said. This is also affecting Black Indianapolis residents to a higher degree, because these properties are disproportionately located in majority Black neighborhoods like the Far Eastside, Martindale-Brightwood, Meadows and Riverside.
The report also said there isn't enough affordable housing for families, with just 250 three- and four-bedroom units in Marion County with monthly rents below $875. 
Marion County still has the highest concentration of affordable housing in central Indiana. The donut counties see higher rents, with the Hamilton County Carmel-Westfield-Zionsville submarket recently surpassing downtown Indianapolis for the highest market asking rent in the Indy metro area at $1,588 per month. Hancock County has seen a 44% increase in market asking rent since 2019, rising from $811 to $1,171.
The report's recommendations include asking for several changes to Indiana laws that the FHCCI says favor landlords. It also suggests regulating institutional investors and equity firms that crowd out prospective homeowners, as well as enacting reforms to strengthen tenants' position in eviction proceedings.
Please enable JavaScript to view this content.