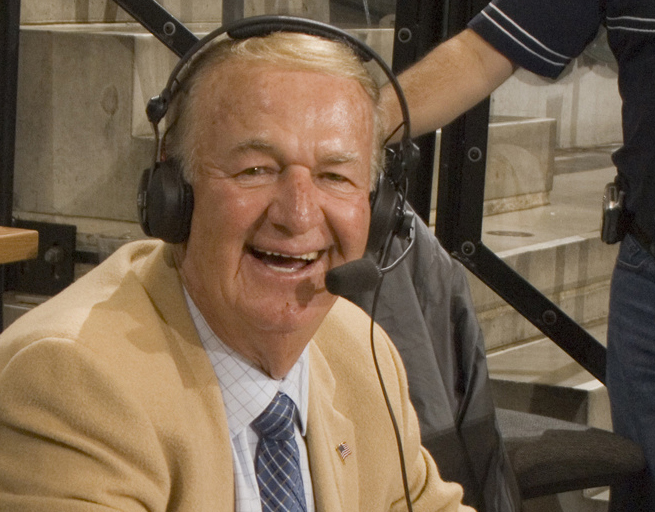 Bobby "Slick" Leonard, who coached the Indiana Pacers to three American Basketball Association championships and served as the team's color commentator for three decades, has died, the Pacers confirmed Tuesday afternoon. He was 88.
Leonard, born in Terre Haute in 1932, led Indiana University to a national championship as a player in 1953 and played seven seasons in the NBA before becoming a coach and broadcaster, but younger generations will long remember him for his catch phrase "Boom Baby!" after Pacers three-pointers.
William Robert Leonard is a member of the Naismith Memorial Basketball Hall of Fame and the Indiana Basketball Hall of Fame, and was the first person inducted into the Indiana University Sports Hall of Fame. He was named a member of Indiana University's All-Century Basketball Team.
In the Indianapolis area, which he called home for most of his life, he is among the city's most highly regarded sports figures.
"Pacers fans will remember Bobby 'Slick' Leonard as the spirit of our franchise," Pacers Sports & Entertainment owners Herb and Steve Simon said in written remarks. "With a charisma, intensity, and wit to match his nickname, Slick made us champions. He was our biggest fan and our most loving critic, and he personified Pacers basketball for generations of Hoosier families."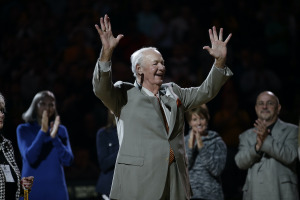 The Simons said Leonard's death "leaves an unfillable void in the hearts of everyone associated with this organization," amid his many contributions to the franchise during his time in Indianapolis.
"We keep the entire Leonard family in our prayers, and we recognize and honor Slick for what he meant to our state both on and off the court."
Leonard's passing comes just months after he underwent surgery to remove an abdominal aortic aneurysm in November.
Named one of the state's "50 Greatest Players," Leonard had a standout high school career and was a two-time All-American at Indiana University and captain of the Hoosiers' 1953 NCAA championship team.
He played seven years in the NBA with the Minneapolis/Los Angeles Lakers and the Chicago Packers/Zephyrs, after serving in the U.S. Army from 1954 to 1956.
As Pacers' head coach from 1968-1980, he won 529 games and three ABA championships, later being voted as the league's all-time greatest coach. Leonard is one of just six individuals in Pacers history to have a banner hung in his honor at Bankers Life Fieldhouse.
Leonard is also largely credited for helping save the Pacers franchise when it was on the brink of financial collapse in the late 1970s. He and his wife, Nancy, ran a telethon in 1977 to stir up local contributions of more than $2 million for the franchise.
Leonard is survived by Nancy, their five children, 12 grandchildren and six great-grandchildren.
"Slick Leonard is an Indiana icon," Indiana Gov. Eric Holcomb said in written remarks. "He was the embodiment of basketball with his wide-ranging career starting with his days as a high school player in Terre Haute, going on to Indiana University to win a college national championship, and then his career with the NBA as a player, coach, broadcaster, and savior of the Indiana Pacers. His presence in the arena and in our state will be deeply missed. You can't find anyone who doesn't love Slick."
Please enable JavaScript to view this content.