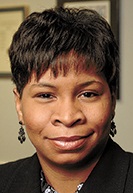 Indiana Black Expo on Thursday announced the launch of its Black Business Training Institute, in what the not-for-profit says is a more "intensive" take on training than its webinars and annual conference.
The goal, according to the 52-year-old not-for-profit, is "to re-energize central Indiana's African American small business community by establishing more thriving businesses led by Black entrepreneurs."
IBE President and CEO Tanya Mckinzie said the initiative grew out of the organization's pandemic work with local Black business owners and a survey of nearly 1,000 such businesses that indicated entrepreneurs needed more help with minority-business certifications, bookkeeping, technology and more.
The program will kick off in April, with the first cohort of 25 business owners. A second cohort will begin in October.
The 10-week courses will cover business planning, financial management, operational management, branding and marketing, technology, procurement and access to capital, according to a need statement for the initiative. The focus, Mckinzie said, is on skills and strategies that business owners can implement right away.
It'll all be in-person for now, at the Expo's 601 N. Shortridge Road headquarters. Mckinzie said to expect "after-hours" sessions of at least two to three hours.
One business from each cohort will win a $5,000 award, but the Expo also plans to help other eligible course-takers land chances to pitch their ideas, receive procurement opportunities and make connections with financers, according to the need statement.
KeyBank Foundation is contributing $300,000 to the program as part of a national, $40 billion plan to promote social, economic and racial equity, according to a news release. Other partners include Innopower, the Central Indiana Small Business Development Center and Co-Hatch.
The Expo has budgeted nearly $400,000 to do the first two cohorts, Mckinzie said.
Applications are available on the Expo's site. Mckinzie said the organization eventually wants to scale the program to the rest of Indiana.
Please enable JavaScript to view this content.