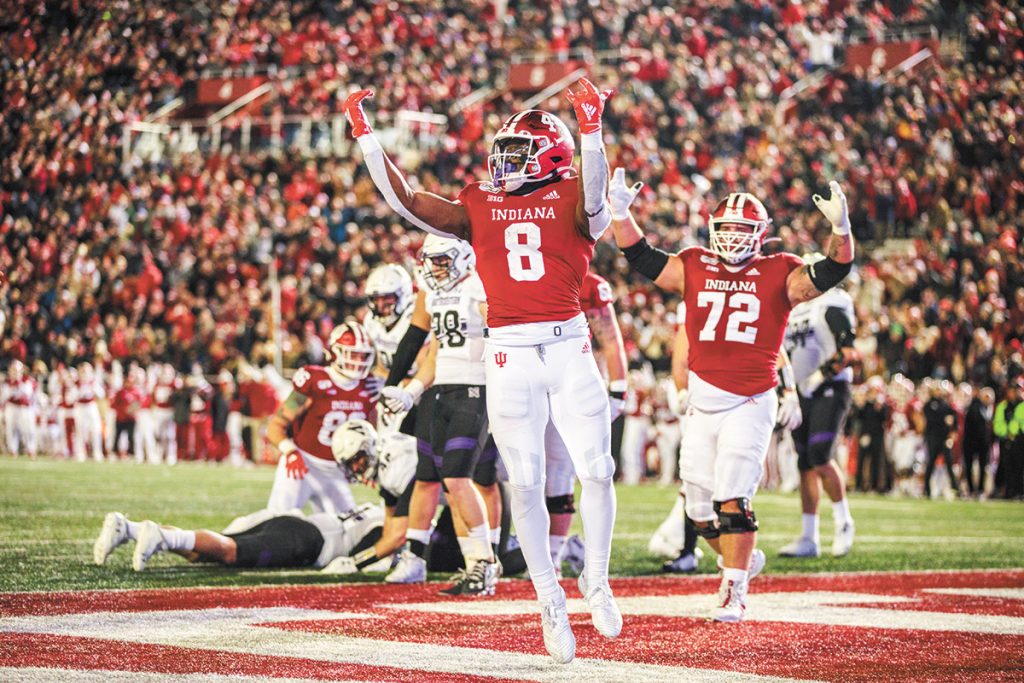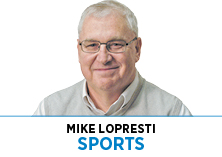 UNCHARTED TERRITORY—Yeah, the dateline is correct. Welcome to the U.T. That's what Indiana football Coach Tom Allen was saying the other day: "It's uncharted territory for this team and our program."
That's because you could start listing current odd facts, rare tidbits and occurrences not seen for ages in IU football, and go on all day.
Here in Uncharted Territory, the Hoosiers have more wins than USC, Texas, Miami, Florida State, Texas A&M or Michigan State. The seven victories—going into Saturday's imposing Penn State trip—have guaranteed their first winning season since … 2007.
One more gives them the most victories in … 26 years.
Two more would be the most in … 52.
Here in Uncharted Territory, the Hoosiers will take the field at Penn State as a ranked team for the first time since … 1994. (Now might not be a good time to mention what happened that week in '94. A 62-13 loss at Wisconsin.)
Here in Uncharted Territory, orange juice is no longer the main import from the Sunshine State. The Florida Gators are a top-25 power who started seven Florida natives in their game against Georgia. Against Northwestern, Indiana started 10. Football in Bloomington has been reborn by a convoy from Tampa.
Here in Uncharted Territory, the Hoosiers beat Nebraska for the first time since 1959.
Won four Big Ten games in a row for the first time since 1993.
Held Rutgers and Northwestern to three combined points, the lowest total allowed in consecutive Big Ten home games since 1958.
Won a game by 52 points, the largest margin since 1944.
Won a homecoming game for the first time since 2010.
Won nine non-conference games in a row, the longest such streak since 1915.
Held an opponent to 75 yards, the lowest since 1966.
Scored on a fumble return in the first 10 seconds of a game, the quickest touchdown in the history of Memorial Stadium, which opened in 1960.
Improved Allen's career record to 17-17 after 34 games. If you don't think that's a big deal, consider some other guys after 34 games at Indiana: Kevin Wilson, 9-25; Gerry DiNardo, 8-26; Cam Cameron, 10-24; Bill Mallory, 10-24; Lee Corso, 5-28-1; John Pont, 14-19-1. Much more of this and Allen could have a winning career record at IU. The last coach to leave that way was Bo McMillin in 1947.
Here in Uncharted Territory, the roster is laden with quirky stories.
The leading receiver got his name from his affinity for Burger King whoppers. Hence, it's Whop Philyor instead of Mister Elias De'Angelo Philyor. Imagine if his favorite food had been fettuccine.
One of the cornerbacks, Tiawan Mullen, is a cousin of Lamar Jackson, the Baltimore Ravens quarterback who is lighting up the NFL.
Receiver Donavan Hale was nominated in high school to play in the McDonald's All-American game … in basketball.
Quarterback Michael Penix Jr. is a 22-foot long jumper.
Guard Harry Crider has had to deal with Type 1 diabetes since he was 10.
Receiver Nick Westbrook is a three-time all-Big Ten, academic pick.
Kicker Logan Justus is a perfect 12-for-12 in field goals (eat your heart out, Adam Vinatieri) and is a former walk-on from Mount Vernon High School.
Quarterback Peyton Ramsey got his name from Peyton Manning. Just like his brothers, Montana and Drew, got their names from Joe Montana and Drew Bledsoe. His parents obviously liked NFL quarterbacks.
Punter Haydon Whitehead can kick with either foot and is a product of Australian Rules Football. His first visit to this country was to visit IU.
Here in Uncharted Territory, so many of the numbers positively glow. Penix completed 20 consecutive passes at Michigan State. He and Ramsey have a combined 70.3 completion rate. Stevie Scott III is averaging five yards a carry. The Hoosiers have outscored their opponents 102-41 in the first quarter. The offense has broken 30 points eight times in nine games, a program first. Throw out Ohio State—yeah, they got plastered by the Buckeyes, but who hasn't?—and they have won their other four home games by a combined score of 159-6.
"We've been waiting for this," Scott said of this IU surge. "I just feel like we're destined for greatness at this point."
And look at the possibilities ahead.
A chance to win at Penn State, whose record against IU is … 21-1.
OK, a victory in State College, where the Nittany Lions are ticked off after getting upset by Minnesota, will be asking a lot. But even if that doesn't work out, there's the home game the next Saturday against Michigan at a perfect time: one week after the Wolverines play Michigan State, one week before they face Ohio State. The proverbial trap game. The Hoosiers could have a shot at a team they haven't beaten since 1987.
They could beat Purdue for the first time since 2016. Yeah, that's not long, but it is with the Bucket.
And sometime in December, there'll be a bowl game. Indiana hasn't won one of those since 1991.
"We didn't come this far just to get this far," Westbrook said. "Nobody came here just to get seven wins.
"I guarantee you everybody would say the same thing, regardless if it's football or not. It's great to be changing history. There's just a swagger and confidence to everybody; we don't have a doubt in our mind."
Allen is in the barrier breakthrough business, and that's what this season has been about. He has his number mantra of streaks—52, 28 12. In order, the years since a Big Ten title, bowl victory and winning season. That last one has been checked off, the second one might be next. Allen often talks about one of his first team meetings, when he put up those streaks—50, 26, 10 at that point—and vowed the program would do something about ending them. He said if any players or coaches didn't believe it, they should leave.
"There's no question that not a lot of people felt that way or believed in us, and that's OK," he said after the Northwestern game. "It never mattered to us."
Do they really have a shot at Penn State? Michigan? A spot in the final top 25? Here in Uncharted Territory, college football has seen some strange occurrences. Appalachian State is ranked. Minnesota is unbeaten, but Alabama isn't, and there are realistic scenarios where the Tide could miss the playoffs. Someone look in the rule book to see if that's even allowed.
And the 7-2 Indiana Hoosiers face cold November with optimism and a bunch of guys from Florida. Nothing should be surprising.•
__________
Lopresti is a lifelong resident of Richmond and a graduate of Ball State University. He was a columnist for USA Today and Gannett newspapers for 31 years; he covered 34 Final Fours, 30 Super Bowls, 32 World Series and 16 Olympics. His column appears weekly. He can be reached at mjl5853@aol.com.
Please enable JavaScript to view this content.