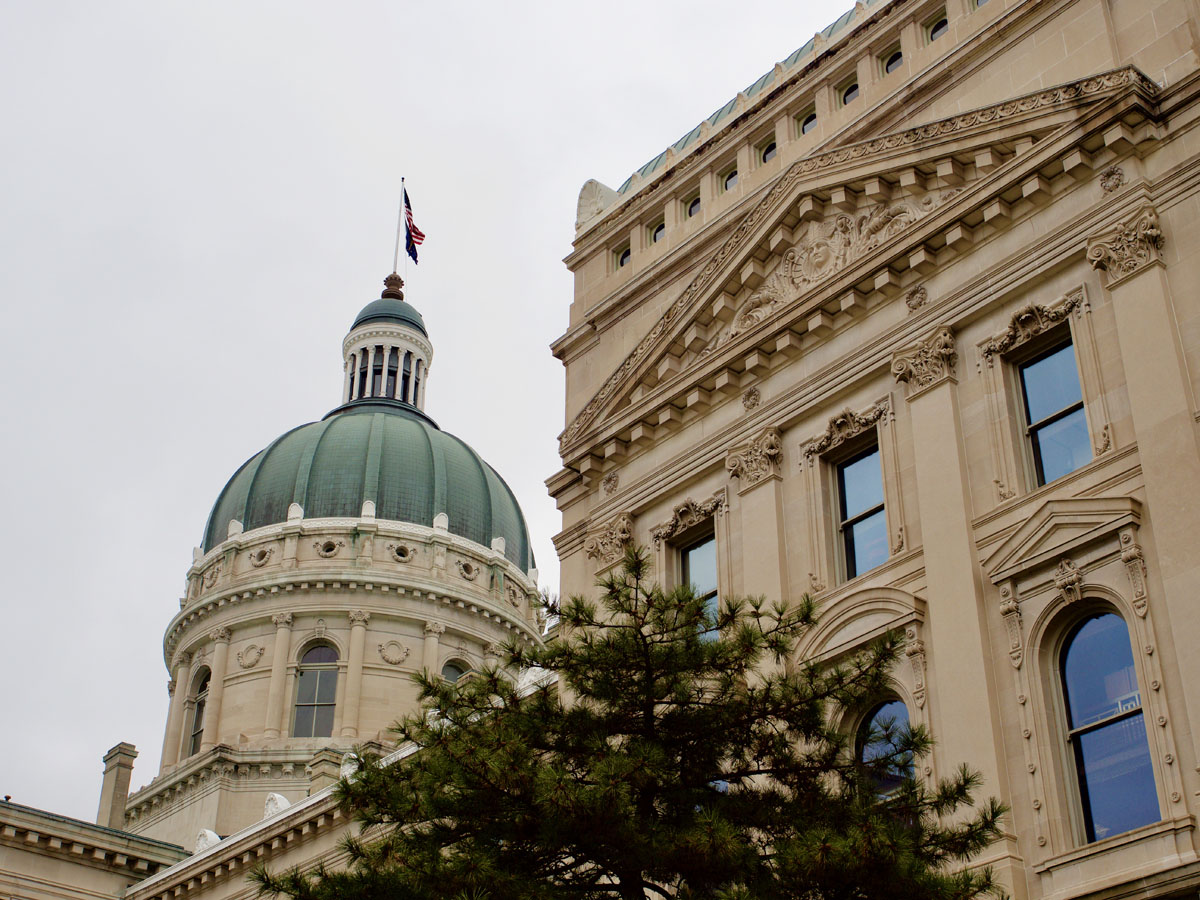 Indiana Senate Republicans picked up a seat while the House GOP appears to have improved its advantage pending final tallies in Tuesday's General Election—a red victory that strengthened supermajorities and led to the re-election of leadership in both chambers Wednesday.
Senate President Pro Tem Rodric Bray did have to fend off a challenge for control from Sen. Mark Messmer, of Jasper, but he did not share the final vote count.
Senate Democrats elected their leadership on Wednesday as well, with Sen. Greg Taylor, of Indianapolis, chosen again as Senate Democratic leader.
Sen. Shelli Yoder of Bloomington will succeed Sen. Eddie Melton as the Senate assistant Democratic leader while Sen. J.D. Ford, of Indianapolis will continue to serve as Democratic Caucus chair.
"(Messmer is) totally entitled to make a run at that—no problem with that whatsoever," Bray told the Indiana Capital Chronicle, adding that he "did not" struggle to gain majority support from the caucus. "I just tried to make my point to the caucus that I'll continue to try and lead in the way I have, which is kind of a collaborative style, and I'm grateful that I was selected again."
The caucus has had internal struggles since the special session on abortion earlier this year, when it fractured over conservative ideals.
If unofficial election results hold, the Senate Republican supermajority control will grow from 39 to 40 members. A supermajority means Republicans can pass laws without Democrat help.
The redistricting process eliminated the seat previously held by Democrat Sen. Tim Lanane in Anderson but created a new seat in the heart of downtown Indianapolis. Lanane opted not to run in the newly formed district that pitted him against incumbent Republican Sen. Mike Gaskill.
Andrea Hunley, who beat out several others in a competitive primary, sailed to victory in Indianapolis' District 46.
Those changes left the number of Democrats the same, but the party also lost a seat held by Sen. Michael Griffin in District 1 just outside of Chicago. Daniel Dernulc, a Republican, beat Griffin with 23,390 votes, 52.3%, to Griffin's 21,340 votes, expanding the Republican supermajority from 39 seats to 40.
Democrats seemed hopeful they could grow their minority and beat out Republican Sen. Kyle Walker, whose District 31 straddles parts of Marion and Hamilton counties.

But Walker claimed victory just after 9 p.m. election night against Democrat Jocelyn Vare, a member of the Fishers City Council. As of Wednesday morning, Walker led Vare with 28,261 votes, 55.5%, over her 22,666.
In good news for Democrats, incumbent Sen J.D. Ford survived a challenge from Republican Alex Choi, nabbing 22,166 votes, 51.5%, in the District 29 seat that covers portions of Marion, Hamilton and Boone counties. Choi garnered 20,899 votes.
In addition to Bray, Senate Republicans selected Sen. Chris Garten, of Charlestown, and Sen. Travis Holdman, of Markle, as Majority Floor Leader and Majority Caucus Chair, respectively.
"It is truly an honor and privilege to serve as Pro Tem of this esteemed body," Bray said in a statement following the caucus meeting Wednesday. "… The 2023 session will have many challenges and opportunities as we look to improve our state for all Hoosiers, and as always, Senate Republicans will be committed to passing a balanced budget that funds our priorities while living within our means."
House minority-majority split remains the same… for now
Across the Statehouse, the House chamber maintained its leadership team, with Todd Huston re-elected as House Speaker of the Republican supermajority.
The House Democratic caucus re-elected Phil GiaQuinta as its leader following a vote Wednesday. Reps. Cherish Pryor and Carey Hamilton, both of Indianapolis, will be the House Minority Floor Leader and Minority Caucus Chair, respectively.
Hamilton succeeds Rep. Terri Austin, of Anderson, who previously held the role.
"I'm humbled and honored to be selected to continue serving in this leadership position, and I'm excited about the future of our state," Huston said in a statement Wednesday. "We have an incredibly talented team, and we're going to keep our focus on issues important to Hoosier families and business and ensure Indiana continues to live within its means."
The House Republican caucus also selected State Rep. Greg Steuerwald, of Avon, as Majority Caucus Chair and Berne Rep. Matt Lehman as Floor Leader.
But several House races remained too close to call Wednesday, even as some candidates claimed victory and others conceded. If all results hold, Republicans will maintain their 71-member supermajority.
In Anderson, moderate Democrat Rep. Terri Austin fell short Tuesday night, losing to Republican Kyle Pierce by 333 votes.
Pierce, who worked in the health care industry, won with 8,888 votes, or 51%, to Austin's 8,555.
Austin, a former educator, thanked voters for 20 years at the statehouse.
"I was the first woman elected state representative from Madison County. I had the opportunity to serve and help many people," Austin told the Herald Bulletin.
Pierce, who previously challenged Austin two years ago, told the Herald Bulletin that he would focus on fighting inflation, lowering taxes and fighting crime.
"That's what I heard from people," Pierce said. "I have my marching orders."
The redistricting process created a new seat in Fort Wayne, offsetting Democrat's loss of Austin. Democrat Kyle Miller's won in District 82.
In a Wednesday morning statement claiming victory, Miller said the outstanding absentee ballots left to be counted weren't enough to overcome his lead over Republican Davyd Jones.
"I am humbled and honored by the trust that the voters of the 82nd District have put in me to represent them. It is a responsibility I take very seriously and will work every day to make sure that hard working Hoosiers have a say in our community," Miller said in a statement. "I want to commend Davyd Jones on a well-run campaign. It's not an easy thing to run for office and (Davyd) and his team put in a lot of hard work that he can be proud of."
Races with narrow wins that could go to a recount
But politicos on both sides of the aisle continue to watch a series of narrow wins across the state, which could grow or diminish the Republican supermajority.
A Democratic candidate in Central Indiana proclaimed herself the victor in a close race spanning portions of Hamilton and Marion counties.
As of 2 p.m., the Secretary of State's office had Victoria Garcia Wilburn with 12,477 votes, 50.5%, over her opponent's 12,245 votes – a difference of 232 votes.
Fred Glynn, a Republican member of the Hamilton County Council, was accused of scrubbing anti-abortion rights messaging from his website after his primary win in an attempt to win more independent voters.
Wilburn claimed victory around 1 p.m. Wednesday, thanking all who helped her win.
"I am honored, humbled & grateful that at the end of this race, our positive message of unity prevailed. Let's move forward together," Wilburn, an assistant professor of occupation therapy at Indiana University-Purdue University Indianapolis, tweeted.
Wilburn's predecessor, Republican Rep. Tony Cook of Cicero, retired earlier this year.
Similarly, incumbent Democrat Rep. Mitch Gore claimed himself the winner of District 89, with just 213 votes separating him from his opponent.

Gore had 6,806 votes, 50.8%, while his opponent Michael-Paul Hart had 6,593 votes in the southern Marion County district.
"To my neighbors, family and friends who entrusted me to serve another term as their State Representative I say THANK YOU!," Gore tweeted around 1:30 p.m. "To honor your support, I swear to be relentless in my pursuit of policies that lift up our side of town, our state and its people."
Going into the afternoon, the race in Jeffersonville was still too close to call with just a 35-vote difference between incumbent Democrat Rep. Rita Fleming and Republican Scott Hawkins.
According to the Indiana Election Division, Hawkins won 8,688 votes, 50.1%, to Fleming's 8,653.
Fleming, a retired OB-GYN, has held the District 71 seat for two terms and pushed for expanding reproductive healthcare access.
Hawkins, a public school teacher, claimed victory, telling the News and Tribune he was excited to take his new position. He previously served on the Jeffersonville City Council.
A win for Wilburn would offset the possible loss of Fleming and, combined with keeping Gore's seat, would leave the same 71-29 split between Republicans and Democrats in the House chamber.
But a win for Fleming, who could call for a recount, would grow the Democrats' minority to 30 members, leaving the Republicans with a 70-member supermajority.
Please enable JavaScript to view this content.