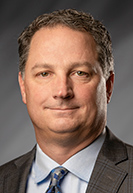 Indiana's top legislative leaders are turning up the pressure on hospitals and health insurers to lower the "out-of-control costs" of health care, saying prices in Indiana are well above the national average and need to come down.
House Speaker Todd Huston and Senate President Rodric Bray sent a joint letter Tuesday to 20 hospital and insurance executives, telling them to submit a plan by April 1 that would lower Indiana's hospital prices to the national average or lower by 2025.
"Absent a viable plan, we will be left with no choice but to pursue legislation to statutorily reduce prices," the letter said.
The letter did not say what kind of legislation might be drafted to address the cost of health care in Indiana. But it signaled that the Indiana General Assembly would not hesitate to wade into one of the most complex and regulated industries in the nation unless the players took sufficient steps to lower prices.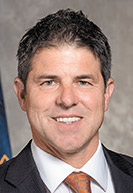 The letter pointed out that Indiana's hospital facility fees—or the expenses charged by hospitals to cover their overhead and keep the doors open—are the fifth-highest in the country, according to a 2020 study by the RAND Corp.
The study also found that Indiana ranks sixth in the nation for hospital price disparities—ahead of New York, California, Massachusetts and other larger states with higher costs of living—when it comes to what privately insured people pay for care compared to what Medicare would have paid for the same service.
"The ability of Hoosiers to pay hospital prices that are often 50% or more above the national average is untenable and unfair," said the letter from Bray and Huston. "To ensure the economic viability of Hoosiers' health care payers, we need your help to address this issue."
Several hospital systems based in Indianapolis, including Indiana University Health and Community Health Network, referred questions Tuesday to the Indiana Hospital Association, a trade group that lobbies on behalf of its members.
Brian Tabor, the association's president, called the letter from Bray and Huston "disappointing." He said the RAND study conflated unit costs of health care with Indiana's relative health care costs, which he said were in line with neighboring states.
"I think it sort of perpetuates this notion that Indiana is a health care cost outlier," Tabor said. "And I don't think that's helpful in trying to create a collaborative environment to address affordability."
He added that several hospital systems have recently taken steps to freeze or lower prices.
Last month, Indiana University Health, which charges the highest hospital fees in the Indianapolis area, said it is freezing prices through 2025 to help get in line with national average prices.
And last summer, Parkview Health System in Fort Wayne said it reached an agreement with insurer Anthem Blue Cross and Blue Shield of Indiana to provide more affordable services. According to the RAND study, Parkview was the most expensive hospital system in Indiana, when compared to Medicare.
Details of that agreement were not made public. Anthem did not immediately respond to IBJ for comment on the Parkview agreement or the letter from Bray and Huston.
But some groups have said Indiana hospitals charge excessively high prices, citing numerous studies, including the RAND study. One group, Hoosiers For Affordable Healthcare, says a large portion of the cost of hospital care is shouldered by Indiana employers and their workers, which they say holding the state back and hurting Hoosiers' wallets.
"Please join Hoosiers for Affordable Healthcare in thanking Speaker Huston & Senate President Pro Tempore Bray for their leadership in lowering the cost of hospital care for Hoosiers!" the group tweeted on Tuesday.
The letter from Huston and Bray took pains to thank Indiana doctors and hospitals for their work during the pandemic. But in a press release, Huston, R-Fishers, said he has have heard from numerous Hoosiers and employers who are "rightfully frustrated and overwhelmed" by health care prices.
"The time is now to bring stakeholders together and craft a plan that would deliver tangible savings to payers," Huston said in written remarks. "Our goal is to maintain a high-quality of care while bringing costs down."
Bray, R-Martinsville, said in a press release he understands that health care pricing structures are complicated.
"But that's not an excuse to ignore the problem and let prices grow—at a rate significantly higher than inflations—at the expense of hardworking Hoosiers and business owners."
Please enable JavaScript to view this content.