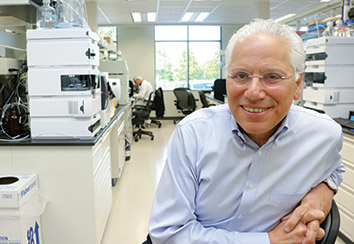 Indiana's health care and life-sciences sector, often hailed as a key driver of the state's economy, landed a record $619.8 million in venture funding last year, a hefty increase over the previous record, set a year earlier.
Venture capital is a critical source of funding for early-stage and mid-stage companies that are too young or too untested to go public or merge with a larger company. It's seen as a key indicator of a sector's health and potential growth.
The amount raised last year is roughly 43% larger than the previous record of $433 million, set in 2021, according to BioCrossroads, an Indianapolis-based group that promotes and invests in the state's life-sciences sector and tracks the funding.
Thirty-seven companies signed 40 deals last year for venture funding, for an average deal amount of $15.5 million.  That is an improvement from the year before, when 39 companies signed deals worth an average amount of $11.1 million.
"This is just showing that companies are gaining traction and are able to appeal to investors," said Patricia Martin, president and CEO of BioCrossroads.
In addition to the biotech and pharmaceutical companies, the sector includes agricultural technology, digital health, medical device, and orthopedics sectors, which all saw significant funding.
Companies often use the venture funds to pay for expensive clinical trials and to develop and test prototypes. Investors give the companies money in exchange for partial ownership in the growing companies.
Last year's deal sizes ranged from $100,000 to $124 million.
Eight companies accounted for the lion's share of the funding, $511 million. The other 30 companies split the remaining $108 million.
The wide range of funding amounts often reflects that some companies are farther along in their research and development, and need huge sums to advance their experimental products or services.
Several companies made the list two years in a row, showing that investors have ongoing confidence in their progress.
"You do want to see repeat raisers," Martin said. "And we're seeing that, which gives me confidence that we got some strength in the sector."
Here is a list of the top 10 Indiana recipients of venture capital funding in 2022:
Inari, West Lafayette, $124 million to develop plant-breeding platform.
MBX Biosciences, Carmel, $115 million to develop biotech drugs for endocrine diseases.
Solinftec, West Lafayette, $60 million to develop a digital agricultural platform
List Biotherapeutics, Fishers, $48 million to develop contract manufacturing services.
AZIsotope, Bunker Hill, $47 million, to make medical isotopes to treat cancer.
BiomEdit, Fishers, $40 million to develop microbiome innovation platform for animal health.
Taranis, Westfield, $40 million to develop an artificial intelligence crop analytics platform.
Sudo Biosciences, Menlo Park, $37 million to develop therapies for immune disorders.
Torigen Pharmaceuticals, Farmington, $17.5 million to develop immunotherapy cancer treatments.
Morphimmune, West Lafayette, $17.1 million to develop a biotech and chemistry platform intended to reprogram the immune system.
Please enable JavaScript to view this content.