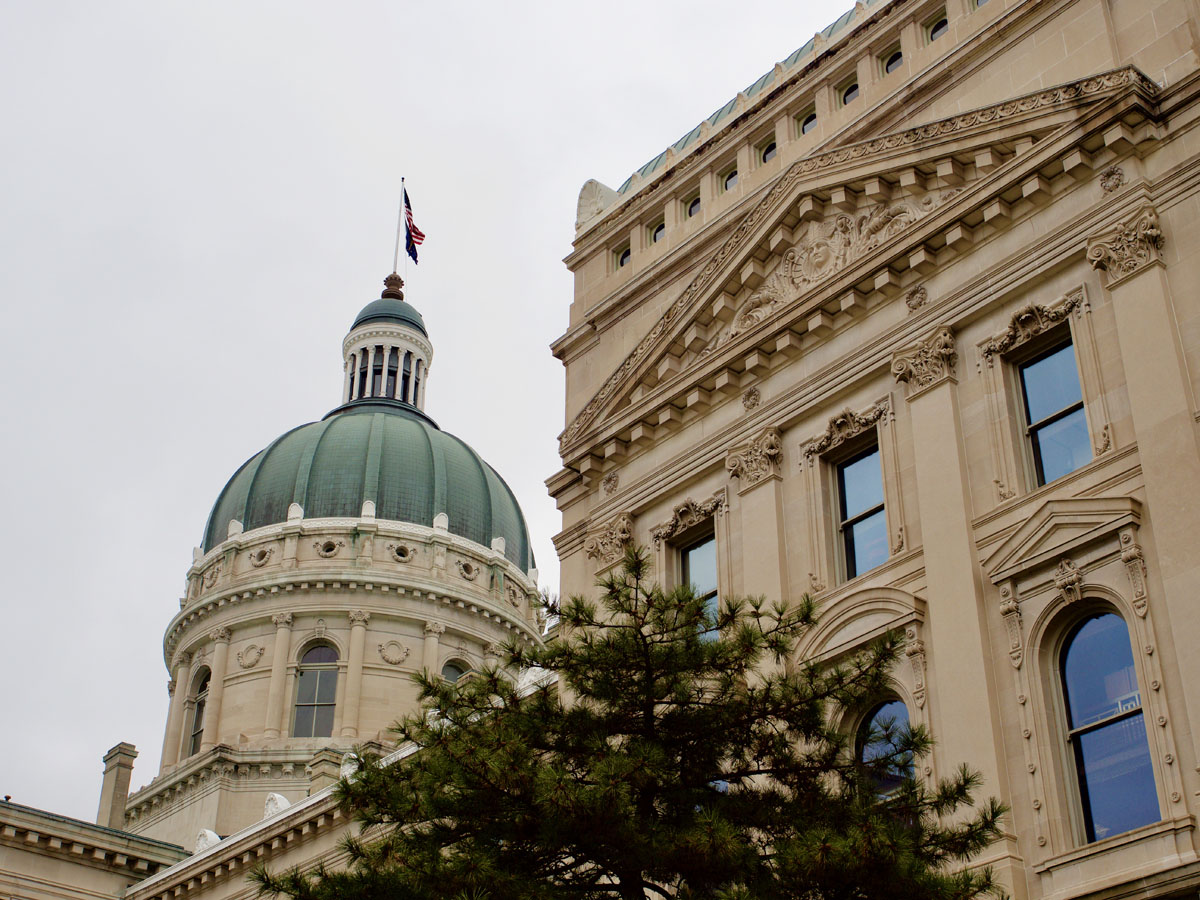 With Election Day just around the corner, and early voting already underway, Republicans aim for a smattering of seats in the Indiana Senate that they believe they can flip, largely putting Democrats on the defensive.
At the very least, Republican strategists seem to think the races will be much more competitive than Democrats initially believed.
"We are feeling pretty good about most of our incumbents but we're keeping an eye on several opportunities for pick-ups," said Matt Huckleby, the executive director of the Indiana Republican Party.
But Mike Schmuhl, chair of the Indiana Democratic Party, said Hoosiers increasingly felt at odds with the priorities of their elected representatives, especially following the General Assembly's passage of a near-total abortion ban.
"I think that this issue really crystallizes the Republican supermajority and how they're able to really kind of play with people's lives," Schmuhl said. "I think that the majority of Hoosiers are against that and will make their voices heard in November."
Right now Republicans control the chamber 39-11, which means they have a supermajority and can make law without Democrats. It is unlikely Democrats can break that hold.
Races in Indianapolis' suburbs attract a lot of attention
Easily the most competitive race in the state, the purple Senate District 31 pits Republican incumbent Sen. Kyle Walker against Democrat Jocelyn Vare.
Huckleby described the race as a "tough district," and politicos wonder if the General Assembly's vote to ban abortion might cost Walker the seat even though he voted against the legislation.
"I think Sen. Walker has made his opinion known on this issue; he did it early and consistently, which was smart," Huckleby said, noting that Walker said he'd vote against a total ban before the summer special session. "Republicans have a broad base of opinion but I certainly think that Walker is in a good position."
Ultimately, Huckleby said recent national polling strengthened his belief that abortion wouldn't play a large role in the 2022 midterms, but rather economic issues such as lingering inflation and concerns about a recession.
"I don't believe abortion will be the deciding issue," Huckleby said. "I think it will be pocketbook issues that affect every Hoosier."
Schmuhl disagreed, saying he believed Hoosiers took issue with Republicans, mostly white men, making unpopular decisions about women's health care.
"I think that (the abortion ban) really gets to the heart of the supermajority and its politics," he said.
The Senate Majority Campaign Committee, or SMCC, contributed nearly $400,000 to Walker's race, and the candidate has picked up a slew of endorsements, including one from the Indy Chamber.
Vare has also swept up several endorsements, and a campaign poll from Change Research had the two candidates statistically tied, with Vare netting 41% of those surveyed compared to Walker's 39%. But 19% of the 552 likely voters surveyed were undecided in the August poll and a majority said they were unfamiliar with the candidates.
Also in central Indiana, Republicans hope to pick up a seat held by Sen. J.D. Ford, the state's first openly gay state senator.
Challenging Ford is Alex Choi, an anesthesiologist and Zionsville Town Council member. But opponents say Choi hasn't been clear about his stance on abortion, proclaiming that he wouldn't let his anti-abortion beliefs influence his votes.
"… access to abortion should be a decision made between a woman and her health care provider," Choi told the IndyStar. "… No matter how i feel about it personally, I feel very strongly that this is not an area where the government really should get involved."
Schmuhl decried Choi's statements.
"He says he's pro-life but he'll vote pro-choice?" he said. "I think he's waffling on that issue."
Notably, Choi was one of a few Republican Senate candidates who didn't respond to the Indiana Right to Life survey on abortion priorities, as well as Dan Dernulc and Jeff Larson in northwestern Indiana. Every sitting senator up for reelection responded to the survey and all but three were given a "supports pro-life legislation" designation.
Could the Congressional race flip "safe" Democrat seats in the Region?
In northwestern Indiana, Republicans believe the national attention on Congressional District 1, the only race rated a "toss up" in the state, could drive up turnout for races further down the ballot.
Sen. Michael W. Griffin, in District 1, and Sen. Rodney Pol Jr., in District 4, both face challenges from Republicans. Coincidentally, both incumbents were elected in a caucus in the last year and will face voters for the first time in November.
Daniel E. Dernulc, who is challenging Griffin, has the support and funding prowess of the state party.
"(Dernulc) is in a strong position to be able to win that race; we hear things are moving our direction," Huckleby said. "(District 4) is a race that Democrats thought was safe and we've made it really competitive."
The SMCC spent $212,030 on the candidate for campaign mailings and $115,500 on digital advertising in the district. Jeff Larson, the Republican challenging Pol, hasn't received any funding from SMCC.
Schmuhl said Griffin was a well-known public servant and a "fiscal genius."
"So I have no doubt that he'll be successful on election day," Schmuhl said.
Redistricting disrupts central Indiana races
Further south, a new district has garnered the attention of the Republicans defending a seat previously held by Sen. Mike Gaskill. In redistricting, parts of Gaskill's district–in the surrounding Madison and Delaware counties–was combined with Sen. Tim Lanane's district, which represented Anderson and Muncie.
The leftover district, which includes Muncie, is up for grabs. Former State Rep. Melanie Wright won the Democratic nomination for the seat and will face Republican Scott Alexander, a Delaware County Commissioner.
The Republicans have contributed $113,638 to Alexander's race for campaign materials and paid to survey the district twice.
Contrary to many other first-time Republican candidates, Alexander responded to the annual legislator survey from Indiana Right to Life, an anti-abortion group. He earned a nod from the organization for supporting their proposed legislation.
Regardless, Indiana Democrats likely have at least one seat they're sure to win: a new Senate seat in central Indianapolis.
Andrea Hunley, a former Indianapolis Public Schools principal, beat out a crowded field of Democratic contenders in the May primary and is poised to win the seat in November.
Huckleby said the seat is tough but pointed to a possible win for Republicans in the county by Republican challenger Cyndi Carrasco, who recently outraised incumbent Democrat Ryan Mears for Marion County Prosecutor.
"We don't write off any race or any parts of the state," Huckleby said.
But Schmuhl seemed confident of Hunley's win over Republican Evan Shearin.
"She's going to be a wonderful new senator for our state," Schmuhl said. "We're excited to have a fresh face in the state senate."
The Indiana Capital Chronicle is an independent, not-for-profit news organization that covers state government, policy and elections.
Please enable JavaScript to view this content.