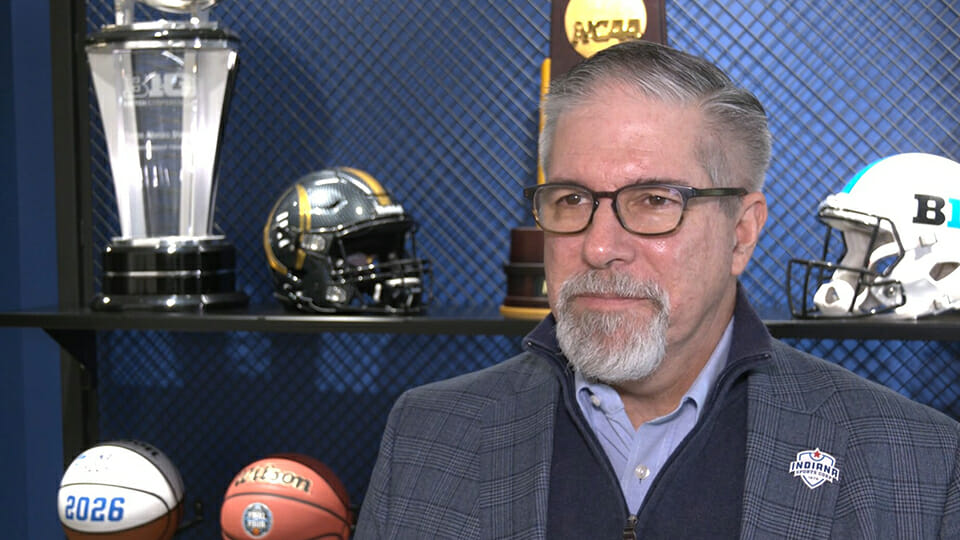 The new president of the Indiana Sports Corp said 2022 was a big year for sports in Indianapolis, and the future continues to look bright as preparations continue for major events in 2024.
The city capped off the year with the Big Ten Conference Football Championship in front of a sold-out crowd at Lucas Oil Stadium, but Patrick Talty told Inside INdiana Business the organization also spent the year looking ahead, including the potential for Indy hosting a future NFL Draft.
"In 2022, we bid on and secured for future economic impact over $500 million," said Talty, who was promoted to ISC president in July.
Indy started 2022 hosting the College Football Playoff National Championship game, which generated $156.6 million in overall economic output, about $6 million more than expected.
"We started the year off with that and then went right into more basketball. We had the Big 10 men's and women's championships here. We had the Horizon League championship. We had [NCAA Championship] first and second round, while also doing Division III swimming and diving. So, it was a big year," said Talty.
In November, Indianapolis was also named the host city for the 2028 NCAA Women's Final Four and the 2029 NCAA Men's Final Four.
But Talty said 2023 will serve as a "planning year" for the Indiana Sports Corp as the city prepares for another big sports year in 2024, beginning with the NBA All-Star Game at Gainbridge Fieldhouse.
"There's a contingent going to Salt Lake City to see the All-Star Game in '23 to prepare and plan and inspire us to get ready for '24 to make the best All-Star Game that we possibly can," he said.
Last year, USA Swimming announced Indianapolis would serve as the host of the 2024 U.S. Olympic Team Trials ahead of the Summer Olympics in Paris. The nine-day event at Lucas Oil Stadium will mark the first time a football stadium has held the trials.
The Local Organizing Committee for the trials was unveiled in June, and Talty said planning is in full force.
He emphasized the importance of both events to showcase the city.
"The NBA All-Star Game is one that will give us access to a new audience. It's an international event. It's one that is kind of a crossroads of music and fashion and sports. We get to show Indy on a global stage," he said. "And then the swimming trials is really about that Olympic movement. It'll be nine nights of primetime coverage on NBC of us showing us why Indy is the best place to live, work and play."
Talty said the competition to host major sporting events is tough and continues to get tougher.
"When we were formed, we were the first sports commission; now, there's over 350 of them, and so communities compete really hard for these events. So we, at the Sports Corp never take for granted these bids. Indy is special because the city, the state, and the other entities can come together to put these events on; that goes for bids, too. They work together to make sure these bids happen."
Indianapolis will host the 2023 and 2024 NFL Scouting Combine after the first bid process for the event was put in place last year. Talty said now that the city knows its plans for its next Final Four events, officials are looking to host an NFL Draft event.
"We're working closely with the Colts on that future. We've put a letter of interest in for future years. Obviously, '27 would be one that we're interested in and into the 30s. That process hasn't kicked off yet, but one thing we'll do is we'll work our tails off to make sure that we can put our best foot forward in getting that winning bid."
The full interview with Talty can be found here.
Please enable JavaScript to view this content.