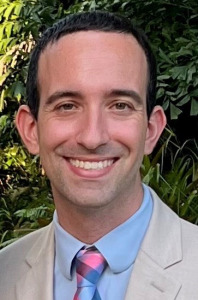 The Indianapolis Jewish Community Relations Council has hired Jacob Markey as its new executive director, the organization announced Thursday.
Markey was most recently Jewish Community Relations Council assistant director for the Greater Miami Jewish Federation in Florida. He will begin his new job July 1.
Interim Executive Director Rabbi Aaron Spiegel has been handling the position since the departure of Lindsey Mintz, who left Jan. 31 after nearly 10 years in the position to join the Jewish Federation of Sarasota-Manatee in Florida as director of community engagement.
"Jacob impressed the search committee with his proven ability to build relationships both within and outside of the Jewish community, his understanding of the many forms of antisemitism and how to combat it, and his strong support for the State of Israel," said Miriam Dant, president of JCRC's board of directors, in written comments. "He knows that he has big shoes to fill in succeeding Lindsey Mintz, but we are confident that he is the right person for this role."
Markey has been with the Greater Miami Jewish Federation for almost four years. Before that, he was marketing and communications coordinator for the Union for Reform Judaism in the greater New York City area and coordinator for Israel engagement for Hillel of Brandeis in Waltham, Massachusetts. Over the past decade, he has led more than 10 trips to Israel.
A native of Milwaukee, Wisconsin, Markey has a bachelor's degree in political sciences from the University of Wisconsin. He received a dual master's degree in professional leadership and public policy from Brandeis University.
"I am excited to join the Indianapolis JCRC and work with such dedicated professionals and volunteer leaders," Markey said in written remarks. "I look forward to continuing to build on Lindsey's efforts to create strong relations within the community and advance the issues that we hold dear."
Please enable JavaScript to view this content.