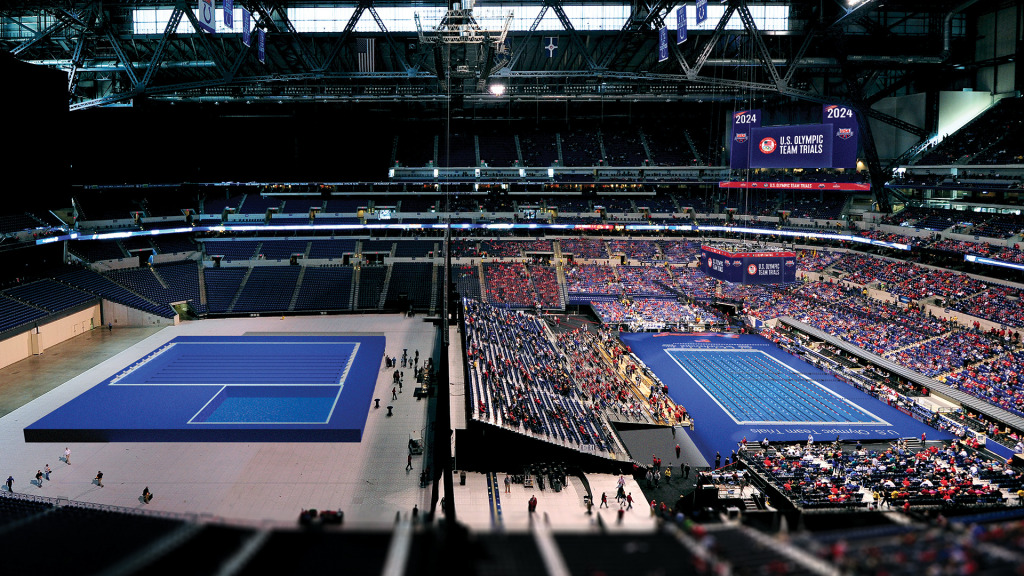 As expected, Indianapolis will host the 2024 U.S. Olympic Swim Trials, officials with Indiana Sports Corp. and USA Swimming announced Tuesday.
IBJ first reported on the trials coming to Indianapolis on Sunday.
The trials are slated for June 2024 at Lucas Oil Stadium, the largest venue ever to be selected for the event, with expectations of up to 35,000 spectators.
The space is expected to feature two large 50-meter pools inside the stadium's bowl area—one for competition and another for warmups and cool-downs—as well as a smaller 25-meter pool. The setup will be similar to the two-court setup used for the 2021 NCAA Men's Basketball Tournament games hosted at the venue.
Indianapolis last hosted the U.S. swim trials in 2000 at the 4,700-seat IUPUI Natatorium and has been the most frequent host of the event. It has hosted six trials in the past 100 years. Those include the women's trials in 1924 and 1952 at Broad Ripple Pool, and the men's and women's trials at the Natatorium in 1984, 1992, 1996 and 2000.
The past four Olympic trials have been held in Omaha, Nebraska (2008, 2012, 2016 and 2021). The 2004 event took place in Long Beach, California.
OneAmerica Financial Partners CEO Scott Davison will serve as host committee chairman for the event.
Tim Hinchey III, president and CEO of USA Swimming, said the event will cost millions of dollars to produce—he declined to give a specific estimate—but added that most costs are expected to be shared by his organization and Indiana Sports Corp.
The trials makes money through sponsorship deals, television rights with NBC and ticket sales.
Sports Corp officials don't yet know the potential economic impact of the event, although the 2016 trials generated about $74 million for Omaha.
Hinchey said an "extremely strong bid" that utilized Lucas Oil Stadium pushed Indianapolis over the top. The city beat out Omaha, Minneapolis and St. Louis to earn the event after losing a previous bid for the 2016 trials.
USA Swimming and the Indiana Sports Corp. also plan to put about $400,000 toward legacy projects focused on access to recreational water areas for local children. The effort will focus on financial and programming efforts to promote swimming lessons and other water safety initiatives.
The Indiana Convention Center, which is connected to the stadium, will also be used to host USA Swimming's fan zone and hospitality area.
The exact dates for the trials have not been determined but will likely be in mid- to late June, roughly a month before the Paris Olympics begin on July 26, 2024.
The Associated Press contributed to this report.
Please enable JavaScript to view this content.