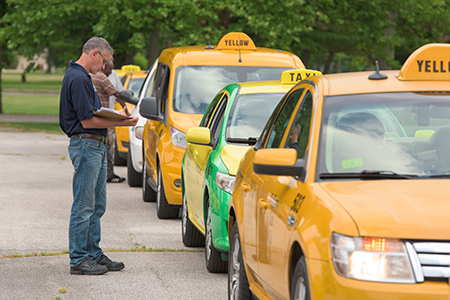 It's the end of the road for Indianapolis Yellow Cab after 69 years in business.
The company, the largest player in the Indianapolis taxi business, with about 130 cabs, has been bought by zTrip Inc., a five-year-old company that plans to rebrand the operation.
The deal was announced Wednesday by zTrip's parent, WHC Worldwide, based in Kansas City. Terms were not disclosed.
The sale also includes Indianapolis Checker Cab, a small subsidiary of Indianapolis Yellow Cab, with about 15 black taxis, which mostly did runs between downtown hotels and the Indianapolis International Airport.
The transaction will retire the name of both local companies, which have done business here since the early 1950s. Yellow and Checker were independent operations locally that operated under well-known national brands.
"We had a good run," said CEO Scott Beauchamp," co-owner since 2002 along with his partner, Sergio Piriz. "It's been a challenging business."
In a press release, zTrip said it rolled out its service here Wednesday with an initial fleet of 60 new silver sedans. The cars are marked with the zTrip name on the front doors in red and black lettering.
The company, launched in 2015, has been buying cab companies across the country at a fast clip, and now has more than 4,000 vehicles in 21 cities, from Baltimore to Albuquerque. Many of the acquisitions are former Yellow Cab operations.
Bill George, CEO of zTrip, said he has been trying to enter the Indianapolis market for several years.
"I've watched with great interest how Indianapolis, especially on the convention side, has just dominated to become one of the top tier convention cities in the country," he said in an interview with IBJ. "So it was always our target. And so we're really excited to be in the market."
Under the deal, zTrip will get all the assets of Indianapolis Yellow Cab, including its vehicles, which will continue to be used for about six months while zTrip phases in its fleet of silver sedans. He said the zTrip cars are considered taxicabs.
The company's business model is a hybrid of traditional cab service and ridesharing service. Riders can arrange a ride by app, phone, company website or by hailing on the street.
Its marketing message is that while other rideshare options, such as Uber and Lyft, are mostly tech companies that offer transportation, zTrip is a transportation company that has embraced technology.
"zTrip is the perfect hybrid between the safety and security of a traditional taxicab, along with all the new features people like about rideshare," George said.
The company uses drivers that are insured and have undergone background checks. The company boasts of a fare structure that does not have "surge pricing," meaning it offers the same price every time, regardless of the time or day.
George said the plan is to add to the fleet in Indianapolis, a competitive market with more than two dozen taxi companies registered with the city, along with new options including Uber and Lyft, the IndyGo bus system, Indiana Pacers bikeshare and electric scooters.
Indianapolis Yellow Cab was started in 1951 by Dick Hunt, whose family ran it for many years before selling to Coach USA in the 1990s. Beauchamp and Piriz bought it from Coach USA in 2002.
Beauchamp said he also owned a Yellow Cab operation in Pensacola, Florida, for more than a decade before selling it to zTrip in 2018.
"We were pleased with how that deal progressed," he said. "They integrated things smoothly."
So when zTrip came calling in Indianapolis, he was ready to sell, he said. Indianapolis Yellow Cab was still profitable despite the growing competition, he said.
All parties in the transaction are private, so financial information wasn't disclosed. Indianapolis Yellow Cab revenue was in the "mid seven digits," George said, while zTrip revenue last year was in the "low nine digits."
Indianapolis Yellow Cab has about 20 employees and 150 contract drivers. The Indianapolis zTrip operation will be managed by Bobbie Liebrandt, operations manager for Indianapolis Yellow Cab for the past 20 years.
Please enable JavaScript to view this content.