The Indianapolis industrial market is growing at a record pace, continuing a trend that began in the months ahead of the coronavirus' arrival in early 2020.
More than 22 million square feet of space is already under construction, with some brokerages estimating several million more will break ground by the end of the year. And markets that have begun heating up over the past few years—particularly Whiteland in Johnson County and Mount Comfort in Hancock County—are starting to see extensive development and leasing activity.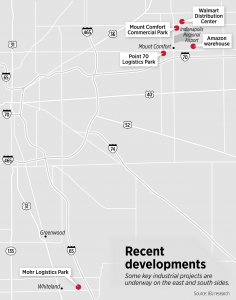 In Whiteland, Mohr Capital recently broke ground on multiple buildings of nearly 1 million square feet as part of its Mohr Logistics Park, at the northwest corner of Interstate 65 and Whiteland Road. Cooper Tire moved into its nearly 950,000-square-foot building at the park in the second quarter.
So far, 3.5 million square feet of space is under construction or has been completed on the property. The Mohr development could near 8 million square feet when it's fully built out in the years ahead, occupying more than 500 acres—nearly the size of the downtown Indianapolis mile square.
Bob Mohr, chairman of Dallas-based Mohr Capital and an Indianapolis native, said what's happening in Indianapolis is a national phenomenon, albeit one from which Indianapolis is benefiting."
"Industrial [development faced] a big whammy of everything being backed up because of the pandemic, causing significant disruption to global trade. Then you have corporations that are reconfiguring all of their supply chain," he said. "When you combine those things together, you get a big blow-up in industrial requirements" that have led more companies to seek space.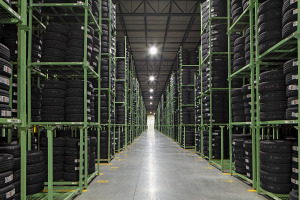 Mohr said the move to build in Whiteland was driven by a host of factors, including land availability—and, in turn, lower costs—more appetite for incentives from the town, and a stronger labor pool driven by the scarcity of industrial buildings in the area.
Throughout Indianapolis, brokerage CBRE estimates, the average lease rate for the second quarter of 2021 was $4.58 per square foot, about 20 cents higher than the same period in 2020. The area also has a vacancy rate of 5.3%, according to the firm's data.
"The marketplace in Indianapolis is better than it's ever been," said Andrew Morris, an industrial broker for the Indianapolis office of Dallas-based CBRE. He added that the only metric that could stand some improvement is cost of construction, but he noted high construction prices have been industry-standard throughout the pandemic due to scarcity of supply and labor.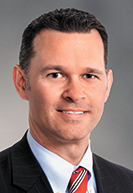 "Our market is just absolutely better than it has ever been historically," he said.
Michael Weishaar, a broker with the local office of Chicago-based Cushman & Wakefield, said labor continues to be a challenge across the board.
"We can all look around and know, in our everyday life, that labor shortages have impacted us in many, many ways. It's not just industrial real estate. It's not just manufacturing, but it's affecting us all in many, many ways. And, you know, a lot of these developers are thinking ahead of a user, not wanting to go to a market that's going to have a labor issue."
Morris said markets like Whiteland and Mount Comfort—and even Monrovia, southwest of Mooresville in Morgan County—are gaining ground in conversations about where developers could build next.
East side taking off
In Hancock County, Walmart has already committed to building the Indianapolis area's largest-ever warehouse, a 2.2-million-square-foot structure just north of the Indianapolis Regional Airport, near Mount Comfort. The firm is spending $600 million to build and equip the facility.
And last year, Amazon debuted a distribution facility just south of the airport. Morris said 4.1 million square feet is under construction on the east side of the metro area—predominantly in Mount Comfort.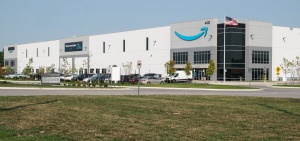 The submarket, he said, "is outpacing the other submarkets, when it comes to product under construction."
Morris said large industrial leases are far outpacing what happened in 2020 throughout the Indianapolis market, which saw only four leases for more than half-a-million square feet through the first six months. By comparison, 2021 has already seen at least eight. At least five buildings of over 1 million square feet are under construction, too.
"That indicates the demand for very large buildings is really substantial in Indianapolis," he said. "A lot of that ties back to, if a company's just going to do one distribution center or two, three or four—we're really in the targeted area; they're going to put more into that instead of having six or eight facilities in their network."
Opus Development Corp., a Minneapolis-based firm, is developing up to four buildings on nearly 250 acres just west of Mount Comfort, at the southeast corner of North 700 West and West 300 North. The development's largest user is expected to be Atkins Nutritionals, which will occupy an 862,000-square-foot structure that's set to be completed this month.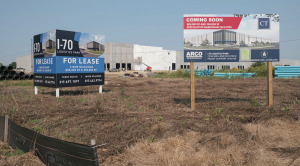 Part of the industrial endeavor will be incorporated into the Point 70 Logistics Park just south, a 160-acre plat along I-70 that Opus is developing with New York City-based Clarion Partners LLC.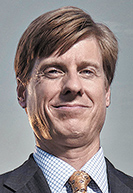 That park will feature up to three logistics buildings with nearly 2 million square feet of industrial and office space. Each building has received a 10-year tax abatement from Hancock County.
Large land holdings
National developers aren't the only ones considering projects in Mount Comfort. Indianapolis-based Browning Investments has partnered with the largest industrial developer in the United States, San Francisco-based Prologis, to develop properties in Mount Comfort, along with sites in Whiteland and in Plainfield in Hendricks County.
John Hirschman, president and CEO of Browning, declined to say where the firm's land holdings are in those areas, but said details will be shared publicly in the next several months.
He said the company has strong enough demand, like most other developers, to offer a mix of build-to-suit and speculative projects, although recent years have generally been focused on the latter.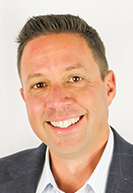 "We have very large land positions, so we're really competitively suited towards competing for really big requirements that others may not have large enough land positions" to accommodate, he said.
Steve Schwegman, market lead for Chicago-based brokerage JLL's Indianapolis office and an industrial expert, said more companies are taking on larger land holdings than in years past, like Browning. Mohr also does it, as do other big players like Prologis, Atlanta-based Sunbeam Capital and Kansas City, Missouri-based Jones Development.
"They're giving themselves literally years of runway for development," he said. "I wouldn't say that's a first in our market, because [local] developers have done that in the past, but it's new in the number of developers that are doing it and the names of the developers that are doing it now. It's real evidence of a commitment" to the market.
Steve Schnur, chief operating officer for Indianapolis firm Duke Realty Corp., said his company and others are bullish on Indianapolis as a staple in the industrial industry. He said it boils down to something very simple.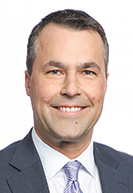 "It just doesn't have some of the supply constraints that other markets do," he said. "But it has a very business-friendly climate, [and] it has available land, available labor, good assets."
In fact, according to JLL market research, Indianapolis is the eighth-largest industrial market in the United States, with nearly 300 million square feet of space under roof. Indiana is also considered one of the five best business climates in the country for new development, according to JLL and other brokerage research.
The market, brokers and developers say, is likely to continue on its torrid pace for several years.
Speaking during IBJ's Sept. 10 Commercial Real Estate and Construction Power Breakfast panel, Becknell Industrial's Derek Hawkins said the trend of record-setting construction will stick around through at least 2022.
"As we continue to see the growth in e-commerce, we think this construction will be supported with plenty of demand associated with it," he said. "I think [e-commerce] is here to stay. I think Indianapolis and the surrounding counties will continue to benefit from that."•
Please enable JavaScript to view this content.