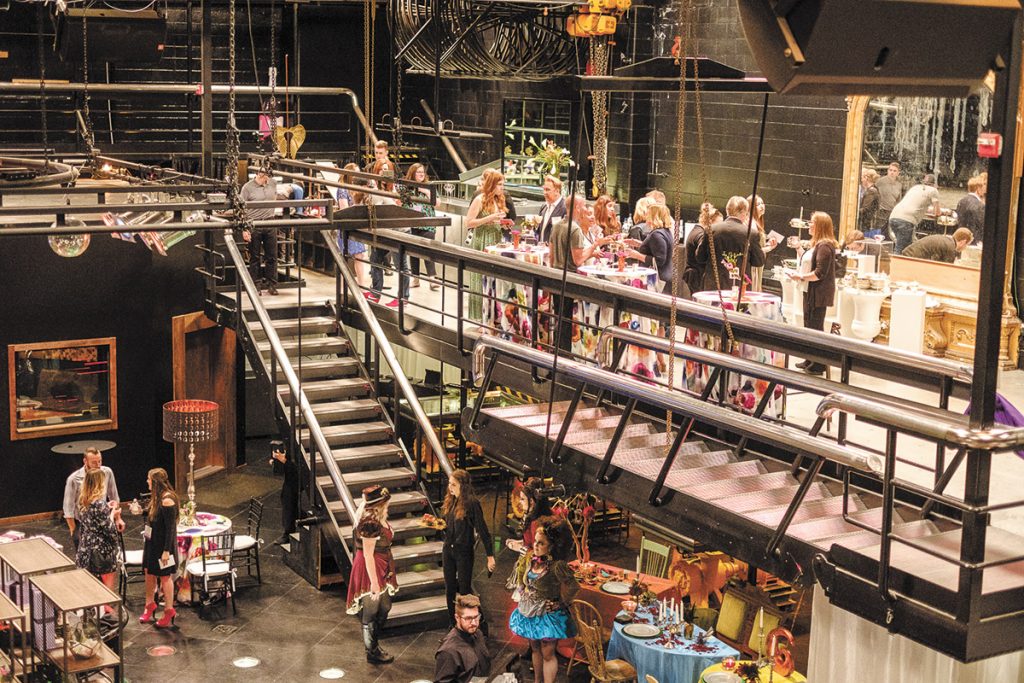 Say "meeting space" and locals typically think of the sprawling Indiana Convention Center or, perhaps, the cavernous hotel ballrooms scattered nearby. But there's an entire sub-niche of privately owned venues that are taking advantage of Indy's $4.9 billion-per-year convention industry.
They aren't competitors of, but rather adjuncts to, the huge facilities that draw the likes of Gen Con and the National FFA Organization. And they're adjuncts that city convention planners can't get enough of.
"Because of the growth in the total number of tourists and the sheer volume of meetings, we have desperately needed more places and spaces to offer to meeting planners," said Visit Indy Senior Vice President Chris Gahl. "It's been very helpful to see this new wave of special events venues come online."
The facilities are typically on the small side (at least compared to the convention center), located in or near downtown, and often reside in old industrial or warehouse structures. They first entered the public eye back in 2012, when high-profile, Super Bowl-related events were booked into such places as The Crane Bay, a 1,500-capacity venue carved from a former industrial building near Lucas Oil Stadium. During Super Bowl week, The Crane Bay hosted the Rolling Stones Magazine Super Bowl
XLVI Party.
"I think it started then," said Debbie Locklear, president and owner of Meeting Services Unlimited. "At least, that's certainly when I noticed it. And they've continued to grow because there's a demand for what they offer. It gives planners a great deal of choices, and more places to consider."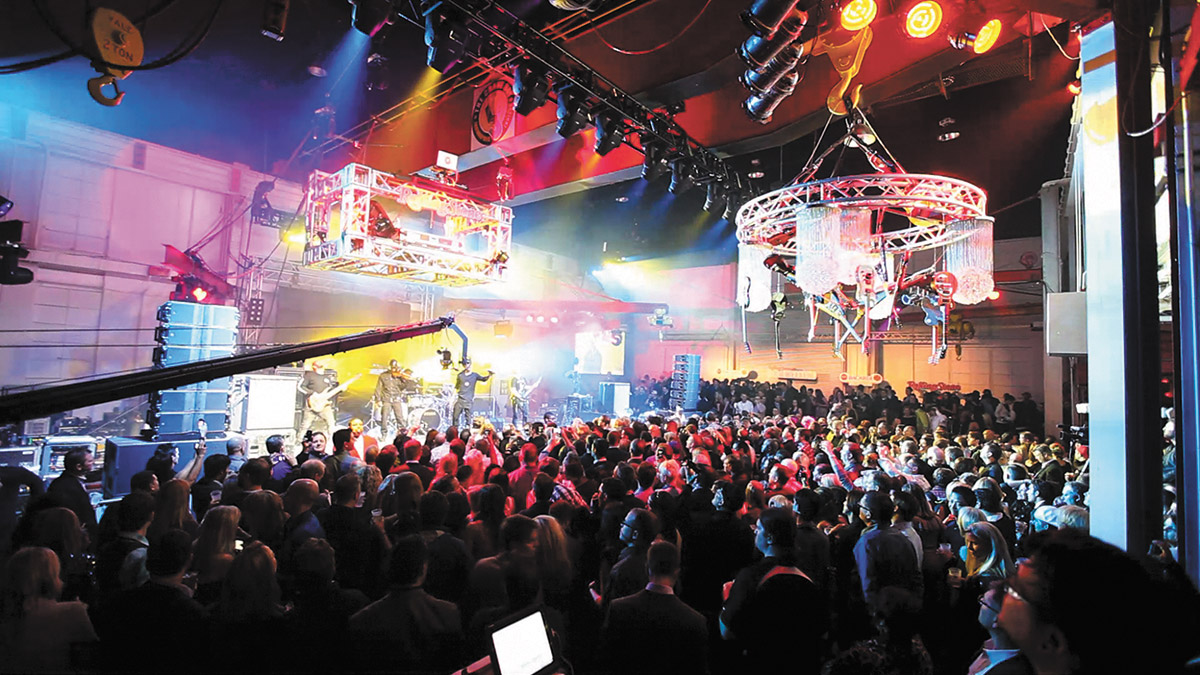 Indeed, Gahl reports that one of convention planners' top questions, right up there with hotel room availability and the number of direct flights to Indianapolis, is how many unique, one-of-a-kind venues are available for off-site meetings. Hotel ballrooms are fine, but planners these days think convention attendees want to get a taste of the host city by going someplace with local color.
Which is where the new downtown venues come in.
Of course, the trendy newer spaces aren't the only, or even the first, organizations to service the "unique meeting spot" niche. Everyplace from the Indianapolis Motor Speedway to Conner Prairie to the Indianapolis Zoo to the Fountain Square Theatre Building vies for a piece of that pie. And all of them are absolutely bursting with one-of-a-kind character.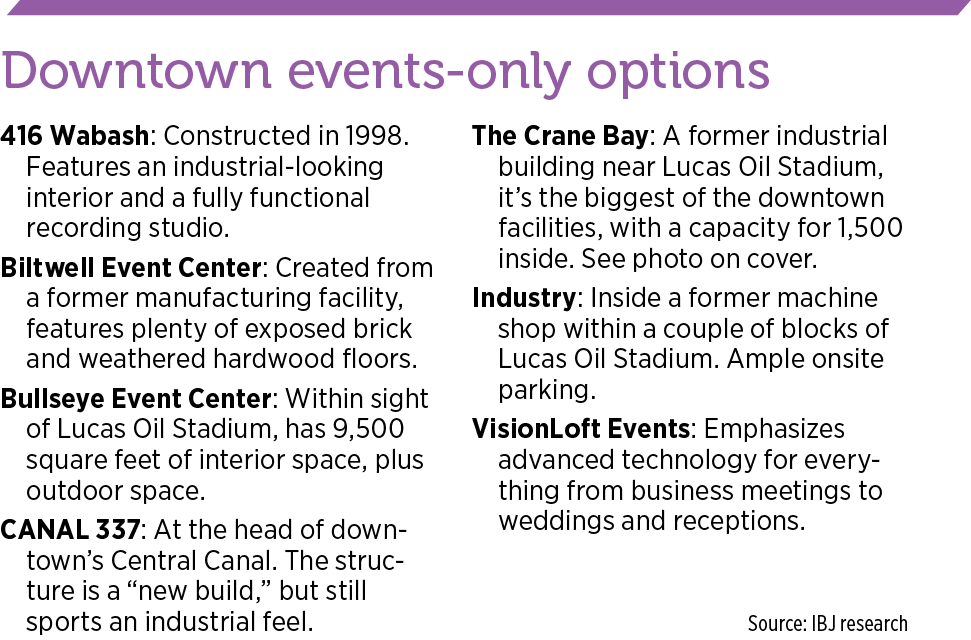 What single-purpose venues can offer, however, is a facility with lots more personality than the typical hotel ballroom, plus a primary focus on hosting meetings and events. Because, according to Jonathon Day, associate professor at Purdue University's School of Hospitality and Tourism Management, while a zoo or a racetrack can be well-equipped to host gatherings, it will always be a sideline for them.
"It's often an important secondary business, but a secondary business nonetheless," Day said.
But for an event-only facility, it's always No. 1.
"We don't have a zoo or art exhibits or a brewery," said Chris Wodock, owner and events manager for 416 Wabash, an events center and recording studio at 416 E. Wabash St. that opened in 2016. "There's no extra attraction, so it's up to me and my client to make it a party and make people want to come."
Wodock's venue can handle about 600 people, and hosts everything from company meetings to weddings. Actually, quite a few weddings.
"It's a pretty good mix of local promoters on weekends, mixed in with the corporate stuff we do during the week," Wodock said. "We do a lot of weddings on Saturdays. It's kind of all over the road."
The industrial-looking building was never actually a factory, however. It's a purpose-built event center created in 1998 by developer John Irish.
"If you've never seen the space, it's totally unique," Wodock said. "It looks like it should be in a warehouse district in New York City."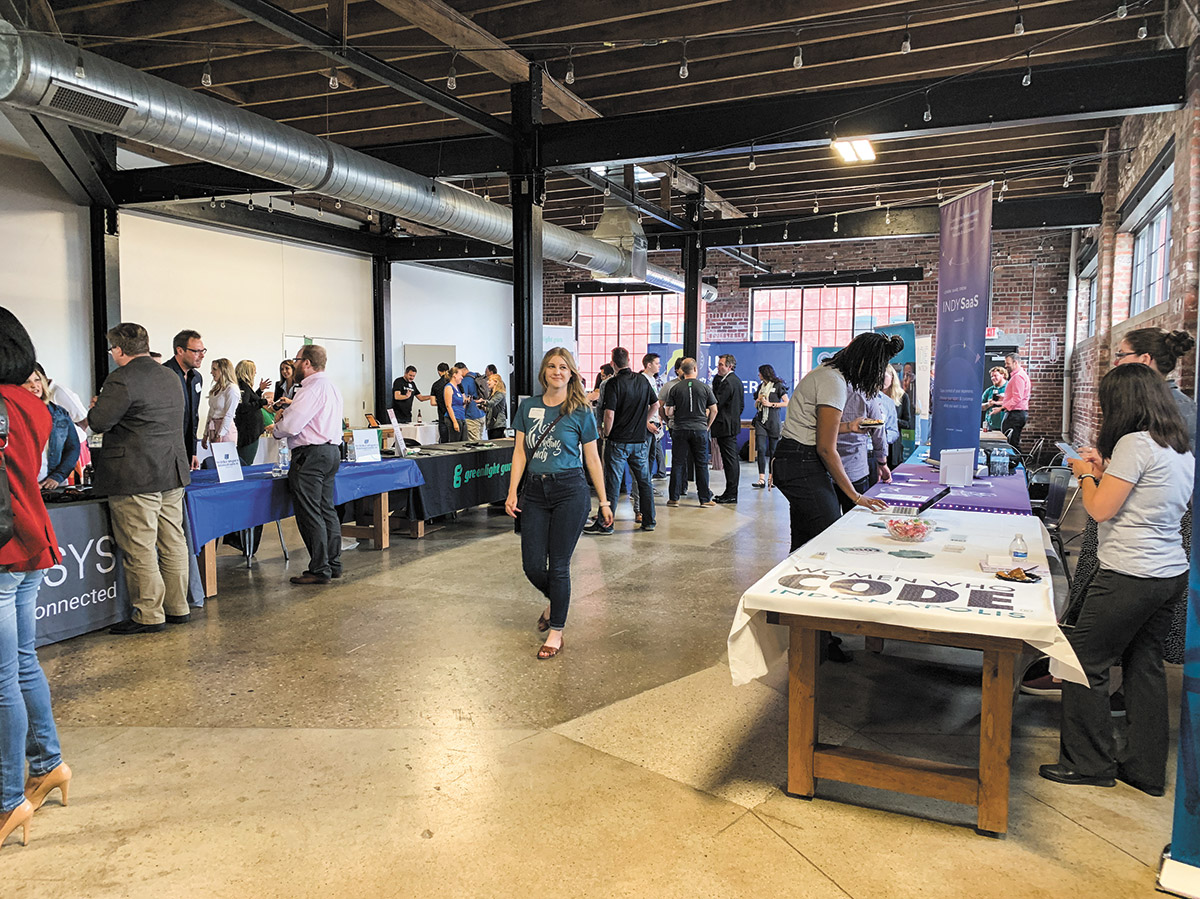 For its part, VisionLoft Events at 235 N. Delaware St. also looks like it should be in an NYC warehouse district—circa 2040. The building features pretty much every electronic bell and whistle imaginable, including an interactive touch video wall, whiteboards and black glass boards, and superfast WiFi—along with de rigueur rustic brick walls and wood floors.
Co-owned by Dan and Julie Johnston, VisionLoft specializes in business meetings but also handles its share of weddings and receptions. The electronics and the meeting-friendly layout are courtesy of Julie Johnston, director of learning spaces for Indiana University.
"She wanted to create a space with a very unique design that was unlike your typical hotel-type ballroom," Dan Johnston said. "And also to implement some really cool, cutting-edge technology that would create a fun place."
The venue holds about 300 guests for a standup function, and roughly 160 for a seated event. Johnston said they've kept busy since the place opened in March 2018, but that he does sometimes feel the breadth of competition. Not from hotel ballrooms and local landmarks that do events on the side, but from other single-use meeting spaces.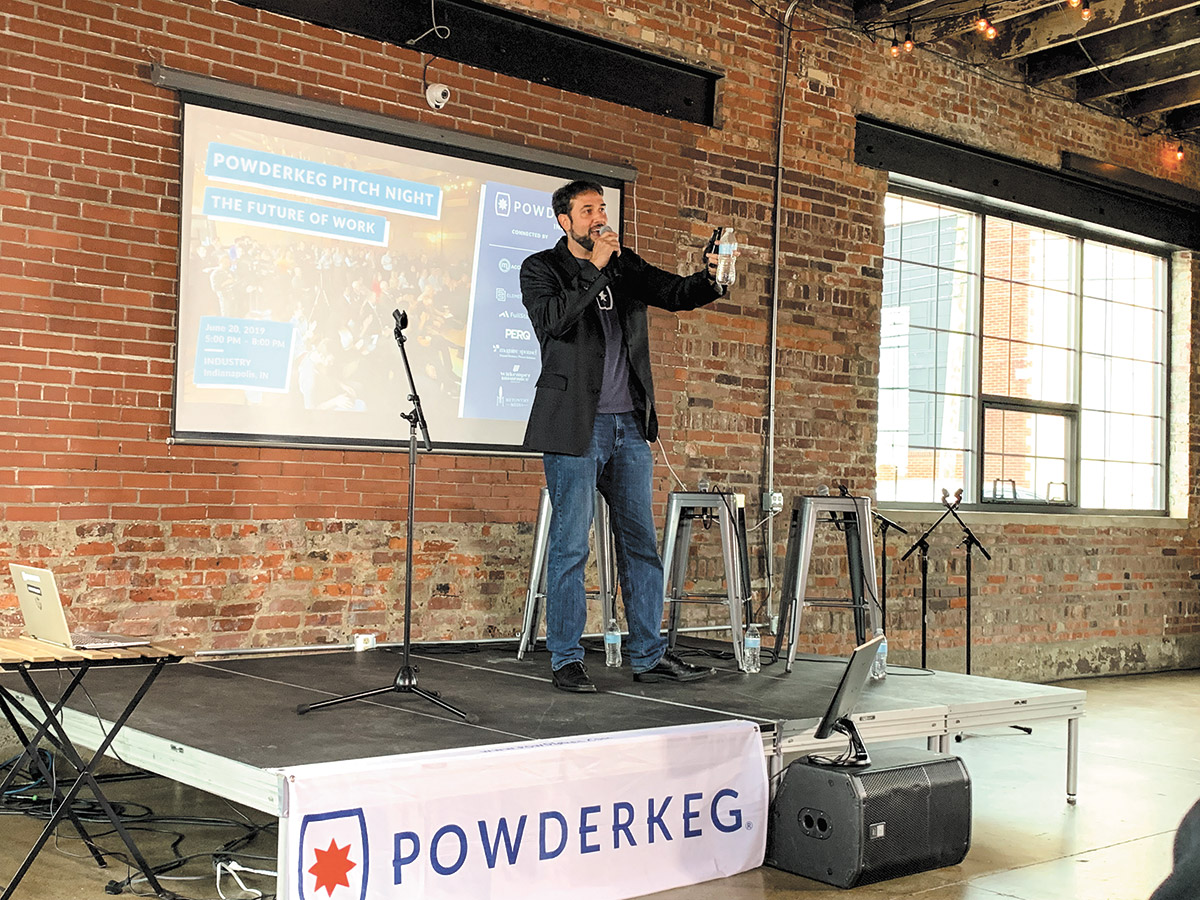 Or, more specifically, meeting spaces that are part of regional or national companies.
For instance, Bullseye Event Center at 723 S. Capitol Ave., across from Lucas Oil Stadium. The 9,500-square-foot facility can host 750 to 1,000 visitors, and is operated by Indy-based Bullseye Event Group, a quarter-century-old company that provides extensive hospitality services nationwide for events ranging from the Super Bowl to The Masters. Its Indy facility can host anything from a football party to a wedding reception.
And it's not the only local venue company that's gone national. Indianapolis-based 828 Venue Management Co., which operates Industry downtown and Bash in Carmel, also runs facilities in San Diego; Kansas City; Denver; Seattle; and Nashville, Tennessee.
Industry, which resides at 545 Kentucky Ave. inside a former machine shop that sits within a football throw of Lucas Oil Stadium, opened in 2014 and sports all the weathered brick walls, steel beams and exposed rafters any planner could want. It does lots of weddings and receptions, and offers an amenity some venues can only dream about—120 parking spaces.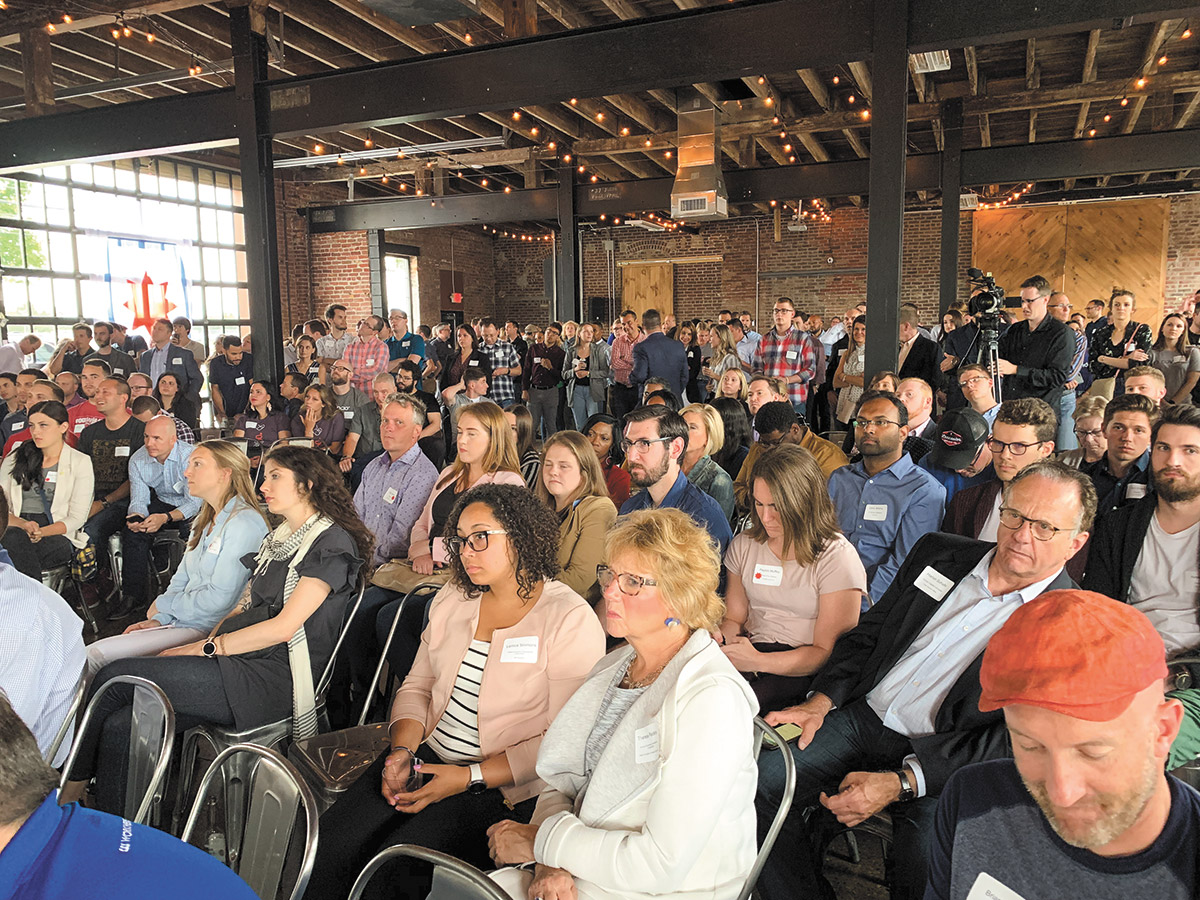 "These folks are national in perspective," Johnston said. "They've got more money for advertising than I do. But I'm not saying that's a bad thing. I think our technology and technology customization sets us apart."
Indeed, though statistics are hard to come by, a shakeout doesn't look likely anytime soon.
"I think that if it's an event that doesn't require overnight rooms, then these venues are a good option," Locklear said. "The prices are usually less, and they have more flexibility as far as their choice of caterers. That makes it an attractive choice."
About the only problem she can find with these locations is that, because of their size and unique locations, they can sometimes have parking problems.
"Many times these facilities have to hire valet services to be able to accommodate attendees," Locklear said.
Those crowds likely won't let up anytime soon. According to Visit Indy, the city's annual visitor count has increased over the last five years from 22 million to 28 million, and from 400 conventions per year to 650.
"With the total number of visitors growing and the total number of conventions growing," Gahl said, "there's a continuing need to grow and diversify the portfolio of unique meeting spaces."•
Please enable JavaScript to view this content.