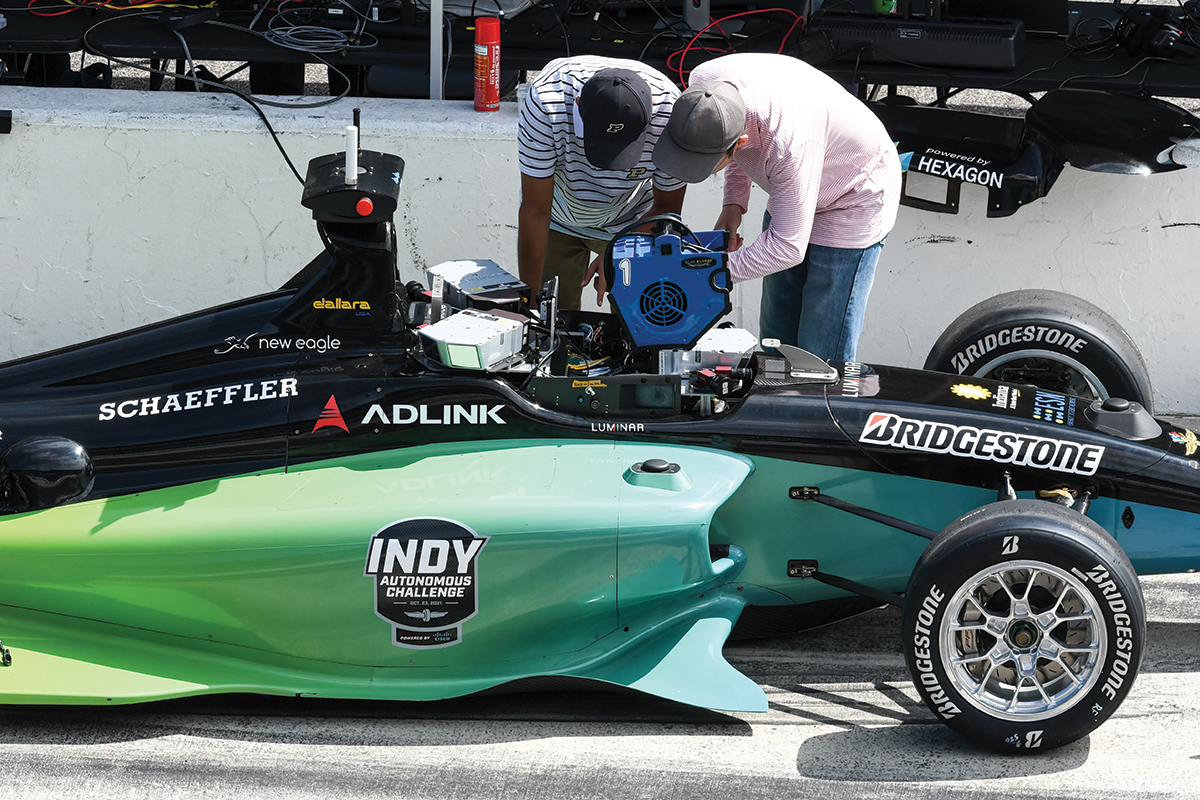 For decades, Indianapolis Motor Speedway has been something of a proving ground for automotive innovations, including the seatbelt, hydraulic brakes, helmets and crash data collection devices.
On Oct. 23, the iconic track is expected to add another item to that list, as teams from across the globe showcase their work in automated vehicle technology as part of the Indy Autonomous Challenge.
And experts say whether the event yields results that revolutionize the driverless car industry or not, it is another feather in the cap for Indiana and likely to serve as a springboard for new jobs and investments in the state's tech sector.
The challenge, organized by Central Indiana Corporate Partnership-backed initiative Energy Systems Network, features a purse of $1.5 million underwritten by Lilly Endowment Inc.
Nine teams composed of researchers and students from 21 universities spanning nine countries will compete. Many of those teams have spent the past several months meticulously working on their vehicles at IMS and Lucas Oil Raceway in Brownsburg, a designated test facility for the challenge.
The event is backed by major players in the tech industry including Cisco, Intel, Aptiv and Microsoft, along with individuals with direct ties to firms that have made major strides in autonomous technologies. The Indiana Economic Development Corp. is also a major backer of the initiative.
"There is very much a roster of global talent that happens to be coalescing here in Indiana … because of the allure of the Indianapolis Motor Speedway," said Paul Mitchell, president and CEO of Energy Systems Network. "Our job is to figure out how we take advantage of that. How do we ensure that this isn't just a one-off event that happens and then the train leaves the station or the circus leaves town?"
Big swings
Each team is starting with the same set of hardware, including a custom-built Dallara vehicle outfitted with dozens of sensors and cameras. The teams are charged with writing their own software and code to make use of that hardware in unique and effective ways, Mitchell said.
"That's the secret sauce for the teams—that's what they're competing on," he said. "So, they all have the same supercomputer on board, the same sensors and the same base software. It's then what they do with that information to inform their decision-making and what information to prioritize. Those are all things they get to decide."
The teams will retain the rights to their code as their property, he confirmed.
Mitchell said the original objective of the challenge was a head-to-head race between the participants. But as the event has come closer, the barometer for success has been somewhat modified.
The goals still include the cars taking several laps around the track, with hopes the vehicles can exceed 100 miles per hour, as well as pit autonomously and follow flag commands. There will also be several obstacles the cars will have to maneuver throughout the day.
But whether that includes cars racing against one another on the track at the same time remains to be seen, Mitchell said. The final parameters for the challenge will be set in the week ahead of the competition.
"It will most certainly include single-car competition with each car going through a series of challenges and showcasing their capabilities," he said. "Whether or not we have more than one car on the track, with any type of passing, by Oct. 23 will really be dependent on the level of development that teams have achieved by that date."
After all, the goal is that the cars do the driving. This is not a life-sized video game with a player using a joystick or controlling the car with a laptop. The teams must program the cars to find their own way around the track—and around anything they may encounter.
"It's just a question of how far [the teams] can get, how confident are they with where they're at and how do we make sure we're creating an event that's fair and allows as many teams as possible to participate," Mitchell said.
Mitchell and others said the challenge is largely modeled after the Defense Advanced Research Projects Agency Grand Challenge that in 2004 focused on autonomous vehicles.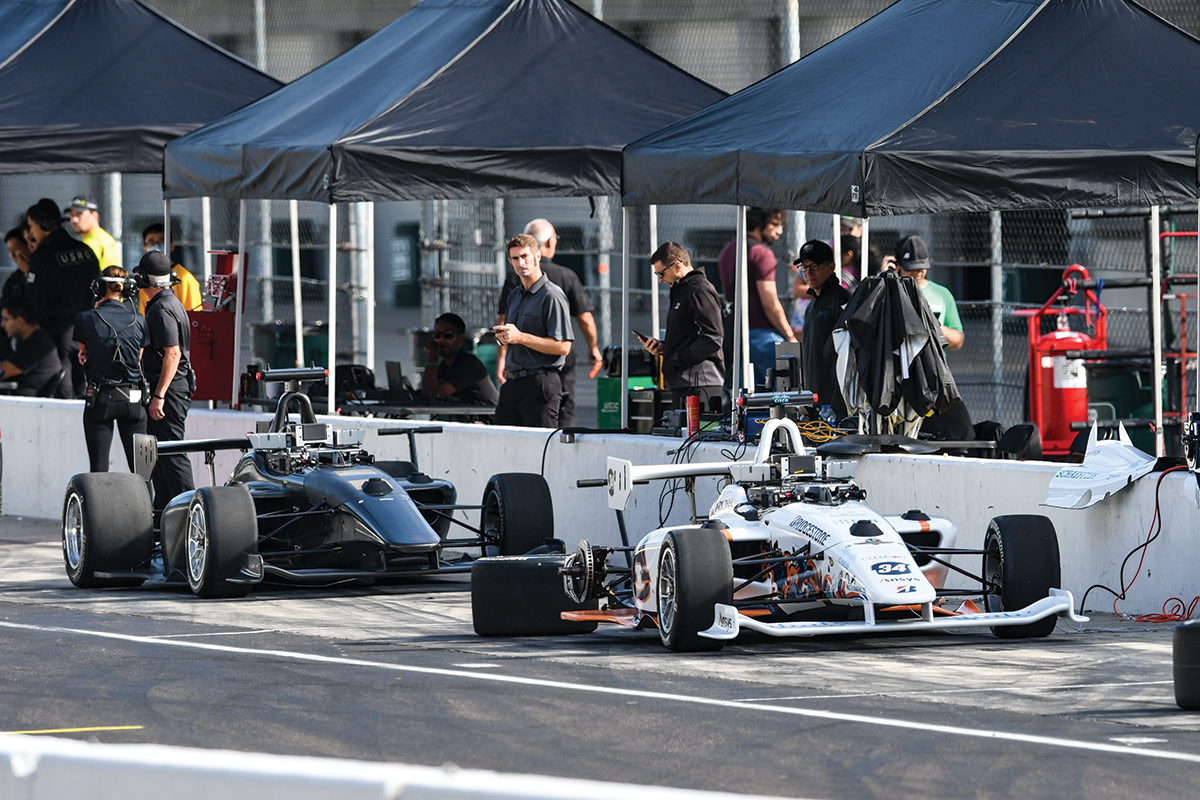 Purdue, IUPUI join teams
Among the participating teams is a coalition composed of IUPUI and Purdue University students and faculty. The Black & Gold Autonomous Racing team also includes individuals from the United States Military Academy at West Point, Indian Institute of Technology Kharagpur, and Universidad de San Buenaventura in Colombia.
Michael Saxon is the managing director and principal of the Black & Gold team. He said working on a car that will be part of the challenge is a "fantastic opportunity" for the students—many of whom he expects will go on to work in the engineering field.
"If we can solve the problems of being able to perceive an environment and make lots of decisions in a small amount of time, given the speed of the vehicle, … I think that we'll be solving a whole lot of other problems in the autonomous space that can definitely make a real difference in the context of safety and effectiveness," he said.
"It's a very difficult challenge for a whole host of reasons, so I think to be able to work on this and have these students be able to work on it and get the community and industries fired up behind it, I think that's going to just push all sorts of sectors forward."
A total of 41 teams sought to participate in the challenge, moving through a rigorous set of competitions to make it to the final stage. The stages included a white paper demonstrating knowledge of autonomous vehicle applications and theory, a demonstration of vehicular automation, and a simulation "hackathon" experience to test a team's ability to utilize software to its full potential.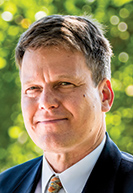 Real-world implications?
Michael Wollowski, a professor of computer science and software engineering at Rose-Hulman Institute of Technology, said he is somewhat skeptical of the consequential impact the challenge will have on both the tech and racing sectors. He said the race will allow teams to hone the strategy for machine learning, but it will likely not focus much on real world applications.
"The problems that autonomous vehicles face at this point in time, I don't think will be addressed by the challenge," he said.
But, he added, "I think it is a great idea, and great PR, to say 'Hey, look, we'll eventually have some cool stuff.'"
The biggest challenge that autonomous cars face, he said, is what happens when the sensors malfunction or cannot work as designed—such as in inclement weather. For that reason, Wollowski suggested a challenge on Indiana backroads may have been more effective.
"Imagine a rally challenge in the backroads of Indiana in the fall, when there's dust and gravel roads and there's obviously equipment on the road—maybe a rain shower," he said. "I think that would be a much more helpful thing to do."
Joyce Young, a marketing professor at Indiana State University, said she disagrees that the challenge is mostly a bid for publicity, but noted it's hard to predict how impactful the competition will be on the tech or racing industries down the line—given it will largely be dependent upon the responses of those working in the sector.
If autonomous technology really infiltrates and spreads to uses throughout society, then there may become a strong interest in motorsports to develop and use these technologies," she said. "It's too soon to know. It might not even happen in my lifetime … but some of the developments that may occur along the way, may still be very helpful."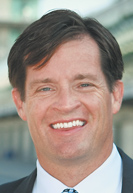 For example, IMS president Doug Boles said he's an "old school promoter" and sees the human element of racing as something that makes the sport so special and unpredictable. He said he sees some practical applications of some of the components involved in autonomous racing, but the goal of the challenge is more about setting the stage for the next wave of engineers—many of whom could go on to work for equipment manufacturers like Chevrolet or Honda.
"I think what will happen from this is there may be technology that applies to IndyCar in the future. But more importantly, I think you'll see students who use this as a learning experience" he said. "They'll go create new technology and companies that will really impact [manufacturers] more than it impacts racing. Ultimately, I'm excited that they're going to look back and say, 'I learned a lot of it and tested a lot of it at the Indianapolis Motor Speedway.'"
Young said that while IMS isn't itself the entity that's "moving technology forward," it's long played a pivotal role in the testing of that technology in a controlled environment, and this situation is no different.
Including students
Tickets for the event are $10, which allows attendees to watch the competition, check out a technology showcase and participate in university fan zones. Tickets for club-level suites are available for $150.
In addition, at least 300 students enrolled in STEM courses throughout the state will attend, as part of a larger educational initiative backed by the IEDC.
An associated Autonomous Innovation Summit, hosted by the IEDC, is an invitation-only event, but is expected to draw representatives from tech and transportation industry companies including Cisco, Bridgestone, Microsoft, Aptiv, Luminar, Dallara USA, AdLink, Valvoline, Raytheon, Trucks VC, Draper, Elevate Ventures, and others. That event will be filmed for later viewing on the Indy Autonomous Challenge website.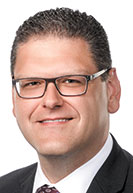 Dave Roberts, chief innovation officer at the IEDC, said the technology sector has grown exponentially over the past 20 years and he believes the challenge could be a springboard for even more growth over the years to come.
"I think what you're seeing now is that technology, instead of being its own vertical and becoming a horizontal, is intersecting with other traditional sectors," he said. "So, now you have these really disruptive opportunities at that intersection. I think you're really seeing the tech sector in Indiana transitioning into what some would refer to as a 'hard tech' period of growth, where in autonomous technology we're going to see more and more developments."
He said the inclusion of students in the event—both college students as participants and K-12 students as spectators—also allows Indiana to grow its talent pipeline.
"This is just a fantastic way to see the application of the things that they're learning in science and engineering," he said. "Seeing this in action is exactly the kind of thing that will inspire and stimulate interest" in the technology field.•
Please enable JavaScript to view this content.