When Pendleton resident Ann John decided to remodel her 89-year-old father's bathroom, it wasn't to bring it up to date. It was to keep him out of an assisted-living community.
"I'm the guardian for my dad, who still lives in the home that I grew up in," John said. "The main-level bathroom had a tub and shower combo, and he can no longer do that. To keep him in his home, he needed to have a walk-in tub put in."
She eventually turned to an Indianapolis company called New Bath Today to get the work done. Founded by brothers Mike and Ryan Redman, it offers a tightly focused specialty—converting conventional tub-and-shower combos into either walk-in tubs or shower-only arrangements.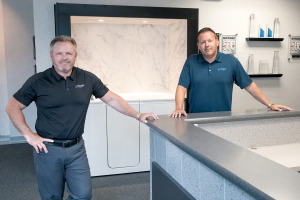 "They did a fantastic job," John said. "It's an older home, and they were able to coordinate the tub into the rest of the bathroom without having to redo the entire place."
According to Erica Mosse, director of content for the online magazine Pro Remodeler, this sort of business is becoming ever more common, with remodeling and renovation companies eschewing the "do-it-all" approach in favor of specializing in decks, windows, kitchens or bathrooms. Demand for such niche services (as for pretty much all home improvement products) is through the roof.
"Remodelers literally cannot keep up with demand," Mosse said. "So I would say everything is a trend right now."
Among the strongest customers for this sort of thing are baby boomers who want to "age in place" but find climbing into their homes' conventional tub-and-shower arrangements ever more problematic. In their case, either a walk-in tub or a walk-in shower can be preferable. However, the concept of a quick, in-and-out bathroom revamp also appeals to younger clients driven more by instant gratification than infirmity.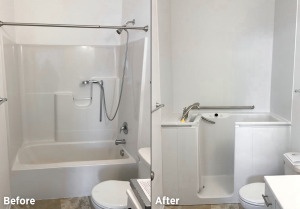 "The boomers are certainly a big piece of this, but another piece is people who just want a quick update," Mosse said. "They want to do cosmetic upgrades on their bathroom without having to tear out all of the interior structures and making the space unusable for weeks or months."
The range of revamping available from such companies spans the budgetary spectrum.
On the low end are places that specialize in fiberglass bath inserts that are mounted over an existing tub-and-shower combo. The results aren't too different from what one finds in the typical Motel 6, but are undeniably cheaper than pretty much any other option.
On the opposite end of the price spectrum are full-service interior designers and remodelers, who can rip out a bathroom down to the studs and offer everything from custom tile work to extensive new plumbing—along with a bill that could range from the low to middle five figures. Not to mention a time frame measured in weeks, if not months.
The middle market
Somewhere in between those two options sits New Bath Today.
CEO Mike Redman and President Ryan Redman have a combined three decades in the home improvement business, offering general contractor services.
But in 2016, they decided to open a second business that would soon become New Bath Today. The plan was spurred by a program offered by the Kohler Co., which (among a great many other products) manufactures and distributes bathroom accessories ranging from fixtures to wall coverings.
When Wisconsin-based Kohler started a program that allowed contractors to buy its wares directly from the company, the Redman brothers took advantage by starting their own highly specialized installation company.
"We were looking for opportunities in that space in 2015 and looking at what kind of product we might want to sell," Ryan Redman said. "Kohler was looking to start a program in a similar space, so we connected with them. They weren't that interested in partnering with a startup, but we convinced them to give us a shot with their Indianapolis territory."
Since that fateful day, Ryan reckoned, their company has installed something like 10,000 shower or bath conversions. Though it's also done the occasional toilet replacement, its killer app is conversions of the bath/shower area. And only the bath/shower area.
"Generally, we stick with what we just call the wet space, which is the shower itself," Ryan said.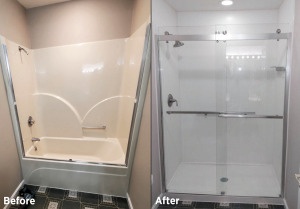 Ryan described the options presented by New Bath Today as something similar to a quality restaurant that serves an extremely limited menu. The company offers a variety of Kohler-manufactured showers and walk-in baths, plus wall treatments and fixtures. In exchange for working with a somewhat truncated list of products, clients get the Kohler name, a fast turnaround and a lower price than from a full-spectrum remodeler.
"We definitely have a more limited selection list," Mike Redman said. "Prior to all this COVID stuff, we did some custom stuff for people ordering special things. But we've stopped that in recent months because it really slows our labor down. We want to keep our crews working every day on stuff they're good at."
Mike said the company's shower/tub renovations typically land in the $15,000 to $20,000 range. Not as cheap as the folks selling fiberglass inserts, but typically much cheaper than using a full-service remodeler.
"We're definitely in the middle of the road," he said. "Our average homeowner probably lives in a $250,000 home. But we've also installed our products in $2 [million] and $3 million homes before."
New Bath Today has grown quickly, becoming the largest Kohler direct contractor in the United States. Though headquartered in Indianapolis, it has two other locations in Nashville, Tennessee, and Ann Arbor, Michigan, and its service area includes Indiana, Tennessee, West Virginia, Michigan, Kentucky and Ohio.
Demand vs. labor
Mike described the current level of business as "insane."
"When the pandemic happened, everybody got nervous because we didn't know if the world was going to shut down," he said. "We spent about three months wondering if we were going to survive, then went to, 'Oh gosh, how do we get enough products? How do we get materials? How do we hire enough employees?' It was a whole new set of challenges."
Though COVID has abated for now, the Redmans said they're still contending with the same problems and opportunities they've faced over the last couple of years.
On the plus side, demand remains white hot.
"Between people working from home and retiring early, pretty much everyone has changed their lifestyle to some degree," Mike said. "Everyone wants to make their home as comfortable as possible, because they're there so much."
That desire translates into about 250 bath installations a month for New Bath Today, plus contracts for around 400 new jobs monthly. All of which has created a substantial, and growing, backlog. Fortunately, few customers, perhaps hardened by the wait times they've endured for other home projects, balk at the roughly 16 weeks the company needs to get to their job.
"We can't keep up, with the labor shortage and the supply shortage, but we're honest with people when we tell them how far out we are," Mike said. "And everybody's kind of gotten used to hearing that, if you want something, you better order it now, because time delays aren't going to get any shorter."
The company enjoys a few advantages over its competitors, the brothers said, because its has seven warehouses scattered over its multistate service area, meaning crews don't have to drive forever to pick up goods for a job. And those warehouses are packed with $3 million to $4 million in inventory. Mike attributed that huge stock supply to good money management.
"Most small companies don't manage their cash flow well enough," he said. "It's hard for them to have the room in a warehouse to store all of this, and to have the cash or the line of credit necessary."
But when it comes to the other great bugaboo of today's businesses—a shortage of skilled help—New Bath Today finds itself in pretty much the same pickle as everybody else: too much work, not enough workers. Indeed, the issue is so acute that the Redmans hired a talent acquisition manager to find more people to augment their full-time staff of approximately 60, plus contractors.
"All he does is recruit installers and salespeople and marketing people and administrative people every day," Mike said. "We're doing everything we can to offer a better work environment, better work package and better pay package than everybody else."
Inflation and high gas prices have been yet another problem for a company with a footprint that spans numerous states.
"It's causing labor to go up because everybody's got to pay more for fuel, be it to move products or for our workers to get to jobs," Ryan said.
Still expanding
Right now, the company is considering expanding into yet another state, though the brothers feel they're still a long way from fully saturating the areas in which they already operate. The company's original plan was to reach $150 million in revenue within the first five years.
"We'll probably pump up to maybe [the] $85 [million] to $90 million range this year," Ryan said. "But a lot of that will depend on the labor situation and product availability."
Another factor that's creating more business is the hot housing market. As with other remodelers, the Redmans are getting calls from homeowners who want to upgrade their surroundings but don't want the hassle of finding and purchasing a new abode in the midst of perhaps the strongest sellers' market in U.S. history.
"As housing prices are going up all over the country, a lot of people are finding that it makes more sense to remodel the house that they're in than it does to buy a new one," said Mosse of Pro Remodeler magazine.•
Please enable JavaScript to view this content.