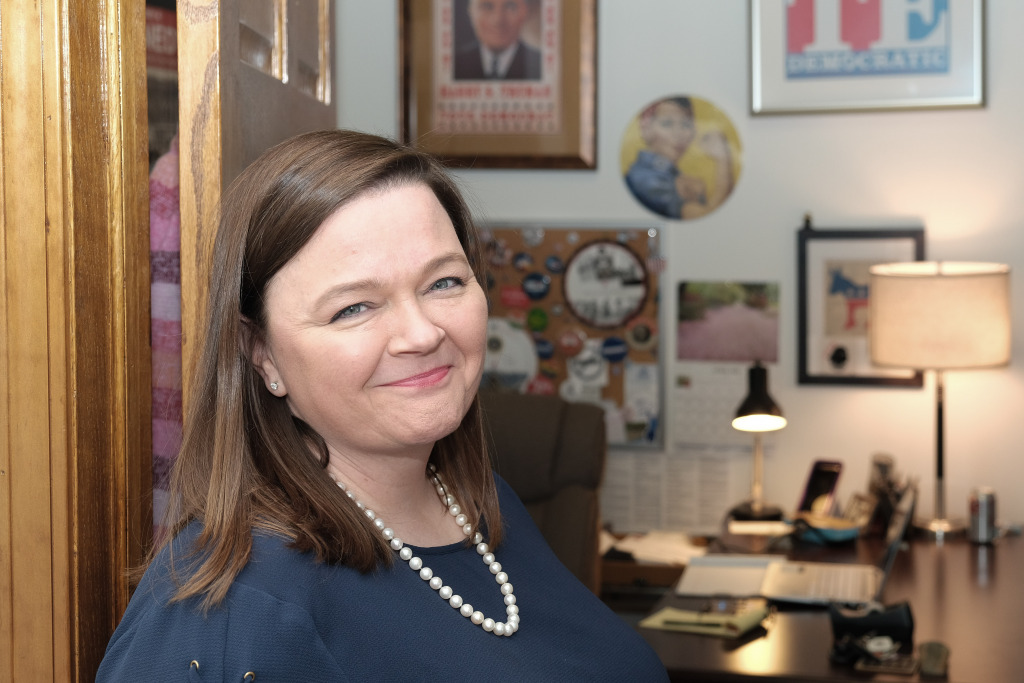 Marion County Democratic Party Chair Kate Sweeney Bell was headed toward victory Tuesday night in the primary race for county clerk, leading her non-slated primary opponent, former state Sen. Billie Breaux.
As of 11:15 p.m., Bell had 55% of Indianapolis Democrats' primary votes, with 96% of vote centers reporting results.
Bell didn't immediately return requests for comment from IBJ.
Bell has said that if she wins, she'd "absolutely" step down from her party leadership job. She's faced criticism—ahead of the midterms, but also in previous regular and special elections—over perceived conflicts of interest between her dual roles as party head and an elected official.
Party chairs are charged with filling vacant precinct committee people positions. Caucuses of these small-time elected officials can vote people into higher roles when spots open up between elections.
Bell told IBJ in late April that she'd made that decision to step down because of the time demands of both positions rather than any acknowledgement of a conflict.
The chairship and clerkship, she said then, are "very separate and distinct occupations. If I am elected clerk, to ensure the safety and fairness of every single vote will be paramount." 
Asked what Bell's victory might say about the party, Indiana Rep. Justin Moed, D-Indianapolis, told IBJ, "This city has shifted from red to blue over the years, and we need to stay working together, to keep pushing our vision for helping grow the city."
"[But] we need to understand what led to this [divide], why there are people that feel … their voices are not being listened to," Moed added. "We need to make sure that, win or lose, that we make time and a space for us to all have that important conversation."
Bell was term-limited as county recorder. In the race to replace her, Deputy Recorder Chris Becker, the pre-primary endorsed candidate appeared to be losing to un-slated Democrat Faith James Kimbrough. Kimbrough, who works in faith-based tech sales, had won nearly 56% of the vote as of 10:40, with 91% of vote centers reporting results.
Despite the race's outsized importance to party insiders, civic duty and an interest in state Senate District 46 was top of mind for many Indianapolis voters Tuesday who ventured to the polls. But some said they had noted a split between candidates with the party's stamp of approval and those running outside the slate.
"This is going to be an interesting one," said Carol Bryant, a Warren Township resident manning a voting site in Fountain Square on Tuesday. "[We'll] see the good 'ol boys, what they're going to do."
"The Democrats got all kinds of people," she added. "So it's going to be interesting, but I think this is what keeps [democracy] going. Because I think for a while, we got very lackadaisical with our voting rights. … It's an honor to be able to vote."
Others said the contested primary races just provided voters more choice.
"I saw a little bit of a divide, just because I'm kind of more aware of what's going on, but I think a lot of people just saw candidates to [see if] they align with what [candidates] are wanting to do," said Amber Finley, who voted at the City-County Building Tuesday.
"I look at it as being better to have more quality candidates than not," said her companion, Marvin Smith II.
In the fall election, Bell would face Republican candidate Andrew Harrison, who's long worked in the physical security industry Kimbrough would face Republican candidate Barcia Miller Alejos, a businesswoman.
As for who'll be the next local Democratic party chair—Bell told the IBJ late last month that the decision wasn't hers to make.
"That's up to the Marion County Democratic [Central] Committee," she said. "I have faith in the decisions that they will make."
IBJ's Lesley Weidenbener contributed reporting.
Please enable JavaScript to view this content.