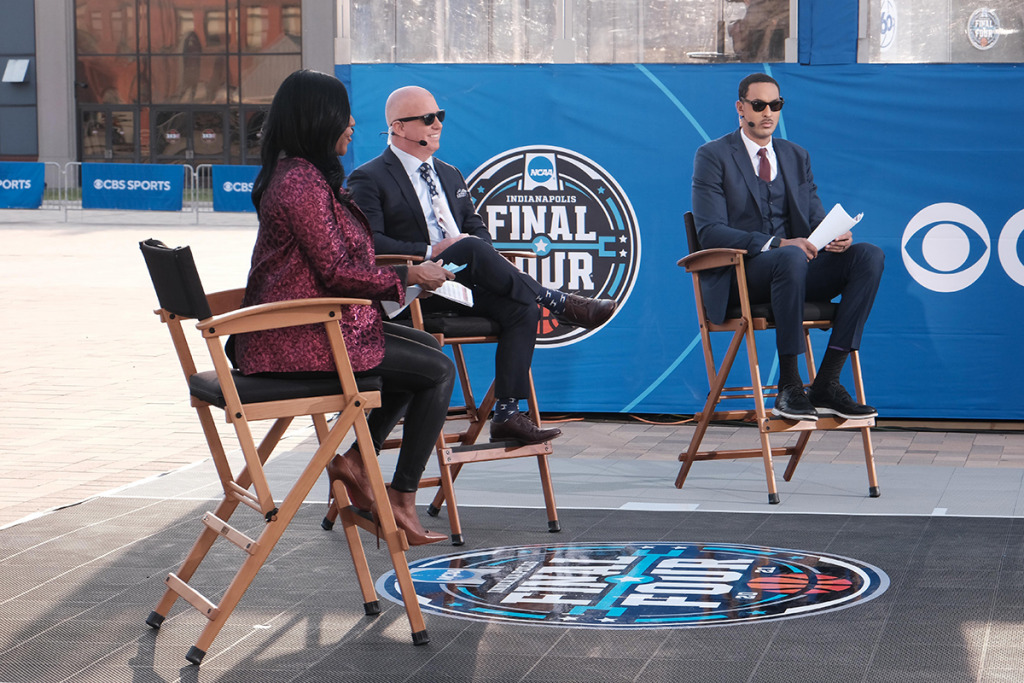 The smooth execution of this year's NCAA Men's Basketball Tournament—including few COVID cases—is sure to boost Indianapolis' short- and long-term future as a home to major sporting events and conventions, experts say.
Throughout the tournament, local tourism and sports leaders entertained dozens of prospective clients, pitching the city as a safe place for those groups to host their own big events. Already, the pitch—rooted in the city's reputation for collaboration and organization—has worked for at least two large groups that have made verbal commitments.
Visit Indy isn't ready to reveal the names of those groups, but the events would be new business for the city.
Leonard Hoops, president of Visit Indy, said the organization hosted guests from about 50 organizations, a mix of existing and prospective clients. The effort cost just under $70,000 and included city tours, wining and dining at local restaurants, face time with prominent city officials and tickets to games.
"We were able to bring in so many more than we would normally get to bring in," because the entire tournament was here, Hoops said. "It's just so hard to know right now [about the payoff], but in general, do we feel good? We absolutely feel good about the results."
In terms of exposure, March Madness might have been even bigger than the 2012 Super Bowl, he said.
"As great as all these other things have been in all these other years, I haven't felt that same impact I have from this one," he said. "This one won't be the biggest economic impact; it won't be as big as the Super Bowl's economic impact in terms of immediate spend, but in terms of elevating the [city's] brand, I think it's the biggest thing we've ever done."
Besides the groups that made verbal commitments, Visit Indy has heard from multiple others that want Indianapolis to bid on future events, Hoops said.
Ryan Vaughn, president of the Indiana Sports Corp. said he, too, has had calls from event officials who either attended tournament games or were so impressed by how the event was celebrated in media that they now want Indianapolis to be a contender for future events.
"We've had events contact us, and we've been proactive" in reaching out to events the Sports Corp. would like to bring here, he said. "We use every event we have as a stage to attract more."
Vaughn said he would have liked to host even more groups, but COVID-19 travel restrictions made that a challenge. Also, suites at Bankers Life Fieldhouse and Lucas Oil Stadium, where Visit Indy and the Indiana Sports Corp. typically entertain guests, were limited to about 10 people.
"Thankfully, sort of the nation's media eye was on us for three weeks," he said. "So, I think our story got out there even though we weren't able to host maybe as many [guests] as we would have liked."
'Poster child'
While the tournament brought far fewer fans than in 2019 because of social distancing—about 174,000 people, or 26% of the previous tournament's figures—TV viewership was mostly on par with previous years, except for a 19% dip for the title game.
Al Kidd, president of the Cincinnati-based Sports Events & Tourism Association, said Indianapolis should make the tournament its new marketing "poster child"—a place the Super Bowl has long held.
He also hopes the city will recoup whatever it spent to stage the event, although that figure has not yet been made public.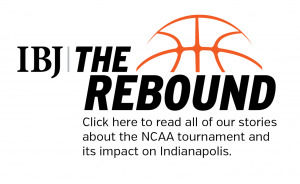 More than $800,000 was spent on infrastructure on Georgia Street. But it's not immediately clear how much money was pulled from the Sports Corp.'s $25 million Indy Championships Fund for this year's tournament. The fund was established in 2019 for the since-rescheduled 2021 NBA-All Star Game, the 2021 Final Four and the 2022 College Football Playoff Championship. In typical years, most of the Final Four's funding is covered by in-kind contributions or underwritten by the NCAA.
Indianapolis officials "have to be proud of doing something that there was no playbook to execute," Kidd said. "While I don't believe they were always making it up as they went along, there was no primer put together for an activity of this size and scope. I would be extremely proud. I would market the hell out of it to the world."
Vaughn noted the city will get a chance to be back on a big stage again in 2022, with a similar lineup for the first part of March: Horizon League and Big Ten basketball championships, and the first and second rounds of the NCAA Men's Tournament.
"Candidly, next March doesn't look a whole lot different," he said.
The city will host its next major sports event Jan. 10, with the 2022 College Football Playoff National Championship.
Jeffrey Harrison, vice president of the 2022 host committee, said the city's strong showing with the NCAA Tournament provides flexibility for future events.
"We are now able as a College Football Playoff host city, to handle a new scenario that we had not envisioned when we accepted the bid to host" the event, he said. "So, I think we have much greater flexibility today as a result of the pandemic than when we were first awarded it."
He said the fact the city has been highlighted once more on a national stage also provides an opportunity for local leaders to market the football championship to visitors.
"The teams, their fans, their parents, their coaches have been able to see what Indianapolis and what Indiana [have] to offer, in terms of a venue," he said. "So, I think this is a very positive step for the city of Indianapolis, surrounding communities and the state."
Wish list
Fred Glass, former Indiana University athletics director, said the city will probably never host another full tournament, because that's not something the NCAA is likely interested in outside of a pandemic. But he said the execution of this year's tournament bodes well for Indianapolis to be back in contention for other massive sports tournaments and conventions.
"There's a lot of events that are very important to the people that [host and attend those]," he said. "To show that we can pull this off safely, in an exciting way, with amazing logistics, I think would give great comfort to those groups."
Among the events believed to be on Indianapolis' wish list are another Super Bowl, the NFL Draft and perhaps even a national political convention—although Glass said he's skeptical of that possibility.
He said because of the politics that go into selecting locations, and Indiana's classification as a solid Republican state, it wouldn't necessarily benefit either major political party to host its event here.
"Right now, no matter what end of the political spectrum you're on, the Democrats kind of give up Indiana and Republicans assume they're going to get Indiana," he said. "That isn't a really good context for hosting a major national convention of either party."
In terms of sporting events, local leaders have long said they'd like to pursue the NFL Draft, which travels from city to city each year. This year, the event is in Cleveland. And because Indianapolis already has the NFL Combine—at least through next year—tourism officials have mulled a bid to host the draft yet this decade.
Additionally, the NCAA sees Indianapolis' success with this tournament as a springboard to hosting additional championships—something the city does on a regular basis already.
In fact, last year, Indianapolis won 11 bids for various NCAA championships through 2026, not including the 2021 Final Four it was awarded in 2018, and several early rounds in the Men's Basketball Tournament.
"Knowing what we're able to pull off here in such a short amount of time, I think gives me and the NCAA staff incredible confidence that we have—minimally—an incredible [Final Four] backup plan," said Dan Gavitt, NCAA vice president of men's basketball. "More practically, I think [there is] incredible opportunity in the future here for NCAA championships, for other NCAA-sponsored activities and events that we know can work so well in this convention center and surrounding facilities.
"So, I think … we'll only probably bring more NCAA championships to Indianapolis—and there are already quite a few that come through here, anyways," he said.
'It's impressive'
Larry DeGaris, a professor of sports marketing at the University of Indianapolis, said the city also benefited from the fact that the event encountered less controversy than did the women's tournament in San Antonio, where athletes and coaches say they were not treated with the same respect the men received. That's more of an NCAA problem than a host-city problem, but Indianapolis still measures up well.
"It was a huge challenge and, once again, Indianapolis showed that we are really good at hosting these events," DeGaris said. "It's impressive. From what I saw, the stories were all about the action on the court, and that's what fans want."
He also said that, despite the early exit of Virginia Commonwealth University due to positive COVID tests, the success of the "bubble" means the tournament is remembered as a success.
"I don't know how many cities would have been able to pull this off," DeGaris said. "It's the [Indiana Sports Corp.], the NCAA, and then the community."
Vaughn, of the Sports Corp., said he's excited about what the tournament's success means.
"It certainly enriches that reputation [we've built] nationally, the fact that it went so well," he said. "There's some really cool opportunities on the rise and, as the new [Pan Am Plaza] hotel gets developed and we have even more expanded capacity, we could chase maybe multiple, multiple events at the same time, or events that are even bigger."•
Please enable JavaScript to view this content.