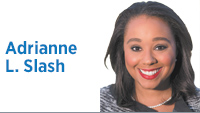 Where there is no vision, the people perish.
—Proverbs 29:18
This year, we're closing out a decade, turning another chapter for our beloved city. Some things to keep in mind: For whom are we building the future of Indianapolis? Who can keep inclusivity at the forefront? What are we looking to improve upon over the course of the next decade?
In September, I joined the Indy Chamber's Leadership Exchange trip to San Antonio, where we were introduced to civic and city leaders who have been tasked with their city's forward progression. Similar to the work that Plan 2020 did for Indianapolis, they're visioning and working toward what's next.
SA 2020, a civic organization tasked with accountability, popped out as bold and innovative. As an organization, it's disaggregating and comprehensively telling the full story of San Antonio by the numbers and holding appropriate parties accountable for where the community said it wanted to see progress. It is imperative that we here in Indy get there as a community also. We need to work to understand the people who live here, their experiences and aspirations for progress.
In a city that grows more diverse every day and more global with every company that decides to plant roots here, it is imperative that we hire leadership accordingly. Leading a community with supposed common values, beliefs, needs and so on is one thing. However, as we shift gears to fuel our economy, having the foresight to cast an inclusive vision is another. Cities have to deal with that head-on today.
Cities cannot assume that all Indy residents will feel welcome and included without planning to intentionally do so. It takes work, and understanding the people associated with the data. As we approach our general election and the 2020 presidential election, we have to be willing to do what it takes to answer the question: "Of our choices, who can keep inclusivity at the forefront of planning and development?" We cannot afford to move forward living in a city with a single demographic carrying the weight of all the not-so-good numbers.
I have the unique view of our city from that of a civic leader; the daughter of a visionary civic leader and former deputy mayor; and, most important, a resident. I'm proud of this city, love this city, am concerned for this city, and am optimistic for all the things this city can become.
We are at a pivotal point; we are no longer India-no-place, Naptown or any of the derogatory names people used to call us. We are Indy, and we've made people #LoveIndy, so we need to keep that same energy moving ahead.
To do so, we as residents have to keep ourselves honest; we have to engage with our planners, leaders and elected officials like it's a job that pays us. We must participate in moving our city forward.
In San Antonio, leaders have a plan and they have an organization charged with being the keeper of that plan. But most important, that plan was constructed by the community. Here in Indy, we have a job to do, and that is to show up.
Indianapolis is a city worth showing up for. We need to shine up the dull places, smooth out the rough patches, and plan for it to thrive long beyond our lifetime. Casting an inclusive vision and planning to see it flourish will ensure the people will not perish.•
__________
Slash is a diversity and inclusion consultant in the health care industry and is president of  The Exchange at the Indianapolis Urban League.
Send comments to [email protected]

Click here for more Forefront columns.
Please enable JavaScript to view this content.