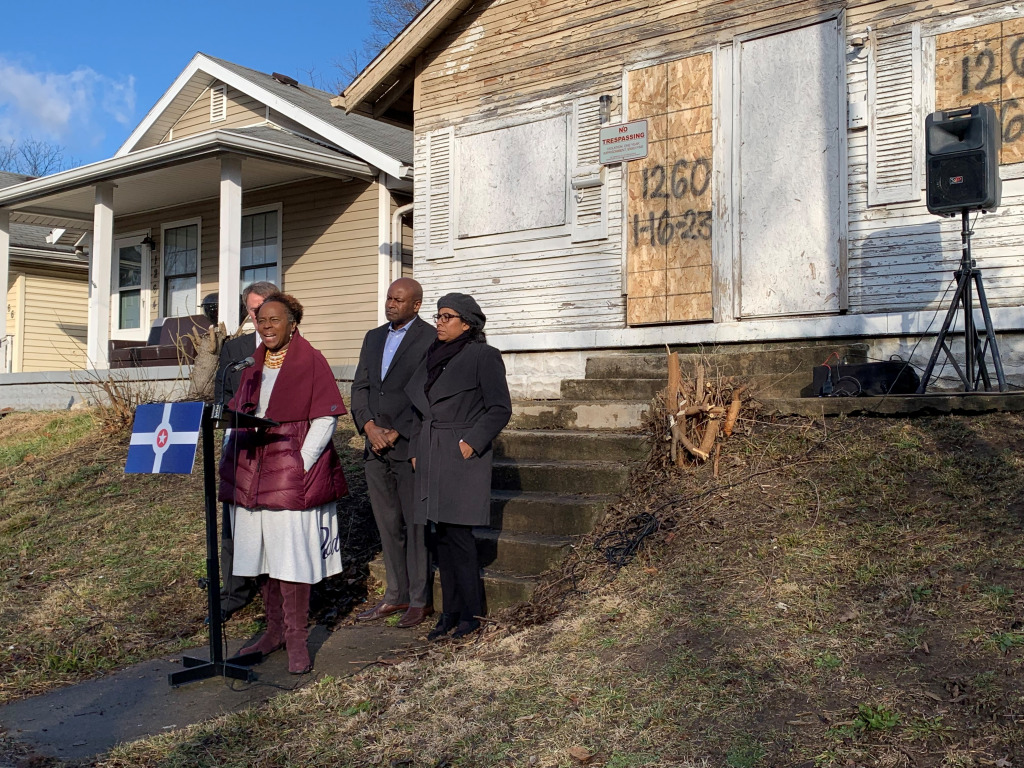 In an effort to combat displacement and decreasing Black homeownership, the city of Indianapolis plans to pump $4.5 million in American Rescue Plan funds into rehabilitating city-owned properties and providing them to lower-income residents.
The Vacant to Vibrant initiative, announced Tuesday, will utilize about 100 lots that have fallen into disrepair and are held in the city's land bank. Developers will be provided funding to rehabilitate the properties and sell them to residents making 80% or less of the area's median income, which translates to $73,050 annually for a family of four, the city said.
A report from the Fair Housing Center of Central Indiana released in December showed that historically Black neighborhoods, like Martindale-Brightwood, were losing Black homeowners while experiencing an "influx of upper-income, mostly white homebuyers," investor purchases and increasing home prices, which the Fair Housing Center concluded is due to displacement and gentrification.
Deputy Mayor for Neighborhood Engagement Judith Thomas cited the Fair Housing Center's finding that Black homeownership in Indianapolis has dropped 14% in the last decade.
The neighborhoods of focus are also areas where the city owns more land: Martindale-Brightwood, Riverside and the Near Eastside.
City leaders announced the new program in the Riverside neighborhood at 1260 Eugene St., one of the properties that might be rehabilitated. Indianapolis Mayor Joe Hogsett said the Riverside is a focus partially due to recent investments the city has made in Riverside Park, which received $11 million in improvements in 2022 and is set to receive further investments due to Lilly Endowment's $80 million in grants to Indy Parks.
"As historic redevelopment continues at Riverside Park, we are sure to see a demand for homes in the area increase. But that shouldn't mean that the loyal residents of this neighborhood get priced out," Hogsett said.
Sharon Clark, a founder of Aspire House, said that her near-northwest-side community is "one of the best-kept secrets in Indianapolis," and that she is hopeful it can be restored to it's former sheen. Aspire House seeks to create housing and learning opportunities to dismantle systematic racism in the community.
"We had amazing, amazing things in this neighborhood," Clark said. "And I'm here to tell you that this still is that neighborhood, and we're here to help bring that back."
Developers are already able to apply for the properties, and the Department of Metropolitan Development is working to expedite the process of redevelopment, according to interim director Rusty Carr.
City leaders will work with community leaders to review the proposals presented by interested developers.
"Each neighborhood where there's a lot of properties focused, they will have specific focus groups of neighborhood residents to weigh in on the proposals in their neighborhood with city staff," Carr told IBJ.
The concept has been in the works since before the American Rescue Plan funds had been given to the city, Carr said. Often community development corporations and neighborhoods are given city land bank properties or funding to work on these projects, but typically it is just one or the other. This is a rare opportunity where both are presented, he told IBJ.
Please enable JavaScript to view this content.