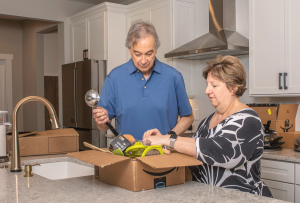 The hot sellers' market continues here in Indiana, but the Federal Reserve's interest rate hike announcement last week may start to turn the tide toward a more stabilized real estate environment.
Robin Koza and her husband, Robert, sold their Westfield home last August in a matter of hours.
"It was during the peak of the sellers' market," she said. "We appreciated that, and we got a great price on our home."
The flip side of selling a home so quickly is procuring a new one in short order as well, likely at a top-dollar price, and competing with other buyers to do so. After months of delays, the Kozas finally closed on their new home in Kimblewick, a Del Webb community in Westfield, last week. They've been living in apartment since last fall while waiting for the completion of their build.
Terri Wegener recently listed her Fishers townhouse after securing a new home in Whitestown with the intention of moving in August or early September.
"It was like a domino effect," she said. "We had to put our house on the market and then bring in an offer within a certain period of time, so things had to work out just perfectly."
After a dozen or so showings over a nearly two-week period, Wegener received three offers on the same day.
"The cash offer we chose was tailor-made to our situation," she explained. "The new owners are allowing us to stay in the home rent-free for three weeks after closing, they didn't require an appraisal and paid the taxes from last year. It was a nice package."
Quick sales continue
Wegener's situation is hardly unique. Throughout central Indiana, home sales continue at an unprecedented pace, with many prospective buyers willing to throw in added incentives to sweeten their offers.
"[For May 2022] the Indianapolis market set another all-time price record with a median sales price of $287,625, a 12.8% gain over last year," said Shelley Specchio, MIBOR Realtor Association CEO. "Despite the increase, buyers remain eager to purchase homes with the average days on market at an all-time low of just 13 days, down from 15 days last year. The rise in prices, paired with better, but still tight, inventory and decreasing days on market make this an extremely competitive market."
While Indiana, and the rest of country, remains a sellers' market, trends are hinting at a change to come.
"We're certainly still in a position where there are more buyers than sellers out there, but things are slowing down a bit," said Chris Watts, vice president of public affairs for the Indiana Association of Realtors.
Watts takes slight issue with the notion of a real estate bubble bursting.
"What we're seeing here in Indiana and across the country is more a legitimate issue of supply and demand," he explained. "On the supply side of housing, we've seen inventory, which we measure by listings per month, has been declining since 2011. We're not building as many homes, and up until the last couple years, homes have been turning over at an increasingly lower rate."
Migration is another factor impacting the central Indiana inventory.
"Since 2018, folks have been moving to Indiana in greater numbers," Watts said. "We're gaining in population, but we're not gaining in housing supply. That's really the dynamic that's driving price increases, which were already happening leading into Covid. The pandemic spiked demand as people reentered the housing market with gusto and we saw price increases accelerate."
Impact of interest rates
The big topic on everyone's mind, however, is interest rates. Last week, Federal Reserve Chairman Jerome Powell announced the Central Bank would raise interest rates by 0.75% in an effort to stem growing inflation, the largest rate hike since 1994.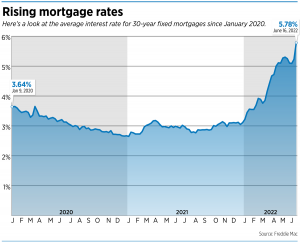 For prospective home buyers in the current market, interest rates above 6% could mean tacking on several hundred dollars to monthly mortgage payments.
"That's significant, especially when you're talking about a first-time home buyer who's trying to save for a down payment and figure out how much they can afford," Watts said. "We may push some folks out of the market, which would be a shame."
F.C. Tucker Realtor Laura Musall also expressed concerns about affordability.
"No one wants to see rates go up," she said. "However, I do think [the interest rate increase] will help stabilize some things. In the spring, if you wanted to go see a house, it looked like a block party. We're starting to see a shift in the market where it's not quite as much of a buyer frenzy."
Musall cautions shoppers against getting too hung up on the interest rate number, urging them to look at the bigger financial picture instead.
"I see buyers go online all the time to try to shop the best interest rate," she said. "You have to think about all of the costs involved in financing, and it's important to have a lender who can explain that to you. An advertised rate does not tell you the whole story."
Some experts anticipate the interest rate increase will have a normalizing effect on both housing demand and sales prices across the country.
Although higher interest rates may mean a higher mortgage payment, they may also mean that buyers won't have to compete with dozens of other bidders for a single house.
"I think that will actually give buyers some confidence," Musall said. "When you go in and see a home as a buyer and there's a houseful of other people looking, it makes you feel kind of panicky, and you might end up making rash decisions. People who don't have a big pile of cash to offer may feel like they can't compete."
Adjust expectations
Sellers who are still hoping to cash in on the current market conditions may want to consider listing sooner than later, and to adjust their expectations.
"It's still a sellers' market, but that doesn't mean you can just put a sign up in your yard and get multiple offers immediately," Musall added. "You still have to price the home right and the house still has to be in good condition. You don't need to get 20 offers to sell your house. You just need one good solid offer."
From a seller's perspective, Wegener advises prospective buyers to come in with their best proposal upfront.
"Cash offers are superior, and the little extras make it more appealing," she said.
Even with market conditions shifting, real estate remains a sound investment when it comes to building equity and accumulating wealth. Watts just advises prospective home buyers to be realistic about what they can afford.
"An analogy that comes to mind is your 401k," he said. "Any financial adviser will tell you that one of the most foolish things people do is try to time the market. It's similar with the housing market. If you feel ready to buy and it's a good decision for you financially, historic trends indicate that if you stay in a home for several years, it's still a good investment."•
Please enable JavaScript to view this content.