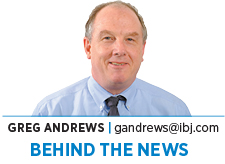 Investors in Angie's List Inc. appeared to have hit the jackpot two years ago after the Indianapolis-based company merged with Colorado-based rival HomeAdvisor, creating a new public company that became a Wall Street darling.
Unfortunately, that love affair is officially over.
Investors thrashed the new firm, Denver-based ANGI Homeservices Inc.—which connects homeowners to providers of home-improvement and home-repair services—after it reported second-quarter results that badly missed expectations and reduced the outlook for the full year.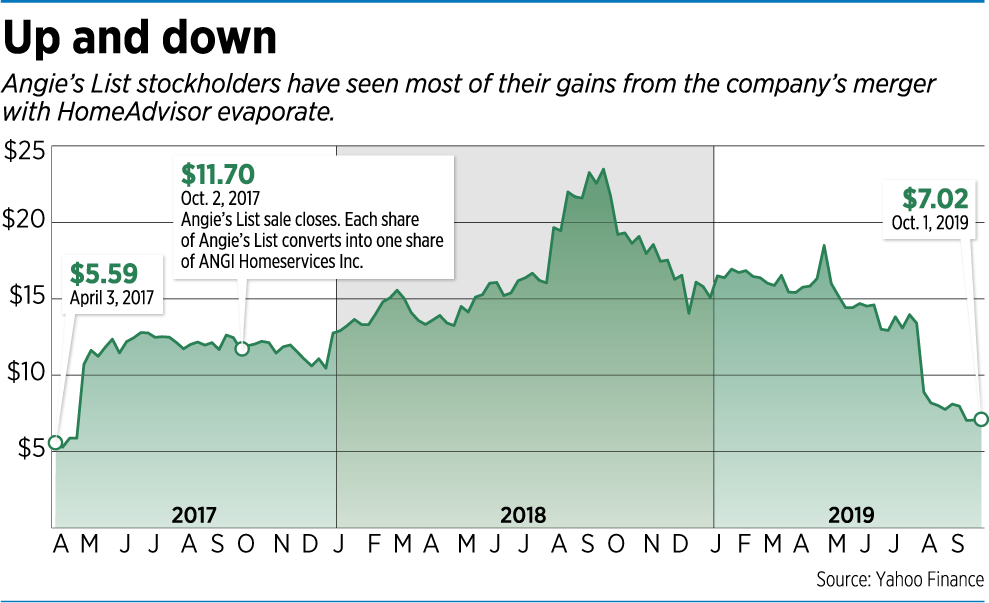 On Aug. 7, the day of the earnings report, ANGI shares dropped 25% to close at $9.41. The shares have continued to drift down and now fetch just $7.02—down 70% from the high of $23.66 reached in September 2018.
"We are behind where we wanted to be at this point largely due to a combination of issues around marketing and an increasingly tight supply of service professionals in certain categories," ANGI Chairman Joey Levin acknowledged in a letter to shareholders that day.
Angie's List, which had long struggled to achieve sustained profitability, was trading at $5.89 in May 2017 when it announced it was being acquired by New York-based IAC, the parent of HomeAdvisor, for $8.50 per share, or a total of $505 million.
A minority of Angie's List shareholders swapped their stock for cash. Far more exchanged each of their Angie's List shares for one share of ANGI Homeservices and then watched the new stock take off.
When the shares peaked in September 2018, Angie's List shareholders were sitting on a 302% gain. Now, it's just 19%.
During ANGI Homeservices' second-quarter conference call, Levin—who's also CEO of IAC, which controls ANGI and an array of other internet businesses—was blunt about ANGI's stumbles.
"We still love the business," he said. "There are some things to fix. I think our biggest problem there might have been just bad forecasting."
One of the biggest missteps involved a change in Google's algorithm that served up ANGI's ads more than the company anticipated, causing the company to spend more than intended on advertising. Selling and marketing expenses surged 38%, reaching $196 million, while revenue rose 17%, to $344 million.
On the conference call, Oppenheimer analyst Jason Helfstein pointedly noted, "It seems missing a Google algorithm and pricing change is a rookie mistake, and your team is not a rookie."
Levin was no kinder, calling it "an avoidable mistake" on the call and saying in the letter that he believes the "issue was as much tripping over our own feet as it was changes in the Google ecosystem."
In an interview with IBJ, CEO Brandon Ridenour called the Google setback a "short-term, transient issue," though he said it is a reality that "free discovery through Google is getting smaller and smaller every year. Finding free customers is a shrinking pie."
Another challenge is that consumer demand is growing at a faster clip than ANGI Homeservices can bring aboard new service providers. Ridenour said many service providers already have an abundance of work and are restrained from expanding by a labor shortage in the trades.
One way ANGI Homeservices is responding is by selling services itself for a set price, then securing a contractor to fulfill the order. The rollout began with handyman and cleaning services but might work in as much as two-thirds of ANGI's service categories, Ridenour said.
The offering differs fundamentally from ANGI's normal business model, under which contractors pay Angie's List to advertise and pay HomeAdvisor for per-lead fees and annual memberships.
"Having someone bring work to you and offer to pay you is obviously very compelling as a service provider," Ridenour said.
Two pillars of the ANGI Homeservices' growth strategy are increasing service provider capacity and ensuring the company's offerings are so compelling that customers go straight to the website rather than starting with a Google search.
Ridenour acknowledged that home services is a "hard category," tougher than many industries the internet reshaped years ago.
But it's a prize worth chasing. ANGI is the undisputed leader in the home services market, which analysts value at $400 billion to $800 billion a year.
ANGI so far has gobbled up just a tiny slice of that commerce. The firm, which has a stock market value of $3.5 billion, racked up $1.2 billion in revenue last year.
"We are well-positioned in an enormous category with a huge lead," Ridenour said. "We are excited about the strategy going forward."
Though he was caught off guard by the second-quarter stumbles, BMO Capital Markets analyst Daniel Salmon is keeping the faith.
In a report, he rates the stock outperform, with a target price of $13.
"There is no change to our view that this is a large [total addressable market] early in its online transition, that ANGI is the clear category leader, and this management team has ample experience capitalizing on these types of opportunities," Salmon said in his report.•
Please enable JavaScript to view this content.