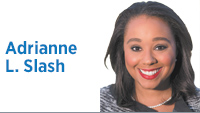 There's a saying: "If you know better, you do better." In regard to the municipal election, there could be no more relevant statement. Candidates often launch campaigns for personal reasons that are aligned with community need. We hope (as constituents) that candidates choose to run to genuinely represent all of our collective voices and interests.
This year, we cannot ignore the fact that in Marion County, communities of color aren't faring as well as the white community. In particular, the black community is experiencing starkly higher rates of unemployment, lower median income, a higher poverty rate, a widened gap in educational attainment and homeownership at 20% less than the national average. There is a difference, and these are not hidden truths. The 2019 municipal election is about many things, but these things should be the focus.
Let's think of the city as a person, and each part of the community makes up an organ system. If a part of your body is operating at a lower percentage or hurting, can the whole person be well? Absolutely not. Can the person function? Sure. Can the person get along and look to be well? Sure. But the person is not actually well. Indy looks great and is great in many aspects, but there are parts of the body that are not doing well. We need the whole city to be doing well and performing at 100%.
So why not just aim towards a blanket community improvement strategy? Because that widens the gap. It's time for all of those who hold and/or are seeking office to carry the banner of disparity reduction and drive the city towards equitable outcomes.
Earlier this year, when the Central Indiana Community Foundation switched gears and changed its mission to "mobilize people, ideas and investments to make this a community where all individuals have equitable opportunity to reach their full potential—no matter place, race or identity," it took a necessary lead for our community. The challenge is now on elected leaders, and not just black elected officials. "Preaching to the choir" is always welcome, however, the true outcomes derive from the people in the "pews."
Ignoring these disparities or leaving them out of your reason to run is telling. A city where everyone is thriving (even when the data is disaggregated) is the city we ought to strive to be. While our not-for-profit and civic community leaders have been working overtime to break down barriers, partner for equitable outcomes, and are innovating for inclusion, elected officials need to carry the banner and use the bully pulpit to influence improvement. This is where knowing better should lead to doing better.
And yet, the disparities exist. These are not things that can be healed overnight. They take time. They take energy. They take planning. And most importantly, they require leaders to admit that they don't know what they don't know and be open to exploring ways to reduce the disparities once they know about them.
Call me a crazy millennial, but it is my belief that a city like ours can't afford to ignore the outlier in its metrics. The need is great and the time is now to address the issues that have been delivered to mayoral and council candidates. Having an agenda or platform that directly addresses the needs of the black community doesn't mean ignoring the rest of the city. It means our elected officials know better and are looking to do better for all of Indianapolis.•
__________
Slash is a diversity and inclusion consultant in the health care industry and is president of The Exchange at the Indianapolis Urban League.Send comments to [email protected]

Click here for more Forefront columns.
Please enable JavaScript to view this content.