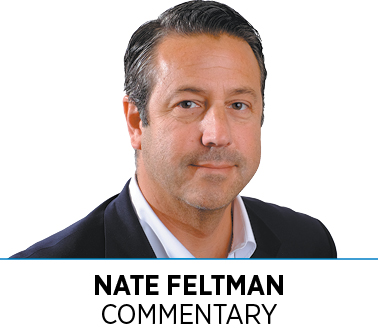 The events of the past couple of weeks have shaken every American.
Pandemic, government-imposed shutdowns, historic job losses, recession, bailouts and then the brutal death of George Floyd after eight minutes under the knee of a Minneapolis police officer. Noble protests demanding an end to police brutality and justice for Floyd during the day, followed by mob beatings, looting, destruction and killings at sunset and into the night.
Our city has not been spared. Sunday morning, I toured what felt like a war zone often seen on TV in a faraway land. Almost every business within a mile of Monument Circle had windows smashed, and, in many cases, its merchandise looted.
Graffiti covers our monuments and buildings. Just as our businesses are trying to emerge from the pandemic and government-induced economic collapse, they now have an additional hurdle to recovery.
On June 1, I met by Zoom with all IBJ employees. I first discussed the closure of our office this week on Monument Circle due to the destruction that occurred last Friday and Saturday nights. Then I thanked our reporter Mickey Shuey for his bravery after his Saturday night encounter with tear gas and proximity to gunfire (war correspondent was not in the job description when Mickey applied at IBJ). Finally, I thanked our political reporter, Lindsey Erdody, for coming out at 11:30 p.m. on Saturday to cover a hastily called press conference by Police Chief Randal Taylor, where Mayor Joe Hogsett was noticeably absent.
Speaking of absent, on Saturday I began receiving calls from friends with businesses downtown. They asked me if the governor had called in the National Guard to protect downtown. Based on Friday night's destruction and on what was happening around the country, these owners were certain that more destruction and looting would occur Saturday night. Cities nationwide had set curfews and called in the National Guard. They asked what preparations were underway by our city and state leaders for the likely Saturday night violence.
On Saturday afternoon, Hogsett said he met with protest organizers and social-justice groups and expressed his hope for a peaceful protest and that the protesters would begin returning home by 7 p.m. No curfew and no request to Gov. Eric Holcomb for National Guard support.
By all accounts, the mayor and governor didn't have a conversation on Saturday about the safety of our city. It seems the Friday night riots were not bad enough to warrant such a conversation.
Unfortunately, hope doesn't keep people and property secure. The result of inaction by our political leaders was more senseless death and the further devastation of downtown. Government failed us this past weekend.
Our founders believed government's core function is to protect people and their property to ensure for each citizen life, liberty and the pursuit of happiness. When laws aren't enforced and government fails to maintain order and security, the liberties so many Americans fought and died for are at risk for all Americans.
More must be done to bring Americans together. We have more in common than what we perceive divides us. We can no longer wait on politicians to solve the divide that is ravaging America. The evidence is clear—they're not up to the task.
All citizens must call out evil when they see it and peacefully demand the enforcement of our laws, including equal justice for all. Citizen leaders must emerge from this darkness and work together to address the roots of our division and instability.
We all have a part to play. What will you do to ensure our city, state and nation survive and thrive?•
__________
Feltman is CEO of IBJ Media and a shareholder in the company. To comment on this column, send email to nfeltman@ibj.com.
Please enable JavaScript to view this content.