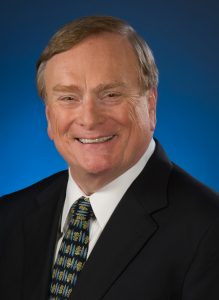 The Indiana University Kelley School of Business on Wednesday announced a gift of $16 million from the Brian and Sheila Jellison Family Foundation that will be used for technological advancements, programming and scholarships at the Bloomington-based school.
Brian Jellison, a 1968 IU graduate and the former longtime CEO of Roper Technologies Inc., created the foundation with his wife, Sheila, and their three daughters before he died in November 2018 at age 73.
The school said the donation will be used for two major initiatives and two other priorities:
— $10 million is earmarked for "creating state-of-the-art studios and virtual classrooms," including the Brian D. Jellison Studio Classroom, which will offer online students the experience of being in a live classroom with their peers.
— $5.8 million will go to the Brian D. Jellison Living Learning Center, a residential program that helps 550 freshman business students each year identify their strengths, interests and talents through special programs, study groups and travel opportunities.
— $100,000 will fund the creation of the Brian D. Jellison Financial Literacy course series, which will be offered at no cost through edX, a not-for-profit online learning destination.
— Another $100,000 will help pay for scholarships for study- abroad students.
"This is a truly transformational gift in that it touches so many aspects of the Kelley School," IU President Michael McRobbie said in written comments. "Naming the Kelley Living Learning Center in honor of Brian Jellison is particularly noteworthy, given that Mr. Jellison was widely recognized as an innovative and revered leader of the highest integrity."
Jellison, who grew up in Portland, Indiana, earned a bachelor's in business economics and public policy from IU and a master's of science in business from Columbia University.
He worked at General Electric and held senior leadership positions at Ingersoll-Rand before becoming president and CEO of Sarasota, Florida-based Roper in 2001, where he remained until shortly before his death.
Under Jellison, Roper went from a company best known for its appliances and pumps to a diversified industrial company with four major business lines. The company's market capitalization grew from $1.5 billion to more than $30 billion during his tenure.
Harvard Business Review named Jellison one of the best-performing CEOs in the world in 2014 and 2018, and Business Observer magazine called him a "Wall Street rock star."
Jellison became one of the highest-paid executives in the country at Roper, receiving annual compensation of almost $35 million in 2018.
Dedication of the Brian D. Jellison Living Learning Center is scheduled for Feb. 29 at Eigenmann Hall.
"We at Kelley are so proud of Brian for the way he chose to live his life," Idalene Kesner, dean of the Kelley School of Business, said in written remarks. "He led Roper for 17 years with integrity, dedication and distinction, and his record of dynamic leadership and effective mentorship is the highest tribute any school of business can receive from an alumnus."
Please enable JavaScript to view this content.