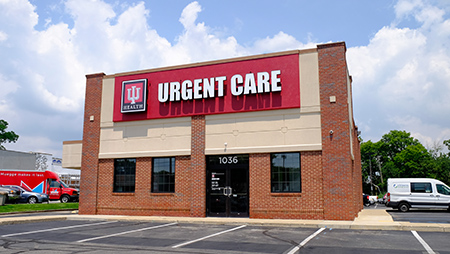 Indiana University Health is opening three more urgent care centers, including one downtown in the former Mo'joe Coffeehouse at 222 W. Michigan St., to meet what is calls growing demand for low-acute medical care.
The health system said Tuesday it will open the new locations by the end of the year. The downtown location, in the site of the coffeehouse that closed last year, is geared to serve working professionals, the Indianapolis-based health system said. The other new locations are in Avon at 10853 E. U.S. Highway 36 and Fort Wayne.
IU Health declined to say how much it was spending to open the new locations. It now has seven urgent care centers in the Indianapolis area, Bloomington and Lafayette.
The clinics are designed to treat patients quickly for such things are earaches, nose bleeds, twisted ankles and rashes, eliminating the need for patients to go to a busy emergency room or wait several days to see a primary care doctor.
In addition, IU Health is rolling out an online feature to show expected waiting times at all of its urgent care centers. Patients can now see expected waiting times for each of its locations online, reserve a spot and get text messages about their positions in queue.
Urgent care centers are normally located in high-traffic areas, and are designed to keep expenses low with small buildings and equipment that usually include X-ray machines but not MRIs or CTs.
Health systems value them because they can expand revenue, reduce demand on busy emergency rooms and get patients into networks with a relatively modest investment.
Urgent care is now a $15 billion-a-year industry, with more than 7,000 clinics nationwide, according to the Urgent Care Association of America, a trade group based in Naperville, Illinois.
Please enable JavaScript to view this content.