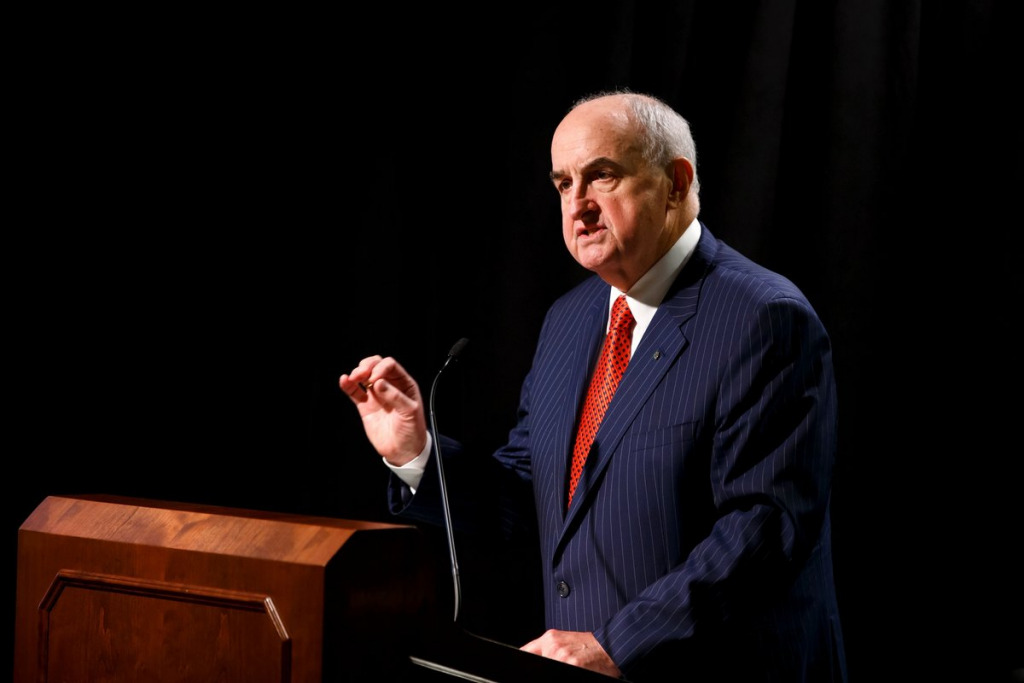 Indiana University President Michael A. McRobbie announced Friday that he plans to step down in June 2021 after 14 years in the position.
The university plans to conduct a search for his successor. McRobbie, 69, will continue leading IU through the upcoming academic year, in which the school must contend with the unknowns presented by the coronavirus pandemic.
"I am immensely proud of all that has been accomplished over the period I have been president," McRobbie said in his announcement. "All the change and effort has, I believe, consolidated and elevated IU's position as one of America's premier and leading research universities."
McRobbie came to IU in 1997 from his native Australia as its first vice president for information technology and chief information officer. Now a U.S. citizen, he was appointed vice president for research in 2003 and named interim provost and vice president for academic affairs for IU Bloomington in 2006.
He became IU's 18th president on July 1, 2007, making him one of the longest-serving university presidents in the country.
IU serves more than 91,000 students across seven campuses and has a budget close to $4 billion.
Known for his low-key style, McRobbie has both invested in brick-and-mortar and rearranged the academic guts of the university system, all while the school experienced several years of cuts in state funding. State appropriations in 2018 were just 5%more than when he started in 2007.
During his tenure, McRobbie has embarked on $2.5 billion in renovations and new construction of 100 projects on the Bloomington, IUPUI and regional campuses. He also has overseen a $3 billion fundraising campaign that has supported 5,700 new endowed undergraduate and graduate scholarships and fellowships.
Among other changes that are less obvious, McRobbie has completely restructured IU's academic programs, an unglamorous exercise in changing how a massive educational bureaucracy is organized in a quest to keep up with IU's peers, improve student recruitment and spur philanthropy.
In March, IU suspended in-person classes out of concern for the novel coronavirus that was spreading across the globe. For the fall semester, it has implemented COVID-19 testing protocols for several of its campuses.
All students living in on-campus housing at IU Bloomington, IUPUI, IU South Bend and IU Southeast will be tested as part of a centralized check-in process. The protocols also include randomized testing during the school year.
The cost of attending Indiana University has risen during McRobbie's tenure, but not as fast as at many other colleges.
Average annual published in-state tuition rates rose 29% at IU's Bloomington campus from 2008 to 2018. That compares with an average of 36% for universities nationwide.
From 2007 to 2012, IU Bloomington's in-state tuition rate increased about 5% annually, according to data published by the Chronicle for Higher Education. From 2013 to 2018, IU raised tuition an average of about 1% annually.
Please enable JavaScript to view this content.