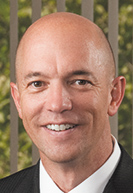 Jack J. Phillips, CEO of Roche Diagnostics' North American operations in Indianapolis since 2010, is leaving the company at the end of August to join an Arizona-based medical-technology diagnostics firm.
Accelerate Diagnostics Inc., a small, publicly traded company based in Tucson, announced late Thursday it had hired Phillips as chief operating officer.
Roche, one of the world's largest pharmaceutical and diagnostics companies, said it did not have any immediate news on a successor to Phillips.
Accelerate develops diagnostics technology related to antibiotic resistance, sepsis and other medical conditions. The company, founded in 1982, as Accelr8 Technology Corp., had revenue last year of $5.7 million. It changed its name to Accelerate Diagnostics in 2012. It has about 300 employees.
Roche, based in Switzerland, employs about 3,000 people on its large campus at 9115 Hague Road on the city's north side. It makes machines and software to help physicians, hospitals and laboratories analyze data and diagnose patients.
Please enable JavaScript to view this content.